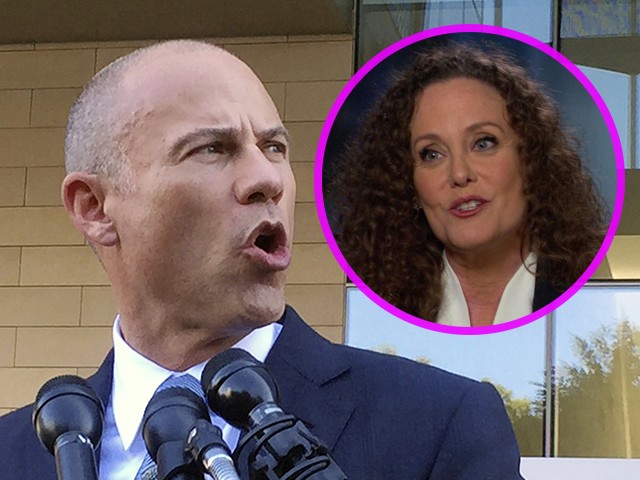 Television lawyer and 2020 Democrat hopeful Michael Avenatti says he is weighing civil and criminal legal action for his client Julie Setnick leveled against Supreme Court Brett Kavanaugh, even as it appears the Senate will confirm him Saturday.
In a brief interview with The Washington Post's Aaron Blake, Avenatti vowed to file a defamation lawsuit against Dennis Ketterer — a self-described former boyfriend of Swetnick who, in a letter to the Senate Judiciary Committee, raised doubts over her allegations. Asked why he chose to publicize Swetnick's claims before the committee could fully vet them, Avenatti scoffed, "Why in God's name would I have gone through the media? The media does not determine the veracity of facts and evidence."
According to Ketterer, Swetnick said she liked group sex, and he said her father told him she "had psychological and other problems."
Ketterer's full letter states:
During a conversation about our sexual preferences, things got derailed when Julie told me that she liked to have sex with more than one guy at a time. In fact sometimes with several at one time. She wanted to know if that would be ok in our relationship.

I asked her if this was just a fantasy of hers. She responded that she first tried sex with multiple guys while in high school and still liked it from time-to-time. She brought it up because she wanted to know if I would be interested in that.

A.I.D.S. was a huge issue at the time. And I had children. Due to her having a directly stated penchant for group sex, I decided not to see her anymore. It put my head back on straight. That was the last conversation we had.

Julie never said anything about being sexually assaulted, raped, gang-raped or having sex against her will. She never mentioned Brett Kavanaugh in any capacity.
Responding to the letter, Avenatti called Ketterer's claims nothing more than "garbage" and sign of desperation from the Republicans. "The allegations he makes are false and without any basis," he tweeted. "We demand that the FBI interview my client & him, and that anyone found to have submitted false info be prosecuted to the fullest extent of the law."
In a sworn statement, Swetnick alleged she attended house parties in Maryland during the 1980s, attended by Kavanaugh and friend Mark Judge. According to Swetnick, she claims to have become aware of instances in which Kavanaugh spiked punch bowls and alcohol and quaaludes for the purpose of targeting inebriated women. Swetnick claims she was gang-raped at a gathering where Kavanaugh and Judge were present.
MSNBC aired a 10-minute story Monday about reporter Kate Snow's interview with Julie Swetnick, with an excerpt on NBC's Nightly News. The interview was a continued topic of conversation — and further reporting — in the following days. In her story, Snow pointed out differences between what Swetnick told her and the affidavit released earlier by her lawyer, Michael Avenatti. For instance, Swetnick in her previous statement had accused Kavanaugh and his friends of "spiking" the punch at parties with drugs or grain alcohol so girls would lose their inhibitions. In the interview, Swetnick said she saw Kavanaugh standing near the punch but didn't see him or friend Mark Judge spike it.
Swetnick also walked back allegations that Kavanaugh and other boys at the party waited their turn to "gang rape" girls who had been drugged. She told Snow she had no specific knowledge that this was happening. She did say that she was "violated" by boys at one party but couldn't say whether Kavanaugh was involved. She said she contacted the Montgomery County, Maryland, police about it; when NBC contacted the police to ask if there were any records, they said it could take up to a month to find them.
The morning after the interview, Snow said Swetnick provided the names of four people she said she went to some of these parties with. One of these friends is dead, and one said he does not recall a Julie Swetnick. Two others had not returned NBC's inquiries before the story aired and still had not on Tuesday, the network said.
Hours after it aired, Sen. Lindsey Graham (R-SC) told Fox News Channel's Sean Hannity that NBC was a "co-conspirator" in Kavanaugh's destruction. He said NBC News would never have done the story if the nominee were a Democrat.
"Their journalistic integrity has been destroyed over this case," Graham said.
As previously reported, Swetnick has an extensive history of involvement in legal disputes, including a lawsuit in which an ex-employer accused her of falsifying her college and work history on her job application. Legal documents from Maryland, Oregon, and Florida provide a partial picture of a woman who stepped into the media glare amid the battle over Kavanaugh's nomination for the nation's highest court.
Further, court records show Swetnick has been involved in at least six legal cases over the past 25 years. Along with the lawsuit filed by a former employer in November 2000, the cases include a personal injury suit she filed in 1994 against the Washington, D.C., regional transit authority.
Despite her past legal troubles, Avenatti claimed he "fully vetted" Swetnick before helping her take her claims against Kavanaugh public.
Avenatti released a sworn statement by Swetnick in which she says she witnessed Kavanaugh "consistently engage in excessive drinking and inappropriate contact of a sexual nature with women in the early 1980s." In the statement provided to the committee, Swetnick alleged she had been sexually assaulted at a party attended by members of Kavanaugh's social circle, but did not accuse him of assaulting her.
Swetnick was the third named Kavanaugh accuser to emerge when Avenatti released details of her accusations on Twitter on the eve of Christine Blasey Ford's testimony.
Kavanaugh denied the claims made by Swetnick and other women, characterizing the allegations as a "joke" and a "farce."
Swetnick, who is from the Maryland suburbs of Washington, D.C., has claimed she is willing to be interviewed by either Congress or the FBI.
Some details of the legal disputes she's been involved in aren't known, because documents in the cases are incomplete or no longer available. Records in the lawsuit filed in late 2000 by her ex-employer, Oregon-based software company Webtrends, don't indicate why it was dismissed. Avenatti said there was a settlement in the case but no money changed hands.
In its civil complaint in a state court in Oregon, the company said Swetnick, a software engineer, was an employee for a few weeks before its human resources department received a report that she had engaged in "unwelcome sexual innuendo and inappropriate conduct" toward two male co-workers at a business lunch.
The lawsuit said that Swetnick in turn accused Webtrends of subjecting her to "physically and emotionally threatening and hostile conditions" and that she claimed that she'd been sexually harassed by four co-workers. The co-workers denied the allegations, the suit said.
Company officials later determined, the suit said, that Swetnick had provided false information on her employment application. The suit alleged that she had misrepresented the length of time she worked at a previous employer and falsely claimed that she'd earned an undergraduate degree in biology and chemistry from Johns Hopkins University.
Swetnick was on the other side of a civil case in 1994, as a plaintiff, when she filed a personal injury lawsuit in Maryland against the Washington Metropolitan Area Transit Authority. She claimed she lost more than $420,000 in earnings after she hurt her nose in a fall on a train in 1992.
Swetnick, who described herself in court records as a model and actor, claimed she had "numerous modeling commitments" with several companies at the time of the accident but missed out them because of her injuries.
To support her claim for lost wages, Swetnick named "Konam Studios" as one of the companies promising to employ her. A court filing identified Nam Ko, a representative of "Kunam Studios," as a possible plaintiff's witness for her case.
However, Ko said he was just a friend of Swetnick's and that he had never owned a company with a name spelled either way and had never agreed to pay her money for any work before she injured her nose. He said he first met Swetnick at a bar more than a year after her alleged accident.
"I didn't have any money back then. I (was) broke as can be," Ko said.
Ko said he has a hazy memory of Swetnick asking to use him as a "character reference" but doesn't recall hearing about her lawsuit. "I thought it was for a job application," he said.
The paperwork filed in the suit includes a letter addressed to Swetnick's attorney from Richard Zamora, who is identified as a marketing executive from a San Jose, California-based company called Fiber Sign Inc. In the letter, dated March 1994, Zamora said the company had been prepared to hire Swetnick as a model and spokeswoman and pay her a $60,000 base salary but offered the job to someone else after learning of her accident.
Zamora later asked a court in Florida for a restraining order against Swetnick. The remaining court records don't show the reasons he gave for asking for the restraining order, but indicate that the case was dropped less than two weeks later when neither party appeared in court.
Avenatti said the request for a restraining order was "nonsense."
Court records show Swetnick's lawsuit against the transit agency was dismissed in 1997 after a settlement was reached. Vincent Jankoski, one of the lawyers who defended the agency, said the case was resolved without paying Swetnick any money after she failed to provide documentation supporting her lost-wage claims.
The Associated Press contributed to this report. 
http://feedproxy.google.com/~r/breitbart/~3/Pv_W-82Q4ic/