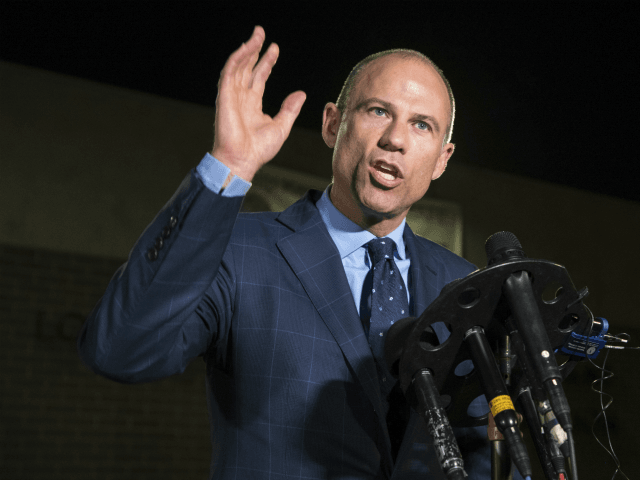 Left-wing attorney Michael Avenatti released a statement early Thursday morning claiming he has never hit a woman.
"I want to be clear: I DID NOT commit domestic violence nor have I ever committed domestic violence," Avenatti tweeted. "I did not strike any woman nor have I ever. I did not strike my ex-wife in the face nor did I hit anyone else in the face. I am a decent man & I look forward to being exonerated."
According to police, on Wednesday, at around 2 p.m. local time, Avenatti was arrested in West Los Angeles on a felony domestic violence charge.
The far-left Los Angeles Times reports that the "allegations were made by a woman who had 'visible injuries,' including bruises, according to a law enforcement official who spoke on the condition of anonymity."
Avenatti, who became a CNN star as the lawyer for porn star Stormy Daniels, was released on $50,000 bail that same night.
According to TMZ, witnesses saw the unidentified woman on the sidewalk wearing sunglasses and screaming into a cell phone: "I can't believe you did this to me.  I'm going to get a restraining order against you."
For his part, Avenatti was allegedly screaming, "She hit me first.…This is bulls***, this is f***ing bulls***."
The cops showed up a few minutes later and took Avenatti into custody.
In an update, TMZ reports that "the LAPD has already obtained an emergency protective order, prohibiting Avenatti from going near the alleged victim."
Apparently, this all took place at Avenatti's luxury apartment complex.
The fallout for Avenatti began almost immediately. Within hours, the Vermont Democrat Party canceled scheduled events with the CNN star, who has already announced that he will run for president in 2020. Left-wing actress and #MeToo activist Alyssa Milano publicly "disavowed" Avenatti after the news broke.
Over the past few months Avenatti has been a major embarrassment to CNN and Democrats.
He lost his case against President Trump so badly, his client, Stormy Daniels, has been ordered to pay the president's legal fees. Avenatti is also in legal jeopardy elsewhere over his client Julie Swetnick, who accused Supreme Court Justice Brett Kavanaugh of being a serial rapist during his confirmation. Swetnick later retracted that claim and the Senate Judiciary Committee has recommended the Department of Justice take legal action.
Follow John Nolte on Twitter @NolteNC. Follow his Facebook Page here.
http://feedproxy.google.com/~r/breitbart/~3/hf7BWza2irs/