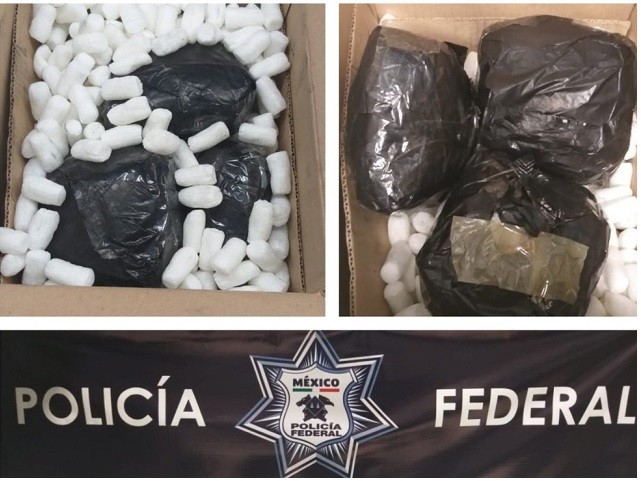 Mexican Federal Police in Sonora sized 1,067 pounds of methamphetamine concealed inside a tractor-trailer on Wednesday in the municipality of Carbó.
Mexican authorities announced the seizure of roughly a half-ton of methamphetamine, according to local reports. Federal Police patrolling Highway 1040 Hermosillo-Nogales stopped a tractor semi-trailer for an unsafe lane change violation. Agents asked the driver for corresponding documentation for his cargo. The documentation indicated 600 sacks of sugar weighing approximately 30,000 kilograms (66,138 pounds). An inspection by federal agents discovered a total of 597 sacks, 585 which contained sugar. A total of 12 of the sacks contained a granular substance consistent with the characteristics of methamphetamine or "cristal." The total weight of the methamphetamine was 1,067 pounds.
The driver was then arrested and handed over to the Federal Public Ministry of the Federal Attorney General's Office, along with the seized drugs. Carbó is located northwest of Hermosillo and approximately 130 miles south of the U.S. border at Nogales, Arizona. The manifest indicated the load of sugar originated in Guadalajara, Jalisco, bound for Tijuana. The drugs were believed to be heading to the U.S. drug market.
Northern Mexican areas abutting California and Arizona are witnessing a rash of high-profile drug busts.
The Mexican Army made two seizures in Ensenada on August 17 (1,036 pounds of meth, heroin, and fentanyl) and August 18 (1,653 pounds of meth, fentanyl, and marijuana).
The Mexican Army discovered an active drug lab on August 25 in Tecate and seized four tons of methamphetamine.
The Mexican Federal Police seized 350 pounds of methamphetamine in an active drug lab in Tijuana on August 26.
The Mexican Federal Police seized 20,000 fentanyl pills in an active lab in Mexicali on September 10.
The Mexican Federal Police seized 550 pounds of methamphetamine in Tijuana on September 12.
The Mexican Army seized 1,055 pounds of methamphetamine near the Arizona border on September 14.
Robert Arce is a retired Phoenix Police detective with extensive experience working Mexican organized crime and street gangs. Arce has worked in the Balkans, Iraq, Haiti, and recently completed a three-year assignment in Monterrey, Mexico, working out of the Consulate for the United States Department of State, International Narcotics and Law Enforcement Program, where he was the Regional Program Manager for Northeast Mexico (Coahuila, Tamaulipas, Nuevo Leon, Durango, San Luis Potosi, Zacatecas.)
http://feedproxy.google.com/~r/breitbart/~3/DtjaJRXbDQ0/