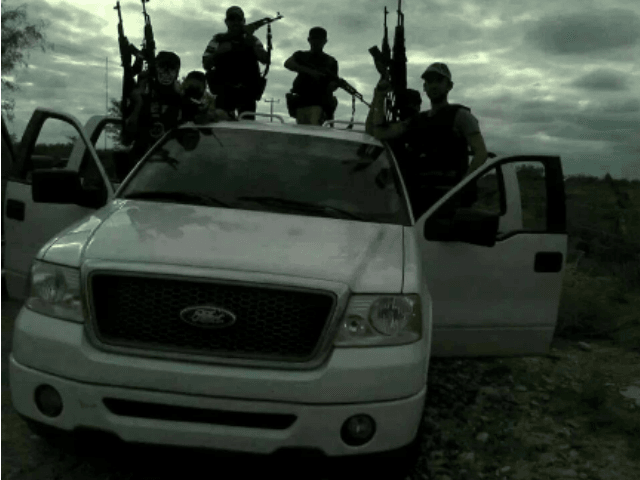 NUEVO LAREDO, Tamaulipas – One of the most violent cartels in Mexico is setting checkpoints, robbing motorists, and extorting tourists with ease after military forces were ordered to cease offensive engagement and withdrew hundreds of troops.
In recent weeks, gunmen with the Cartel Del Noreste (CDN) faction of Los Zetas began targeting motorists entering and leaving Nuevo Laredo by forcing them to stop at gunpoint or clandestine checkpoints. Law enforcement sources consulted by Breitbart Texas revealed the CDN targeted vehicles with Texas license plates in addition to Mexican ones. Drivers are forced to pay a toll or else.
Los Zetas carried out similar extortion tactics last year, but were driven out after a series of operations by the Mexican Marines. The military forces targeted cartel operators, their leaders, and repeatedly seized weapons caches. Several stash house raids yielded cloned military uniforms and other official-looking gear. In response to the pressure, the CDN began holding protests claiming authorities were kidnapping and murdering innocent victims.
The protests proved successful as they duped high ranking members of the United Nations into pushing Mexico City to withdraw 257 marines from Nuevo Laredo. As of now, 230 marines, 23 officers, and three captains are currently under investigation by Mexico's Human Rights Commission (CNDH) allegedly tied to 23 forced disappearances. Mexico's CNDH has not been able to release information on cartel executions in Nuevo Laredo due to the constant threats of retribution.
Intelligence sources revealed to Breitbart Texas that the military forces sent to Nuevo Laredo as replacements have a very different set of orders. Only routine patrols and defensive fire are allowed under current rules of engagement. The troops are ordered to keep a lower profile and not carry out any operations that could draw unwanted attention. The pullback gave way to CDN to reclaim the streets.
Editor's Note: Breitbart Texas traveled to the Mexican States of Tamaulipas, Coahuila, and Nuevo León to recruit citizen journalists willing to risk their lives and expose the cartels silencing their communities.  The writers would face certain death at the hands of the various cartels that operate in those areas including the Gulf Cartel and Los Zetas if a pseudonym were not used. Breitbart Texas' Cartel Chronicles are published in both English and in their original Spanish. This article was written by Tony Aranda from Nuevo Leon. 
http://feedproxy.google.com/~r/breitbart/~3/VwaHtHglrQA/