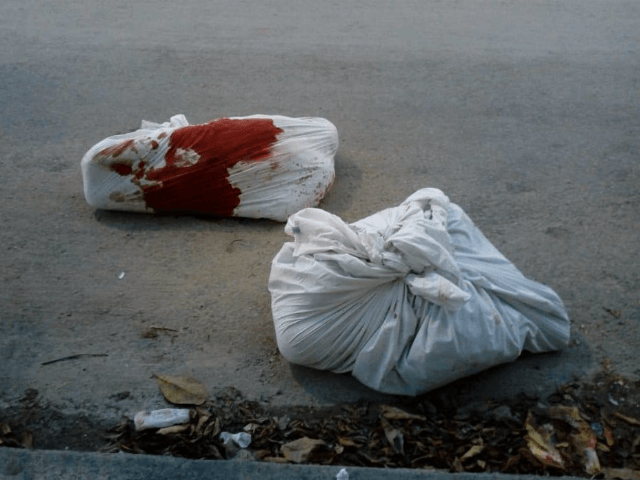 Cartel gunmen operating in Cancun kidnapped, tortured, and murdered two Mexican Marines. Their bodies were wrapped in white sheets and left in a busy street. The executions come at a time when Cancun has officially tallied 420 murders in nine months.
The gruesome discovery was made this week along 13th Street in Cancun–not far from a public hospital. Authorities responded to the scene after citizens discovered two large bundles wrapped in white sheets with bloodstains. State investigators found the remains of two Mexican Marines stationed nearby.
A law enforcement source said the discovery triggered investigation number 560/2018 by the Quintana Roo Attorney General's Office. Initially, authorities figured the victims to be street-level drug distributors, however, they later confirmed the ranks of an active duty sergeant and a corporal with the Mexican Navy. The two men were reported missing in the days prior.
The Mexican Navy issued a public statement condemning the murders and expressing condolences to surviving loved ones. According to naval officials, the pair went missing on their days off and were stationed in Isla Mujeres, Quintana Roo.
The once peaceful tourist hotspot is seeing a spike in cartel violence as Cartel Jalisco Nueva Generacion (CJNG) continues to grab control of the area's shipping ports, smuggling routes, and lucrative sex trade.
Ildefonso Ortiz is an award-winning journalist with Breitbart Texas. He co-founded the Cartel Chronicles project with Brandon Darby and Stephen K. Bannon.  You can follow him on Twitter and on Facebook. He can be contacted at Iortiz@breitbart.com.
Brandon Darby is the managing director and editor-in-chief of Breitbart Texas. He co-founded the Cartel Chronicles project with Ildefonso Ortiz and Stephen K. Bannon. Follow him on Twitter and Facebook. He can be contacted at bdarby@breitbart.com. 
Tony Aranda from the Cartel Chronicles project contributed to this report. 
http://feedproxy.google.com/~r/breitbart/~3/txI1hNqt73Q/