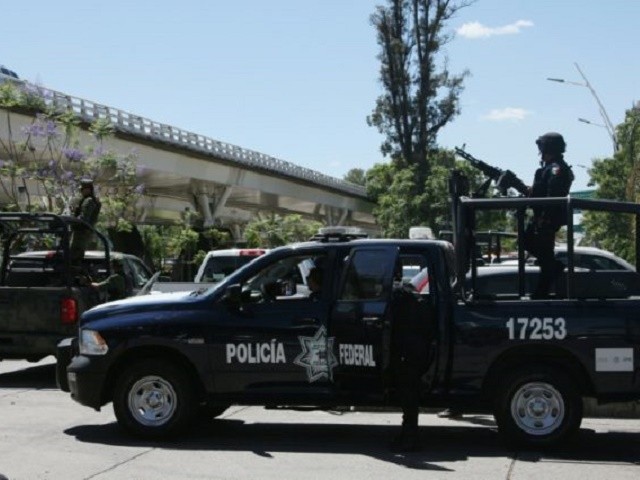 Mexican Federal Police with assistance from the Mexican Navy (SEMAR) and Army (SEDENA) captured René Gerardo Santana Garza, "El 300," one of the leaders of Los Aztecas. The gang is believed to be responsible for much of the recent cartel bloodshed in the border city of Ciudad Juarez.
Wednesday's operation resulted in the capture of Santana Garza, "El 300." The raid took place in the municipality of Aldama, which sits just outside of the state capital of Chihuahua. Officials announced his arrest at a press conference held by Manelich Castilla Craviotto, the chief of the Mexican Federal Police. Santana Garza, 34-years-old, is one of the leaders of "Los Aztecas" gang. Chief Craviotto said the gang is considered to be one of the most violent criminal cells within La Linea, the armed wing of the Nuevo Cartel de Juarez. Authorities linked Santana Garza directly to numerous attacks on police officers, including some earlier this month and another resulting in the death of ministerial police officer Mariano Contreras Rivera which occurred on September 6, 2018, as reported by Breitbart Texas.
Santana Garza was previously arrested for possession of a quantity of cocaine and a loaded handgun while driving in Ciudad Juárez. He was only charged with drug possession and not murder and was subsequently released by a judge after paying a bond, promising to appear back in court. Santana Garza is suspected of ordering the cartel prison hit on Juan Arturo Padilla Juárez alias 'El Genio' on August 2 in a Chihuahua state prison.
"El Genio" was a fellow Los Aztecas gang member who was fighting over control of the gang according to by Manelich Castilla Craviotto of the federal police. "El Genio's" murder was believed to have escalated a war between rival factions within Los Aztecas to include cartel gunmen of La Linea. The gang hit carried out in the Chihuahua state prison resulted in the stabbing death of "El Genio" lead to the killing of 26 people during a 24-hour period. Eleven of those victims were discovered in a single Ciudad Juárez residence. "El Genio" was believed to have been the second in command of Los Aztecas before being murdered inside the state prison on August 2.
A staged disturbance was believed to have been used as a diversion to allow incarcerated hitmen to locate and kill the Los Aztecas leader which then sparked a series of killings throughout Ciudad Juárez.
Authorities handed Santana Garza, "El 300" over to investigators of the state attorney general's office.
Robert Arce is a retired Phoenix Police detective with extensive experience working Mexican organized crime and street gangs. Arce has worked in the Balkans, Iraq, Haiti, and recently completed a three-year assignment in Monterrey, Mexico, working out of the Consulate for the United States Department of State, International Narcotics and Law Enforcement Program, where he was the Regional Program Manager for Northeast Mexico (Coahuila, Tamaulipas, Nuevo Leon, Durango, San Luis Potosi, Zacatecas.) You can follow him on Twitter. He can be reached at robertrarce@gmail.com
http://feedproxy.google.com/~r/breitbart/~3/LlwQgIuMuds/