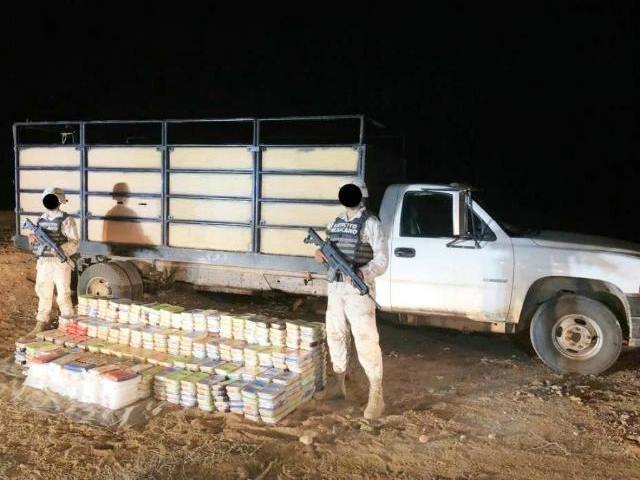 The Mexican Army seized 950 pounds of methamphetamine, fentanyl, and heroin on Sunday in Baja California–adding to the number of significant drug busts within the past two months.
The 67th Infantry Battalion at a security checkpoint in El Rosario contacted the driver of a Chevrolet 3500 truck transporting two horses, according to local media. Troops detected a false compartment in the bed, storing plastic containers filled with illicit drugs. An inventory process yielded 705 containers with approximately 600 grams each of methamphetamine; four containers with a kilogram each of fentanyl; and two containers at a kilo each of heroin.
The seizure was part of "Opración Rocinante." The total weight of the drugs seized was approximately 950 pounds, according to the Secretary of National Defense. The drugs were believed destined for the U.S. market.
The driver was arrested and his cargo transferred to the federal prosecutor's office in Ensenada.
The El Rosario Baja California checkpoint is located south of Ensenada at the Baja California Norte–Baja California Sur line on Highway 1.
Northern Mexican areas abutting California and Arizona are witnessing a rash of high-profile drug busts.
The Mexican Army made two seizures in Ensenada on August 17 (1,036 pounds of meth, heroin, and fentanyl) and August 18 (1,653 pounds of meth, fentanyl, and marijuana).
The Mexican Army discovered an active drug lab on August 25 in Tecate and seized four tons of methamphetamine.
The Mexican Federal Police seized 350 pounds of methamphetamine in an active drug lab in Tijuana on August 26.
The Mexican Federal Police seized 20,000 fentanyl pills in an active lab in Mexicali on September 10.
The Mexican Federal Police seized 550 pounds of methamphetamine in Tijuana on September 12.
The Mexican Army seized 1,055 pounds of methamphetamine near the Arizona border on September 14.
Robert Arce is a retired Phoenix Police detective with extensive experience working Mexican organized crime and street gangs. Arce has worked in the Balkans, Iraq, Haiti, and recently completed a three-year assignment in Monterrey, Mexico, working out of the Consulate for the United States Department of State, International Narcotics and Law Enforcement Program, where he was the Regional Program Manager for Northeast Mexico (Coahuila, Tamaulipas, Nuevo Leon, Durango, San Luis Potosi, Zacatecas.) You can follow him on Twitter. He can be reached at robertrarce@gmail.com
http://feedproxy.google.com/~r/breitbart/~3/GQ3w1Tod1ME/