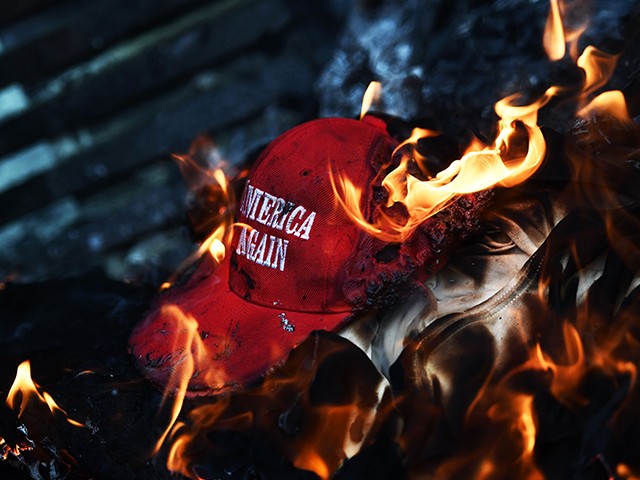 The two leading California newspapers are setting up Tuesday's midterm election as a "verdict" on "Trumpism," as the Golden State emerges as one of the key battlegrounds for control of the U.S. House.
Though Republicans have surged in recent Senate races, the San Francisco Chronicle and the Los Angeles Times are focused on the House, where Democrats only need to flip 23 seats out of 435 — about 5% — to take the majority, and likely to install House Minority Leader Nancy Pelosi (D-CA) as Speaker of the House once again.
The Chronicle website's lead story Sunday morning is actually a Washington Post analysis piece, "Voters set to render fresh verdict on Trump." It declares that the 2018 elections are really about the 2016 election, and "a nationwide judgment on whether Trumpism is a historic anomaly or a reflection of modern-day America."
The Los Angeles Times features a dire outlook for Republicans: "With Democrats well-positioned to take the House, Republicans scurry to save the Senate." It cast the election as a scramble for the GOP — though it noted Republicans still had a chance to hold the House:
Swamped by a tidal wave of Democratic cash, Republicans entered the final 72 hours of the midterm campaign scrambling to preserve their slim Senate majority as a bulwark against the increasing prospect of a Democrat-run House.

Needing to gain 23 House seats for control, Democrats were burrowing deep into once-safe Republican territory, from the suburbs of Philadelphia, Minneapolis and Houston to California's historically conservative bastions of Orange County and the Central Valley. The most optimistic GOP scenarios had the party hanging on to its majority in the 435-member chamber by a whisper-thin margin.
Seven of the key swing districts are in California. These are districts where voters re-elected Republicans to the House in 2016 but chose Hillary Clinton over Donald Trump in the presidential vote.
California's map has been more favorable to Democrats ever since re-districting in 2011 cost Republicans five seats. The Democrats "fooled" an ostensibly "independent" commission into drawing boundaries to protect their own incumbents.
However, Republicans have enjoyed a surge of enthusiasm this year, thanks to opposition to the state's "sanctuary" laws and an effort to repeal the increase in the state's gas tax.
Several Republicans have been showing good poll results in recent days, notably Rep. Dana Rohrabacher (R-CA), whose 48th district is seen as a bellwether.
Joel B. Pollak is Senior Editor-at-Large at Breitbart News. He is a winner of the 2018 Robert Novak Journalism Alumni Fellowship. He is also the co-author of How Trump Won: The Inside Story of a Revolution, which is available from Regnery. Follow him on Twitter at @joelpollak.
http://feedproxy.google.com/~r/breitbart/~3/FJVfs-5z2c0/