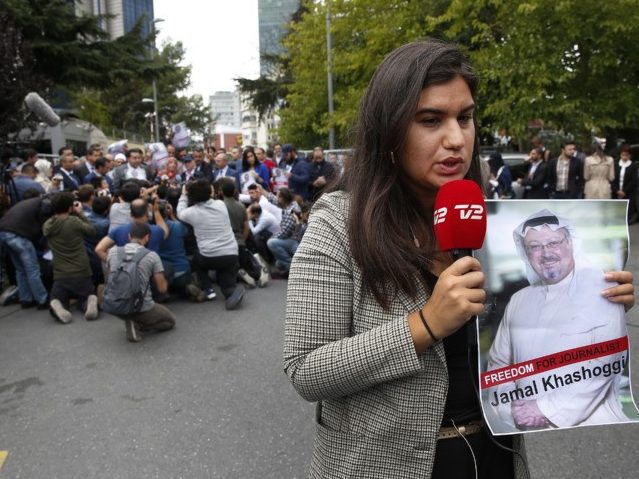 The near-total silence from on-the-record investigators, government officials, and reliable sources on the disappearance of Saudi journalist Jamal Khashoggi led much of the mainstream media to rely on the government-allied Turkish media and anonymous Turkish sources for this week's news.
Turkish anonymous sources have delivered blood, gore, and very little evidence to back up their claims – typical for a government that often uses false charges of terrorism to imprison journalists or dismiss government employees. Yet the American journalists relying on the steady trickle of gossip from Ankara have done little to highlight the poor reputation of the Turkish legal system and Turkey's status as the world's most prolific jailer of journalists. This latter point is of particular concern in a case involving the disappearance of a journalist critical of his home government.
President Recep Tayyip Erdogan has near complete control over the information reported on the Khashoggi case, as the sources for the known details so far are either (alleged) Turkish government investigators or Erdogan-friendly Turkish newspapers that, after years of Ankara persecuting antagonistic outlets, have overrun the Turkish media landscape.
These are the claims Turkish media or "Turkish sources" have provided the world on Jamal Khashoggi since he disappeared after entering the Saudi consulate in Istanbul on October 2:
An analysis of the most prominent, and salacious, of the claims surrounding Khashoggi's disappearance indicate that Turkey has maintained unparalleled control over the information disseminated in the media. Yet while many in media highlight the long history of human rights abuses in Saudi Arabia, and some manage to find blame for President Donald Trump in this affair, Turkey's own dire reputation of fabricating claims against political enemies and wantonly abusing its journalists has been relegated to the background of the affair.
Just two weeks ago, when Khashoggi's location was still a guaranteed known, much of the international human rights community and the free world was united in condemning Erdogan's government for making the exercise of the press impossible without political retribution. As the PEN International group notes on its website, Erdogan has shut down over 180 media outlets since July 2016, when he claimed supporters of Islamic cleric Fethullah Gülen attempted a coup d'etat against him. Similarly, over 150 journalists are currently in prison in Turkey for crimes ranging from "insulting the president" to "terrorism," most falsely accused of ties to Gülen or terrorist groups such as the Kurdistan Workers' Party (PKK).
The biggest crackdown occurred in the aftermath of the coup. Between July and August 2016, nearly 100,000 people – journalists, teachers, soldiers, and other government employees – were detained, arrested, or fired from their jobs for unsubstantiated ties to the failed coup.
Turkey's oldest and most staunchly anti-Erdogan, pro-secularist publication, Cumhuriyet, was among the media outlets hardest hit.
Erdogan failed in shutting down Cumhuriyet, but everyone from the editor-in-chief to the cafeteria cook at that organization has faced prosecution over opposition to Erdogan. Former editor-in-chief Can Dündar was arrested in 2016, along with Istanbul bureau chief Erdem Gül, for publishing an article with evidence indicating Erdogan's government had secretly shipped weapons to Sunni rebels in Syria. Both were found guilty. An assassin, claiming vengeance for Erdogan, attempted to shoot and kill Dündar at the steps of the courthouse where he was sentenced.
On October 2, the same day that Khashoggi disappeared, the Turkish judiciary acquitted the would-be assassin of malicious injury. He will still serve a sentence for possessing an unregistered firearm, but the court made clear that he was not being punished for trying to kill an opposition journalist.
Dündar fled to Germany before the court could force him to begin his sentence for practicing journalism. This week, the 27th High Criminal Court in Istanbul issued an international red notice for Dündar, urging countries to extradite him if he is present there.
Dündar's and Gül's prosecution occurred separately from the arrests of seventeen editors of Cumhuriyet a year later, all accused of "abusing trust" by reporting facts unfavorable to Erdogan and "helping an armed terrorist organization," presumably Gülen's fanbase.
It also occurred separately from the arrest of Şenol Buran, the head cook at Cumhuriyet's office cafeteria. Buran was arrested for stating that, if Erdogan walked into his cafeteria, he would not serve him a cup of tea.
Ahmet Şık, one of the detained Cumhuriyet editors, referred to Turkey as the "biggest journalists' prison in the world" in 2017.
The Committee to Protect Journalists agreed. In December, the group published its annual press freedom report, finding that "despite releasing some journalists in 2017, Turkey remains the world's worst jailer for the second consecutive year, with 73 journalists behind bars, compared with 81 last year." Cumhuriyet is just the largest on a long list of targets, and one of the few that has withstood pressure to shut down.
Reporters Without Borders, referring to the CPJ report, called Turkey's actions against journalists that year a "witch hunt" and noted that "[some] members of the press [are] spending more than a year in prison before trial and long jail sentences [are] becoming the new norm—in some cases, journalists are sentenced to life imprisonment without the possibility of a pardon."
"For journalists, Turkey has become a dungeon," Hakkı Boltan, a member of the Free Journalists Association, which Turkey shut down in 2016, told Amnesty International in May. "We had 400 members when we were closed: 78 of them are now in prison. The only way this will change is if journalists around the world stand with us to build solidarity."
Journalists are the primary targets, but far from the only ones. For a look at how Turkish prosecutors fabricate charges against people they consider threats to Erdogan that hits closer to home, one need only to turn to the events of this weekend. Andrew Brunson, an American pastor living for 26 years in Izmir, finally returned home Saturday after being arrested in 2016 for alleged ties to Gülen and Marxist Kurdistan Workers' Party (PKK). Brunson is neither a Muslim Gülen devotee nor a Marxist Kurd and the Turkish government provided no reliable evidence alleging so to the U.S. government during his prolonged detention. Only after an extended sanctions regime severely crippled the Turkish government did the country release Brunson, still refusing to deliver on the evidence Washington insisted was necessary to keep him behind bars.
Turkey's tainted record as a jailer of reporters and serial law enforcement liar does not mitigate Saudi Arabia's equally abysmal record on human rights, but to breathlessly relay anonymously sourced information out of Ankara is to delegitimize the struggle that Turkish journalists, like Khashoggi, endure in trying to work their craft at home. To trust Turkey blindly on Khashoggi is to legitimize the nonsense claims that Christian Pastor Brunson is an Islamic terrorist or that the tens of thousands of people punished in the aftermath of the coup all had a hand in a violent rebellion against Erdogan.
To trust newspaper like Yeni Safak when they claim audio recordings of Khashoggi's murder exist without demanding proof of such is to take at face value everything else Yeni Safak reports, like claims that Mohammed Bin Salman is a member of the Mossad or that the United States orchestrated the 2016 New Year's Eve Islamic State attack on a nightclub in Istanbul. Media outlets in the free world should be held to a higher standard of suspicion than they have shown toward Turkey this week.
Follow Frances Martel on Facebook and Twitter.
http://feedproxy.google.com/~r/breitbart/~3/Xmxwhighizo/