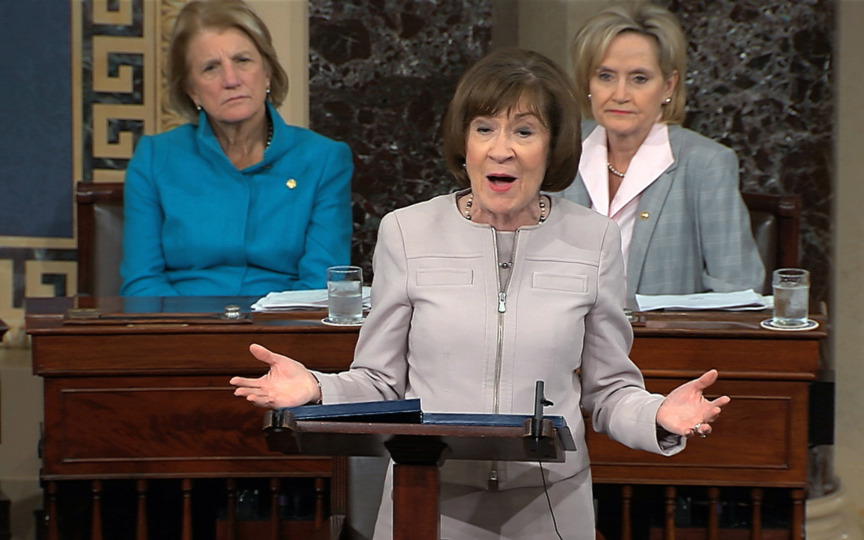 The left-wing media melted down as Sen. Susan Collins (R-ME) announced on Friday afternoon that she will vote to confirm Supreme Court nominee Brett Kavanaugh.
The media accused of her "gaslighting," compared her to white moderate lawmakers who "legitimized Jim Crow," and hyped up efforts to raise millions to oust her in 2020.
And on CNN, Jeffrey Toobin immediately warned that Kavanaugh's confirmation will mean that the Supreme Court will overturn Roe v. Wade. He also suggested that some restaurant and hotel owners would refuse to serve gay customers and said the Supreme Court will now side with the restaurant and hotel owners.
"Wait until they start getting cases from hotel owners who say I don't want to use my creativity for gay customers, and restaurant owners who don't want to serve gay customers," Toobin warned. "I mean this is a dramatic change coming, and the conservatives are in charge. There is a reason why the evangelicals and the base of the Republican Party have stood with Donald Trump all this time. It's not because they admire Donald Trump's personal life, but because he has delivered on what is most important to them."
Shorter version of Susan Collins speech: "I'm willing to destroy America just to destroy myself."

— Palmer Report (@PalmerReport) October 5, 2018
Collins believes:

1. Ford was sexually assaulted
2. It probably wasn't Kavanaugh

A "moderate" Republican senator is arguing Ford misremembers the person who tried to sexually assault her.

Absolutely fucking bonkers. A ghoul.

— Carlos Maza (@gaywonk) October 5, 2018
Susan Collins passive aggressively attacking the credibility of a victim while declaring herself a champion of women's rights in a speech that has gone on forever is … cringe worthy.

— Chris Mannix (@ChrisMannixYS) October 5, 2018
I do not think @SenatorCollins understands what she is about to unleash.

— Molly Knight (@molly_knight) October 5, 2018
The fund raising money for Susan Collins' future opponent just crossed $2 million as she spoke.

Left – 3:17 Right – 3:31https://t.co/5ydMnz7aAJ pic.twitter.com/rHiigqLuwS

— Alex Seitz-Wald (@aseitzwald) October 5, 2018
This speech by Senator Susan Collins is the slowest middle finger in human history

— Seth Abramson (@SethAbramson) October 5, 2018
Collins speech reminiscent of white "moderates" who legitimized Jim Crow

— Ari Berman (@AriBerman) October 5, 2018
Wow, i really cannot believe that Susan Collins is citing Kavanaugh's overlap with Merrick Garland as evidence of his moderation. Where was she when Senate GOP refused to move on Garland's nomination?

— Susan Glasser (@sbg1) October 5, 2018
At this point I think Mitch McConnell may be holding one of Susan Collins' loved ones as a hostage. Collins' speech like a video a hostage makes. The only thing missing is Collins holding up a newspaper as proof of the date

— (((DeanObeidallah))) (@DeanObeidallah) October 5, 2018
susan collins calling kavanaugh a "centrist" is so delusional

— Oliver Willis (@owillis) October 5, 2018
Collins goes on and on bemoaning the Sipreme Court nomination "process." Well, there's only two responses to that: Merrick Garland…and Merrick Garland. This is more gaslighting.

— David Corn (@DavidCornDC) October 5, 2018
"Every person who makes a charge of sexual assault should be heard and treated with respect…and then promptly ignored"

— Ben Dreyfuss (@bendreyfuss) October 5, 2018
Susan Collins thinks b/c Ford can't remember who drove her home has something to do with anything. Has she spoken to a single trauma expert? This is shameful.

— Kirsten Powers (@KirstenPowers) October 5, 2018
Susan Collins positively citing Mark Judge as a character witness. Wow.

— Ben Collins (@oneunderscore__) October 5, 2018
The Ed Whelan theory (or some version of it) has basically become the default consensus of the GOP https://t.co/gMVHz0v3AI

— Chris Hayes (@chrislhayes) October 5, 2018
"My name is not Susan, so watch what you say," Susan Collins sitting down at dinner in public tonight

— Ira (@ira) October 5, 2018
Susan Collins (Rape Apologist-ME) took the WSJ's Kavanaugh fauxpology hook, line, and sinker; and Murdoch's paper rewards her with this dark, juvenile headline. It's as if Judge, Kavanaugh, PJ, and Squi respectfully wrote it to make her feel like one of the boys. pic.twitter.com/2R0T3CovhL

— Ghost of David Frightle (@davitydave) October 6, 2018
Have had some people come at me in recent years to dispute that "rape culture" is a thing. You can call it "non-consent culture" or we can come up with another phrase. But it's real & it's everywhere. And this is how it works, right here. This whole Collins shitshow. https://t.co/niCvnc59Z7

— Mo Ryan (@moryan) October 5, 2018
Maybe "I believe that *something* happened to Dr Ford" is meant to sound empathetic, but it ends up being an easy way to imply something about her without coming out and saying it.

— James Poniewozik (@poniewozik) October 5, 2018
We are a country where two presidents who both lost the popular vote have now placed four justices on the Supreme Court. Democracy in action.

— Julia Ioffe (@juliaioffe) October 5, 2018
You've got to hand it to them: Appointing a multiply accused sexual assault perpetrator to take away women's bodily autonomy on the national scale is extremely ideologically consistent.

— Moira Donegan (@MoiraDonegan) October 5, 2018
http://feedproxy.google.com/~r/breitbart/~3/ijj6Qkbl5o0/