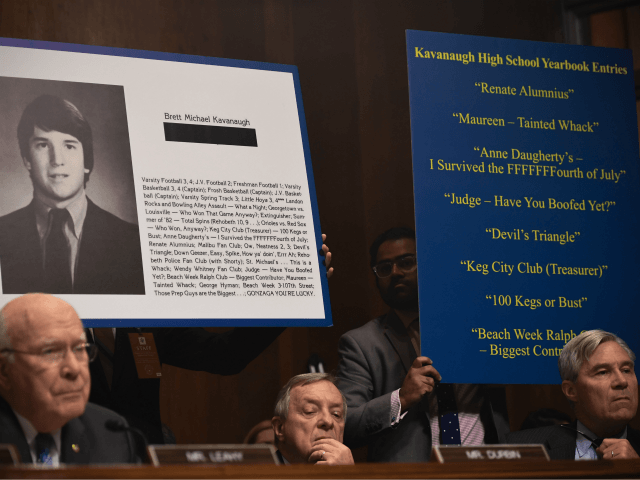 The establishment media have been spreading conspiracy theories about Brett Kavanaugh's yearbook for more than three weeks. Now those conspiracies have been fully debunked.
Yes, Kavanaugh's confirmation fight is over, but the autopsy exposing the establishment media's lies must continue.
There are three entries in the now-Associate Supreme Court Justice's high school yearbook from 1983 that Democrats and their media allies told us proved that Kavanaugh was a drunken serial rapist:
1) "FFFFForther of July" —  an acronym for gang rape: "Find them, French them, Feel them, Finger them, F*** them, Forget them."

2) "Devil's Triangle" – A threesome with one woman and two men. In other words, two men exploiting and abusing a woman as piece of meat.

3) "Have You Boofed Yet?" — "boof" being slang for sex.
During his testimony last week, Kavanaugh was asked about all three and claimed they were perfectly innocent in-jokes among high school buddies.
He testified that "FFFFF" referred to the memorable way a friend in his group said the word "fuck."
"Devil's Triangle," Kavanaugh said, was a drinking game like Quarters.
"Boofed" is a reference to flatulence.
So what you have here are a bunch of high school guys using their yearbook to forever document their silly jargon.
Naturally, though, no one on the left believed him, and as the sexual misconduct allegations against Kavanaugh began to collapse, in order to defeat his nomination, the media were forced to invent perjury charges. The laugh-out-loud claim was that Kavanaugh had risked his reputation, career, and prison to cover up juvenile in-jokes.
On cable news, online, over social media, and in the newspapers, to say the elite media were dedicated to framing Kavanaugh as a perjurer, would be quite the understatement. Over and over and over again, now that smearing Kavanaugh as a sexual predator had failed, the media would disqualify him for drinking beer in high school and lying about farting as an adult.
Well, after days and days of endless smears, we finally learned the truth, and the truth is that Kavanaugh told the truth.
No less than the New York Times debunked the "FFFFF" controversy on Wednesday. Buried deep in a pathetic exposé about a 1983 party Kavanaugh planned (impressively, I would add), the Times writes:
When he drank, Mr. Garrett would stutter words that began with the letter F. It became such a joke that many football teammates, including Judge Kavanaugh and Mr. Garrett himself, had "FFFFF" references in their personal yearbook pages.
Washington Post reporter Charles Lane corroborated a key part of Kavanaugh's explanation for the origins of "FFFFF."
Since it's come up — I grew up across the street in Chevy Chase from the guy known as "Squi" and saw him every day in my childhood. He did not stutter, so nothing to mock in that dept. but he did have that funny way of saying the F-word, as BK said. FWIW.

— Charles Lane (@ChuckLane1) September 27, 2018
On Thursday, the "Devil's Triangle" conspiracy theory was finally put to bed when four former Kavanaugh classmates issued sworn statements confirming that it was indeed a drinking game.
"If the phrase 'Devil's Triangle' had any sexual meaning in the 1980s, we did not know it," they wrote under penalty of felony.
One of the letter writers, Bernard McCarthy, wrote in his yearbook that he invented the name "Devil's Triangle," which is contemporaneous proof of its meaning. A total of six people have corroborated this.
Another sworn statement from a former classmate debunked the "boof" conspiracy theory.
A simple search of Google Books found that "boof" is indeed slang for passing gas.
Follow John Nolte on Twitter @NolteNC. Follow his Facebook Page here.
http://feedproxy.google.com/~r/breitbart/~3/zusdImUNqWY/