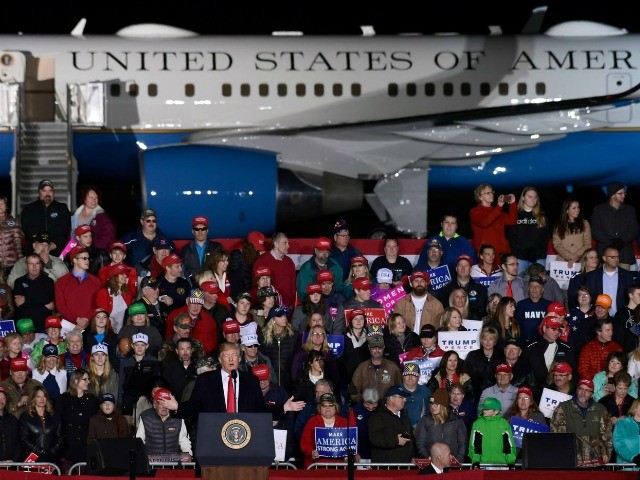 President Donald Trump on Wednesday evening offended the media when he said they also have a responsibility "to set a civil tone and stop the endless hostility" and "oftentimes false attacks and stories" after CNN and other prominent Democrats received suspicious packages.
The left-wing and establishment media blasted Trump for not accepting responsibility for the bomb scares and actually accused Trump of leading the "hate parade."
On CNN, contributor April Ryan slammed Trump's divisive rhetoric and said the bomb threats were "collateral damage." CNN anchor Chris Cuomo accused Trump of leading the "hate parade" that is dividing the country and fellow network anchor Don Lemon said Trump did not have the "testicular fortitude" to accept responsibility and repeatedly emphasized that all of the targets–CNN, Hillary Clinton, former President Barack Obama, former Obama CIA Chief John Brennan, and Rep. Maxine Waters (D-CA)–were those Trump has lashed out at with hateful rhetoric.
At the Wednesday evening Wisconsin rally, Trump said that his "highest duty is to keep America safe."
"The federal government is conducting an extensive investigation and we will find those responsible and we will bring them to justice," Trump said. "Any acts or threats of political violence are an attack on our democracy itself. No nation can succeed that tolerates violence or the threat of violence as a method of political intimidation, coercion, or control. We all know that."
Trump added that such "conduct must be fiercely opposed and firmly prosecuted" and emphasized that he wanted "all sides to come together in peace and harmony.
"More broadly, there is much we can do to bring our nation together. For example, those engaged in the political arena must stop treating political opponents as being morally defective," Trump continued, adding that the "the language of moral condemnation" must stop.
Trump said "no one should carelessly compare political opponents to historical villains, which is done often, which is done all the time. It's gotta stop."
"We should not mob people in public spaces or destroy public property," he said. "There is one way to settle our disagreements—it's called peacefully at the ballot box."
But Trump offended the media when he said that "as part of the larger national effort to bridge our divides ad bring people together," the mainstream media also have "a responsibility to set a civil tone and to stop the endless hostility and the "oftentimes false attacks and stories."
Trump warned the media tonight. He was saying if the negative coverage doesn't improve we should expect more attacks.

— Jared Yates Sexton (@JYSexton) October 25, 2018
Trump is turning these assasination attempts as a means to blame the media for the attacks and taking a swipe at "mobs." This is political, it's using it as a means of offense, and it's disgusting.

— Jared Yates Sexton (@JYSexton) October 25, 2018
.@andersoncooper on Trump's latest remarks: "He made no mention of an explosive device sent to this building behind me, the headquarters of CNN, a news organization he routinely attacks. He calls reporters the enemy of the American people… yet, he said it's the media's fault." pic.twitter.com/OFEvOqkYsk

— Anderson Cooper 360° (@AC360) October 25, 2018
President Trump took no responsibility for the national political environment, instead saying the media should set a "civil tone" after bomb scares https://t.co/tWIJg9P0D6 pic.twitter.com/QFvaoMXIhv

— CNN Breaking News (@cnnbrk) October 25, 2018
In rally, Trump takes no responsibility for the hostile political environment, instead points a finger at opponents and the news media.https://t.co/o8NCNTojrl

— Jim Roberts (@nycjim) October 25, 2018
truly amazing that it's become a common straight-faced tactic on the right during times of potential political violence to direct blame toward the press and then whip up hostility (and ultimately usually violent threats) toward them https://t.co/gtr6bKjacG

— Charlie Warzel (@cwarzel) October 25, 2018
Trump: "The media also has a responsibility to set a civil tone and to stop the endless hostility and constant negative and oftentimes false attacks and stories. Have to do it." So…he's using a day in which an explosive device was sent to CNN to bolster his criticism of media.

— Daniel Dale (@ddale8) October 25, 2018
Trump talked about the bombs sent to former public officials at his rally in Wisconsin. But once again he didn't mention CNN. On top of all that he criticized the "media" for coverage he doesn't like. And, of course, he took no responsibility for his own rhetoric.

— Jim Acosta (@Acosta) October 25, 2018
On CNN, @andersoncooper says the president is speaking "quite hypocritically." https://t.co/mqzCy08TVB

— Dylan Byers (@DylanByers) October 25, 2018
The president didn't call the media the enemy of the people as he often does, but he accepted zero responsibility for the heated rhetoric — and blamed media for hostility. That's hardly the call for unity he made earlier today in the East Room of the White House. https://t.co/XmiSo82osv

— Jeff Zeleny (@jeffzeleny) October 25, 2018
Trump just said political leaders "must stop treating political opponents as being morally defective."
2 wks ago, he blamed the Kavanaugh confirmation on "people that are evil"
He has dubbed a Dem Rep. "Crazy Maxine Waters"
He has called news media "enemy of the people"
And more.

— Jeremy Diamond (@JDiamond1) October 25, 2018
"Low IQ Maxine Waters"
"Lyin' Ted"
Crooked Hillary" https://t.co/3gB9J2Il0J

— Josh Dawsey (@jdawsey1) October 25, 2018
There is no hint whatsoever, in watching Trump today, that he sees even the faintest possibility of a causal relationship between his own attacks on reporters, calling them enemies and so forth – and an explosive device sent to CNN's NY bureau

— West Wing Reports (@WestWingReport) October 25, 2018
http://feedproxy.google.com/~r/breitbart/~3/R7Hg4ONH5o0/