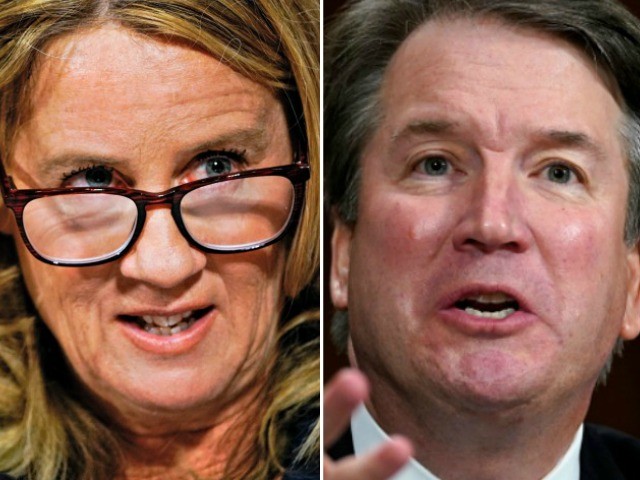 Several members of the media bashed the "blind partisanship" and "confrontational" nature of the Senate Judiciary Committee hearing Thursday as Supreme Court nominee Brett Kavanaugh emotionally defended his name against a sexual assault allegation by California psychology professor Dr. Christine Blasey Ford.
Kavanaugh delivered a fiery response to Ford's allegations in his opening statement, calling out Democratic lawmakers for launching a "search and destroy" campaign to block his nomination, while he tearfully explained how the hearings were affecting him and his family.
As Kavanaugh testified before the committee, various members of the media bashed the Supreme Court nominee for sounding like "an angry partisan," criticized him for being too "confrontational" like President Trump, and claimed he was not acting "like a judge."
Kavanaugh says he's an independent judge but he today he sounds like an angry partisan

— Burgess Everett (@burgessev) September 27, 2018
Kavanaugh goes full Trump in his opening: angry, partisan, confrontational, conspiratorial, self-pitying. Worked for the president. But is this appropriate for a judge?

— Max Boot (@MaxBoot) September 27, 2018
Brett Kavanaugh sounds VERY partisan in this speech. He's saying opposition to his nomination is based on "revenge on behalf of the Clintons" and anger that Trump won the 2016 election. Doesn't make it him sound very independent.

— James Hohmann (@jameshohmann) September 27, 2018
Republicans' gutless format and silence demonstrated that they have nothing in their bag of tricks other than innuendo, smears and blind partisanship. It turns out that's just not good enough when one faces a thoroughly honest and sympathetic victim. https://t.co/R56y79xzIh

— Jennifer Rubin (@JRubinBlogger) September 27, 2018
.@TerryMoran: "The Supreme Court has been edging into the sewer of our hyper-partisan politics for years now. It's arrived."

Kavanaugh "is fighting a political fight in there. He's not a judge in there." https://t.co/GGrl0K12EF #KavanaughHearings pic.twitter.com/zrCYasgqzv

— ABC News (@ABC) September 27, 2018
Oh boy-Kavanaugh is going full angry belittled marginalized white man. Tough sell for today.

— Luke Russert (@LukeRussert) September 27, 2018
Other journalists decided to straight-up mock Kavanaugh's testimony on the more personal aspects of his life.
James Hohmann, a national political correspondent for the Washington Post, openly mocked Kavanaugh's time spent "lifting weights and doing strength training" as the Supreme Court nominee discussed the items on his calendar as a teenager.
"Brett Kavanaugh notes that the summer that the sexual assault allegedly took place, when Christine Ford says he pinned her down on a bed, he had spent a lot of time lifting weights and doing strength training," Hohmann wrote in a now-deleted tweet.
Several other journalists also mocked Kavanaugh's response to Sen. Amy Klobuchar, when she asked if there was "ever a time" he could not remember "what happened or part of what happened" after a night of drinking:
Sen. Klobuchar: "Was there ever a time when you couldn't remember what happened or part of what happened the night before [from drinking]?"

Kavanaugh: "Yeah, I'm curious if you have."

Um. What?#KavanaughHearings

— Jenna Amatulli (@ohheyjenna) September 27, 2018
Honestly do we want a S Ct justice who says to a US senator who just says her dad was a drunk, "Have you?" when asked about a blackout, a germane question? cc; @lisamurkowski @SenatorCollins

— Jennifer Rubin (@JRubinBlogger) September 27, 2018
This Kavanaugh tendency of throwing questions back at senators themselves — like on Klobuchar and drinking — is not helpful to him.

— Seung Min Kim (@seungminkim) September 27, 2018
#Kavanaugh is a perfect-recall heavy drinker. I've never heard of such a thing. He should teach a class or donate some genes for research. #KavanaughHearing

— Charles M. Blow (@CharlesMBlow) September 27, 2018
One journalist even went as far as to attack Kavanaugh's demeanor when he ruled on decisions at other points during his career:
I'm just here to remind y'all that when a cop killed Brian Hundley, a jury found that the cop lied. Brett Kavanaugh threw out the verdict.

He didn't cry.

— michaelharriot (@michaelharriot) September 27, 2018
Others, like Chris Hayes of MSNBC, mocked the entire hearing as being "two semester's worth of gender-studies seminars":
This has already been two semester's worth of gender-studies seminars.

— Chris Hayes (@chrislhayes) September 27, 2018
http://feedproxy.google.com/~r/breitbart/~3/tZMRVQQw334/