The growing surge of Central American job-seeking migrants began after President Donald Trump reluctantly canceled his May-to-June policy of zero-tolerance for the migrants who bring children to the border, according to establishment media outlets.
"The number of migrant parents entering the United States with children has surged to record levels in the three months since President Trump ended family separations at the border," the Washington Post reported Oct. 17.
"Another big wave of migrants from Central America has arrived since late June, when President Trump halted the practice of separating migrant families detained at the border," said an Oct. 18 report in the New York Times. "Migrant arrests declined in May, June and July, but have escalated sharply since the president halted the separations."
"The sudden end of Trump's family separation policy [in June] may have created a window of opportunity for coyotes, the immigrant smugglers who now charge as much as $10,000 to bring people north to the border from Central America, analysts say," according to an Oct. 18 report by the Dallas News. It continued:
After months of media coverage about the emotional impact of the separations on parents and small children, Trump signed an executive order [in June] ending the practice. The number of families crossing the border began rising in August, increasing to about 13,000 family members, after holding steady at about 9,000 in April, May, June and July.
Those media admissions corroborate Trump's argument that his decision to end the zero-tolerance policy triggered the renewed migration, saying "when a person thinks they will not be separated, our border becomes overrun with people coming in."
Trump's zero-tolerance policy closed those catch-and-release loopholes in May and June by prosecuting adults at detention centers while their children were sheltered elsewhere. But he ended the prosecution-and-shelter policy amid the establishment media's emotional coverage of crying children.
The Dallas News also explained why migrants bring young children on the risky, 3,000-mile trek:
A recent report from the Department of Homeland Security found that only a third of asylum-seekers determined to have invalid claims who had entered in the U.S. in 2014 had been sent back by September 2017. Only a tenth of those traveling in families and only 3 percent of non-Mexican unaccompanied minors who entered in 2014 had been sent back by September 2017.

By comparison, 92 percent of single adult Mexicans who were apprehended in 2014 were sent back to Mexico by September 2017.
The media reports are also backing up Trump's argument that the migrants are primarily seeking jobs, not fleeing criminal gangs.
On Oct, 18, in a Montana rally, Trump declared:
It's my problem. I caused it. Because I have created such an incredible economy, I have created so many jobs, I've made this country and you so great, that everybody wants to come in! So they're all pouring in, or trying to.
This portrayal of the migrants as job-seekers is backed up by an Oct. 18 New York Times article which highlighted the migrants' focus on jobs in the United States:
For or all of them, heading north is a gamble for a better life. Most migrants said they were aware that jobs were plentiful in the United States, and many said they believed that having a child accompany them might help them avoid long-term detention …

Among those arriving at the motel in Tucson, there appeared to be more fathers than mothers traveling with a child. Asked why they had come north, one man after another said "trabajo" — work — in construction, restaurants, landscaping or cleaning.

"I want to work — any job, I'll do," said one man, Efrain, as he cradled his sleepy 2-year-old daughter Suleymi and wiped her runny nose. Efrain said he had been a farmer in Guatemala and had sold a small plot of land to pay for the two-week trek to America. He said he and Suleymi were headed for Florida, where his uncle lives

…

Marcelino and Pedro, two brothers from Guatemala, said they were bound for Atlanta, hoping to work in a restaurant alongside another brother who was already there. Each man was traveling with his oldest child, 12 and 9, and had left a wife and three more children behind.
Crime was barely mentioned in a second Oct. 18 New York Times article, which interviewed migrants about their reason for joining the caravan:
"We're traveling to find a better future for my daughters," said Fanny Rodríguez, who was with her husband, Edil Moscoso, 26, and their two daughters Daily Edith, 2, and Yarice, 9 months old. "We're not going because we want fancy things."

…

"We decided to come because of the economic situation," Mr. [Nery] Maldonado said. "We wanted to go to the United States to see if we could ask for a couple of prosthetics."

…

"There isn't work or anything. You can't live in Honduras. There isn't money," [Jennifer Paola López] said. "There's no help from the government. There's nothing."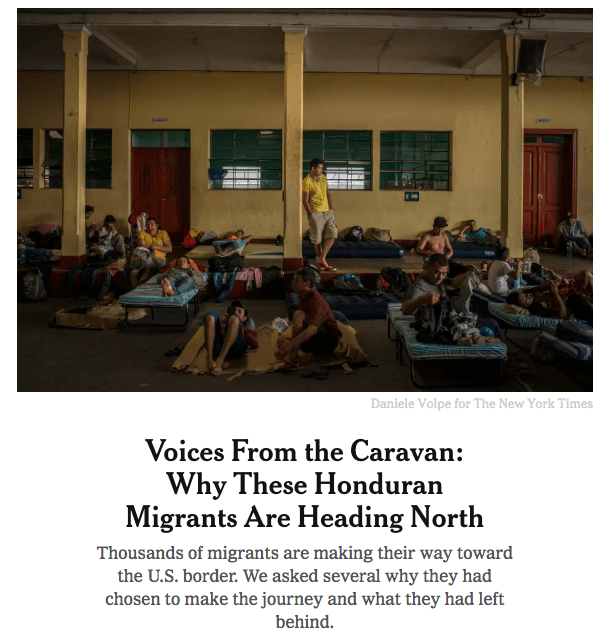 The Associated Press emphasized on Oct. 14 the importance of job-seekers, saying:
Frustration with poverty is a common explanation by migrants for participating in the latest caravan. About 65 percent of Honduras' people are poor and many get by on the equivalent of a dollar or two a day.

…

Roberto Castro, one of the travelers in the caravan, said via telephone that he is a 26-year-old bus driver and construction worker, when there is work. These days, there is none, he said."
An Oct. 16 Associated Press article also emphasized poverty over worries about crimes:
"In Honduras there are no jobs, and the jobs that do exist aren't enough to live on," said Jose Francisco Hernandez, a 32-year-old from Copan state in western Honduras. "We can't go to the city because it is full of gang members, and that is hurting us. We decided to migrate from the country to see if we can find a better life."
The Washington Post wrote Oct. 18 that the migrants "say they are traveling in search of jobs, better lives for their families and an escape from gang threats and violent communities."
Many establishment media outlets, however, are sticking to the prior narrative that the Latinos are merely helpless refugees seeking asylum and sanctuary from kind-hearted progressives. The Atlantic, for example, said,
The images are the same: Men, women, and children huddling together, exhausted from hours of walking, finding any space to rest their eyes—cement floors in a shelter, grass in a parking lot. The stories are also familiar: Some fear gangs and death threats, others flee rape and domestic violence. Just months after a caravan of migrants bound for the U.S. gained national attention in April, another group, estimated at 2,000, is in Guatemala heading north. It's yet another demonstration of how even harsh attempts to deter migrants from making the journey to the U.S.-Mexico border, including separating parents and children, often fail.
Trump's deputies are pushing hard against the migrant-victim theme and are emphasizing the economic-migrant perspective. "The removal of actual family units, or those posing as family units, has been made virtually impossible by congressional inaction, which will most likely result in record numbers of families arriving illegally in the United States this year," said Katie Waldman, a spokeswoman for the Department of Homeland Security.
Overall, the Washington-imposed economic policy of economic growth via legal immigration and illegal migration shifts wealth from young people towards older people by flooding the market with cheap white-collar and blue-collar foreign labor.
That flood of outside labor spikes profits and Wall Street values by cutting salaries for manual and skilled labor offered by blue-collar and white-collar employees. The policy also drives up real estate prices, widens wealth-gaps, reduces high-tech investment, increases state and local tax burdens, hurts kids' schools and college education, pushes Americans away from high-tech careers, and sidelines at least 5 million marginalized Americans and their families, including many who are now struggling with opioid addictions.
Immigration also pulls investment and wealth away from heartland states because coastal investors can more easily hire and supervise the large immigrant populations living in the coastal states.
http://feedproxy.google.com/~r/breitbart/~3/uNPOGwqAj4A/