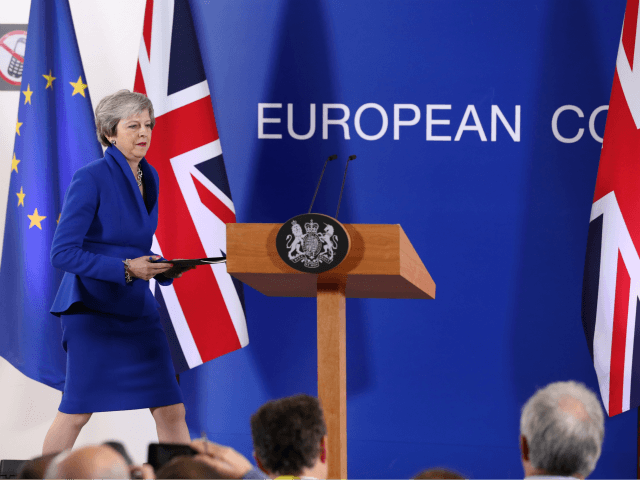 EU leaders have signed off on the Brexit agreement negotiated with Theresa May, described as "the worst deal in history" by Leavers.
The Remain-voting Prime Minister's deal with the European Union — if ratified by the British Parliament and in EU capitals — could condemn the United Kingdom to "perpetual purgatory" or even no Brexit at all, as Britain's departure will be followed by a lengthy 'transition' period in which it will remain subject to all the rules and regulations of an EU member-state, but without representation in the EU's institutions.
The 'transition' was originally envisaged as a period in which a new deal between the United Kingdom and the European Union would be implemented — but this has not happened, and it will instead be used to negotiate that deal.
Controversially, the withdrawal agreement makes provision for the transition to be extended for a further two years if a deal is not struck, or for the UK and the EU to fall back on a divisive 'backstop' in which the UK will enter a "single customs territory" which largely duplicates the EU Customs Union.
The British province of Northern Ireland would have to meet additional obligations to the EU in order to keep the border with EU Ireland open — a measure which Northern Ireland's Brexit-supporting Democratic Unionist Party (DUP) bitterly opposes — while British fish would be excluded from the arrangements without a deal allowing EU trawlers continued access to British waters.
The arrangements would not cover the services industry, where Britain is most successful in its commercial dealings with the EU.
Brexiteers believe it is highly unlikely that the EU will, in fact, negotiate a mutually beneficial trade agreement during the transition, as either extending the transition or resorting to the backstop — which the UK is not allowed to leave without the EU's permission — are already so lopsided in its favour.
This story is developing…
Follow Jack Montgomery on Twitter:

 @JackBMontgomery
Follow Breitbart London on Facebook:

 Breitbart London
http://feedproxy.google.com/~r/breitbart/~3/Eew7gBYnlR8/