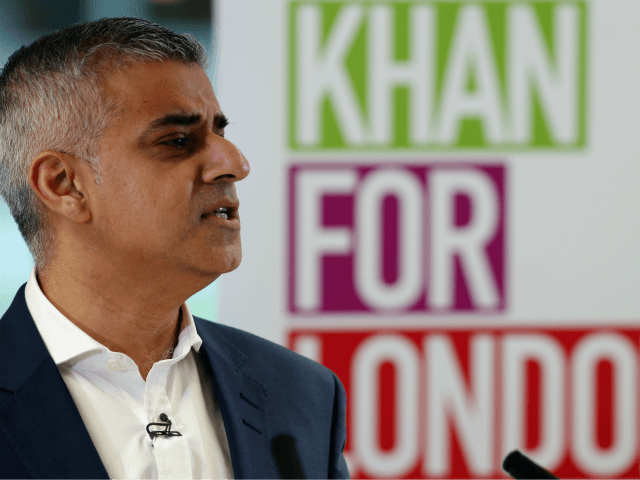 The Mayor of London Sadiq Khan has announced a new "public health" approach to tackling violent crime in the capital, whilst admitting the surge in violent crime in the city will not be solved "overnight".
A new unit is being set up bringing together staff from health, police, local government agencies, and youth clubs in an attempt to keep potential killers away from crime, with initial funding of £500,000, City Hall said Wednesday.
There has been a 21 percent rise in violent crime in London, with knife incidents and robberies surging by over 50 percent.
So far this year, there have been over 100 homicides in the capital, with a third of the victims aged 16 to 24, and three-fifths of the deaths attributed to knife attacks.
Mr Khan said the unit would make slow progress and once again implied the rise on crime was the fault of central government and spending cuts.
Most Brits Say Police Have Lost Control, Blame Political Correctness https://t.co/s8zUeBpMoI

— Breitbart London (@BreitbartLondon) July 16, 2018
"I want to be honest with Londoners that the work of the Violence Reduction Unit will not deliver results overnight," he said.
Adding: "The causes of violent crime are many years in the making and the solutions will take time.
"That's why our new approach is focusing over the long-term. This unit is not a substitute for the investment our public services need if London is to significantly cut levels of violent crime."
City Hall said the scheme was based on an approach taken in Scotland that is credited with helping to reduce poverty-related violence in Glasgow.
— Breitbart News (@BreitbartNews) September 12, 2018
They claim: "The Mayor and his team have over the last few months been carrying out extensive research to understand the approaches taken in Glasgow, where a long-term public health approach to tackling serious violence was adopted."
Adding: "In Glasgow the approach has been in place for more than a decade and has delivered large reductions in violence."
Last week, Mr Khan's City Hall said they would temporality move 122 officers from transport to a violent crime unit. The move was branded too little too late by London Conservatives.
In July, the Home Secretary announced £22 million to be spent on helping young people to "focus their talents on positive activities" in a bid to tackle the rising crime wave.
Police and crime commissioners can apply for money from the fund for projects run by youth and community groups between 2018 and 2020.
And in March, Mr Khan unveiled a £1.4 million fund aimed at tackling knife crime, including £6,400 to a London Islamic Centre and nearly £50,000 to an "ethnic forum" reaching just 60 people.
Mayor Khan: 'I Can't Solve London Knife Crime,' Blames Right Wingers https://t.co/92B7l2yrJW

— Breitbart London (@BreitbartLondon) January 18, 2018
http://feedproxy.google.com/~r/breitbart/~3/riGKZ7zmEZw/