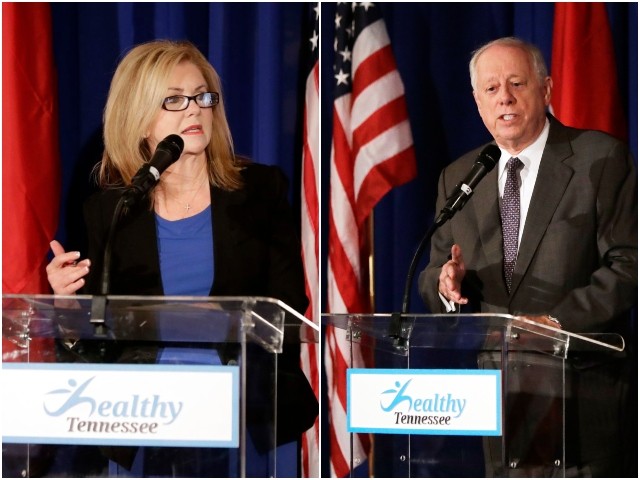 Republican Tennessee Senate candidate Rep. Marsha Blackburn's (R-TN) Democrat opponent Phil Bredesen announced his support Friday morning for Supreme Court nominee Brett Kavanaugh's confirmation.
"Presidents have the right to appoint justices who share their values–elections have consequences.  I believe a Senator's responsibility to 'advise and consent' is not a license to indulge in partisanship, but should focus on the qualifications of the nominee, their ethics and their temperament," Bredesen's statement reads. "I believed that Judge Kavanaugh initially met this test, and I was prepared to say 'yes' to his nomination prior to Dr. Ford's coming forward.  While the subsequent events make it a much closer call, and I am missing key pieces of information that a sitting Senator has, I'm still a 'yes.'"
The Democrat Senate candidate referred to Ford as a "heroine" and said the treatment of the California psychology professor who recently leveled a decades-old allegation of sexual misconduct against Kavanaugh, as "disgusting," adding that he is "determined to help bring about a fairer and far more respectful treatment of these issues."
Bredesen statement comes after the full Senate voted in favor of advancing Kavanaugh's confirmation into its final phase. In a surprising move, Sen. Joe Manchin (D-WV) voted yes on cloture for Kavanaugh's confirmation.
In a Thursday interview with Al-Jazeera, Manchin signaled he would decide whether to vote in favor of Kavanaugh based on the judge's public service record — not the FBI's investigation into allegations of sexual misconduct.
"I am looking at the gentleman as an adult from 22 to 53, thirty-one years of professional service," he told the Qatar-based news outlet. "I am looking at him as a father. As a person in a community, how he interacts with his community. I am trying to put the human side to it."
Judge Kavanaugh's nomination to the Supreme Court passed 51-49. Sens. Jeff Flake (R-AZ) and Susan Collins voted in support of Kavanaugh, while Sen. Lisa Murkowski (R-AK) broke with her Republican colleagues with a "no" vote.
http://feedproxy.google.com/~r/breitbart/~3/O447-l9tGRg/