Marsha Blackburn, a Republican Senate candidate in Tennessee, responded Tuesday to Taylor Swift's social media dig against her, and the pop star's announcement that she would be voting for Democrats in the midterm elections.
Swift, 28, slammed Blackburn on Instagram Sunday, saying that even though she would "like to continue voting for women in office," she wouldn't be casting a vote in favor of Blackburn.
"Her voting record in Congress appalls and terrifies me," she continued, before citing several examples of how she said Blackburn voted.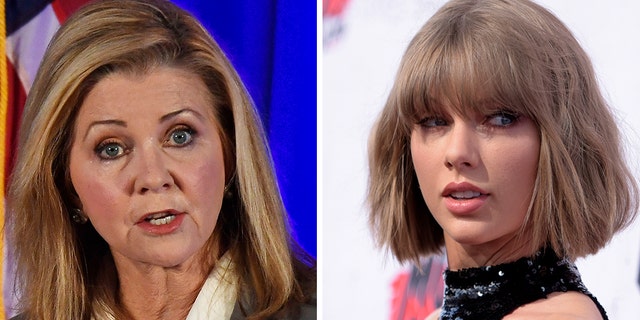 However, in an interview with Fox Business' Connell McShane, Blackburn, currently a Tennessee congresswoman, insisted that she is an advocate for women's causes.
TAYLOR SWIFT BASHES BLACKBURN IN FAVOR OF TENNESSEE DEMS, BREAKING POLITICAL SILENCE
"Of course I support women and I want violence to end against women," Blackburn said. "I've been very active in abuse shelters and child advocacy centers. I've been advocating for women in equal pay since I was 19 years old and making certain that woman have the opportunity for maximum pay and have a good record on that."
The congresswoman continued: "We're getting ready the Music Modernization Act that I helped steer through Congress. It's going to be signed on Thursday by the president. I've been very active in that and Taylor Swift will benefit by that." The wide-ranging bill would affect payments to songwriters, copyright performance rights and royalties, among other things.
When asked whether she thought Swift's decision could sway voters, Blackburn said she believed her constituents cared more about who supported her.
"Tennesseans are more interested in the fact that Marsha Blackburn is endorsed by the U.S. Chamber of Commerce, by the Fraternal Order of Police, by the Police Benevolent Association and by the National Rifle Association, where I have an 'A' rating and their endorsement," Blackburn said.
TAYLOR SWIFT'S POLITICAL INSTAGRAM POST CAUSES SPIKE IN VOTER REGISTRATION, ORGANIZATION SAYS
Swift notably had strayed from commenting publically on politics in the past. However, she wrote Sunday that she now feels "very differently" and announced she would be voting for Tennessee Democrats.
"I cannot vote for someone who will not be willing to fight for dignity for ALL Americans, no matter their skin color, gender or who they love," Swift wrote. "She voted against equal pay for women. She voted against the Reauthorization of the Violence Against Women Act, which attempts to protect women from domestic violence, stalking, and date rape. She believes businesses have a right to refuse service to gay couples. She also believes they should not have the right to marry."
Swift continued, "These are not MY Tennessee values."
Fox Business' Connell McShane and Fox News' Nicole Darrah contributed to this report.
http://feeds.foxnews.com/~r/foxnews/politics/~3/oFbbjXuqh6k/marsha-blackburn-responds-to-taylor-swift-slam