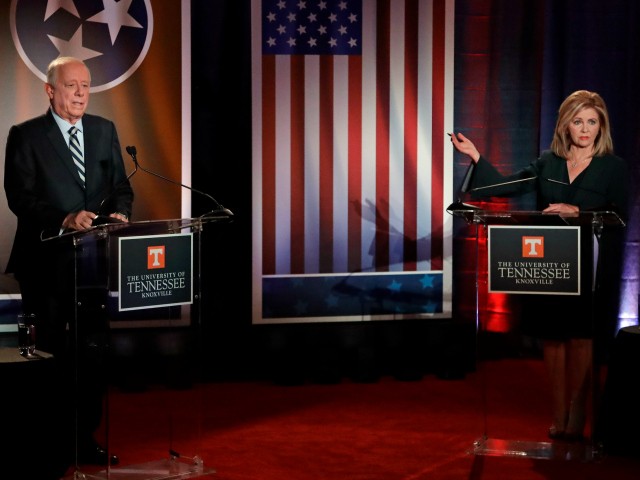 Republican Senate candidate Marsha Blackburn hit Democrat Phil Bredesen Wednesday night with accusations that he shielded friends from allegations of sexual harassment while claims nearly doubled during his time as governor of Tennessee.
The two squared off in a debate during which Blackburn pointed to files on sexual harassment that were shredded. "The voices of those women were shredded. … They died in that shredder," Knox News reported.
Bredesen responded to Blackburn's claims by decrying the debate as becoming uncivil.
In an email Wednesday night, Blackburn's campaign also disseminated a host of articles evidencing Bredesen's record on sexual harassment while governor of Tennessee. The claims included insinuation that sexual harassment claims filed and routed through Bredesen's office included none or few pages on the cases. 
Bredesen went on to claim Blackburn's charges were wrong, admitting only that they "had an issue with someone" and that they got rid of the person.
Blackburn also brought up a report during the debate that Tennessee government sexual harassment claims under Bredesen's gubernatorial tenure were on track to double in 2005 from 2004. The report came from the Associated Press in 2005. It was included in the campaign's email.
She also referenced a 2005 investigation that found in at least two sexual harassment claims that investigators' notes were shredded, according to the Tennessean. Blackburn used Bredesen's own words against him in the debate, citing his comments about the problem of sexual harassment and not tolerating it: "Anytime you mix men and women together in a work environment, there's going to be issues."
Bredesen claimed Blackburn's charges were a "total mischaracterization." He claimed the shredding was done to protect women's identities. He said he had encouraged people to come forward with claims and was "glad" the number of cases increased.
Knox News reported that only after the practice of shredding these files was reported in the news did Bredesen change the policy to forbid document destruction.
The Blackburn campaign email cited over half a dozen sources in levying the charges regarding the handling of sexual harassment against Bredesen.
Michelle Moons is a White House Correspondent for Breitbart News — follow on Twitter @MichelleDiana and Facebook.
http://feedproxy.google.com/~r/breitbart/~3/gV-FibBkuwA/