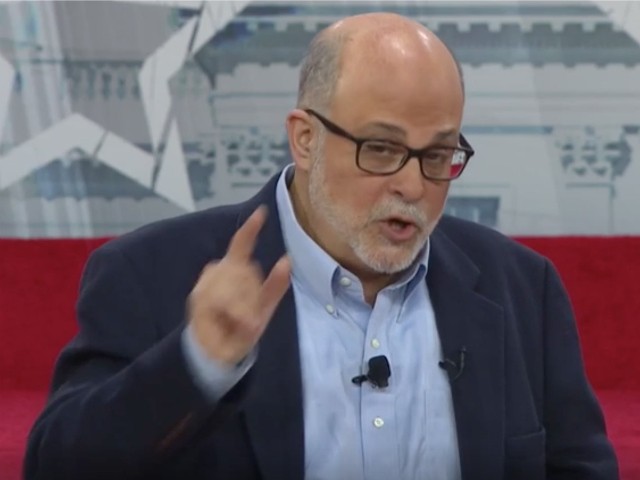 Radio host Mark Levin warned fellow conservatives on Friday evening that they should not rush to conclusions about the New York Times' latest story alleging that Deputy Attorney General Rod Rosenstein had plotted against President Donald Trump.
He warned that Trump's enemies might be trying to goad him into firing Rosenstein before the midterm elections by leaking information from memoranda created by former Deputy FBI Director Andrew McCabe, who was fired in March for lying.
The Times reported Friday that in 2017, Rosenstein had suggested recording Trump secretly, and had "discussed recruiting cabinet members to invoke the 25th Amendment to remove Mr. Trump from office for being unfit." Rosenstein denied the latter claim, and Department of Justice sources suggested that Rosenstein had been speaking sacrastically about wearing a wire in meetings with Trump — in response, Levin said, citing sources, to McCabe's animus against the president.
Levin also said the story illuminated why, and how, Rosenstein had appointed Special Counsel Robert Mueller. "This also tells me why Rod Rosenstein appointed a special counsel," Levin explained. "He should never have appointed a special counsel, he violated his own department rules, there was no criminal predicate. But he was being pressed by the deputy director of the FBI.'"
In addition, Levin cautioned conservatives to consider why the Times — with its record of inaccurate reporting on the Trump administration — would have wanted to expose a threat to Trump. He pointed out several left-wing canards in the article, such as the claim that Trump had asked former FBI director James Comey to end the investigation of National Security Advisor Michael Flynn.
Levin suggested that McCabe, or Mueller — or Mueller's deputy, Andrew Weismann — had clear motives to leak the claims about Rosenstein to the Times — claims that were tellingly absent from Lisa Page's contemporaneous notes about the meetings.
"They have absolutely nothing on the President of the United States. They are trying to push their agenda. They are there for one reason and one reason only — to write the report in hopes of impeaching the president with a Democrat Congress," Levin said.
"The Special Counsel's office … would like nothing more than the President of the United States to fire Rosenstein to claim that he is truly obstructing an investigation, trying to influence their investigation, and then write it up as, effectively, as in Watergate, a 'Saturday Night Massacre' of sorts.
"In other words, it's a setup of the president," Levin concluded, adding: "The president must not fire Rosenstein, certainly not prior to the midterm election. That's what they want."
Joel B. Pollak is Senior Editor-at-Large at Breitbart News. He is a winner of the 2018 Robert Novak Journalism Alumni Fellowship. He is also the co-author of How Trump Won: The Inside Story of a Revolution, which is available from Regnery. Follow him on Twitter at @joelpollak.
http://feedproxy.google.com/~r/breitbart/~3/FeMtyvCDgJ0/