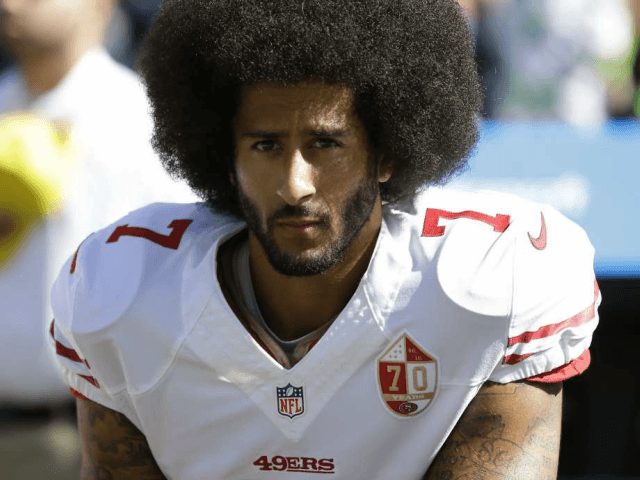 Colin Kaepernick's lawyer Mark Geragos, said a couple of teams might be interested in signing his client.
"I would just say, 'Stay tuned' … that next week there may be some news," Geragos told TMZ Sports.
Geragos hinted at the Oakland Raiders as a possible landing spot.
"I'll say this … if Al Davis was still alive," Geragos said.
Al Davis is the late owner of the Raiders, who are now owned by his son, Mark Davis.
The Raiders' current quarterback Derek Carr, has struggled so far this year (and last season) and the team's new coach, Jon Gruden, might not enamored of this player he inherited, along with his $25 million-a-year contract.
And his backup, AJ McCarron, was traded to the Raiders this summer from the QB-needy Buffalo Bills. McCarron, a former Alabama standout, doesn't have great arm strength.
Kaepernick has a rocket arm, something the Davis family has always loved, so Geragos might be on to something.
In addition, Kaepernick's activism might not a problem in Oakland, a city run by progressive mayor Libby Schaaf. Some teams feel that Kaepernick, who started the anthem-kneeling movement in 2016, could hurt them at the box office, but in left-leaning Oakland that might not be a problem.
What other team might be in play?
Geragos dropped a hint.
"Do you know who (rapper) Meek Mill was visited by when he was in custody?" he asked,
The reporter answered, "Robert Kraft."
And Geragos smiled, giving people the idea the Patriots, owned by Kraft, might be the other team. Kaepernick and Mill are good friends.
The Patriots are quarterbacked by Tom Brady, but might be looking for an heir apparent, or a better backup than journeyman Brian Hoyer.
Geragos ruled out the Miami Dolphins, a team with three current anthem protesters, as a possible spot for his client.
"I wouldn't say join the Dolphins," Geragos said. "I've got two other teams that will remain nameless."
Gegagos is currently suing the NFL on behalf of Kaepernick, claiming the quarterback is still unsigned due to NFL teams colluding against him, because he started the anthem protest movement.
If a team signs Kaepernick that will likely end the lawsuit. So perhaps one NFL team — like Oakland or New England — will do the league a favor and sign Kaepernick to end the litigation.
But signing Kaepernick could hurt league business overall, due to his leadership of the anthem protest movement and the fact that he wore socks depicting police as pigs, in 2016.
http://feedproxy.google.com/~r/breitbart/~3/fwCsZ2Ya5P4/