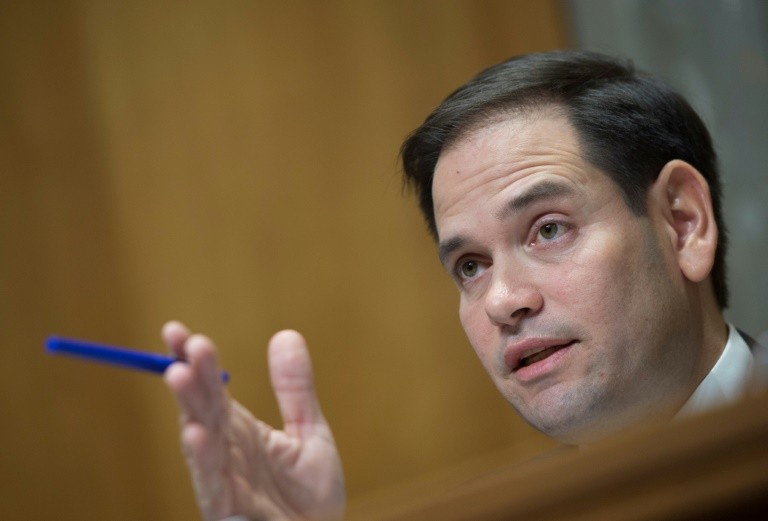 Sen. Marco Rubio (R-FL) defended "American nationalism" in an interview with Fox News Channel host Tucker Carlson Wednesday evening, arguing the political ideology is "deeply rooted in moral and values."
Rubio's remarks follow French president Emmanuel Macron's rebuke of nationalism during a centenary commemoration of the First World War Armistice over the weekend, in which he called the ideology a "betrayal of patriotism and "treason." President Trump declared himself a nationalist during a campaign rally in Houston, Texas with Sen. Ted Cruz (R-TX).
"A globalist is a person that wants the globe to do well, frankly, not caring about our country so much," President Trump said before attendees. "You know what I am? I'm a nationalist. Okay? A nationalist. Use that word."
A partial transcript is as follows: 
CARLSON: I want to ask you about the question of nationalism. The president described himself as a nationalist recently. He was attacked by the leader of France for doing that. You recently published a Wall Street Journal op-ed defending the idea of nationalism. Why is nationalism a necessary concept in modern America?

RUBIO: Well, American nationalism. What is our identity? Our identity, if not a common race, ethnicity. In fact, America is a de facto rejection of that. It is fundamentally premised on this notion, "we are all children of God, we are born, all created equal by our creator, and given equal rights to life, liberty, and to pursue happiness. That is our national identity. It is deeply rooted in morals and values. It, in fact, explains everything this nation has done, internationally and domestically. We should be proud of that identity. We should defend that national identity. Number two, I think most of the viewers watching this program would be shocked to think that my job is to represent Belgium, or my job is to represent — I have nothing against Belgium. I always pick on Belgium or Luxembourg. They have their own system of government. That doesn't mean I need to be hostile toward them. And it may be in our national interest to work with them.

I think NATO is in our national interest and is. I think a lot of our alliances are built on that. Our national identity is a nation that believes in equality of all people. It's what causes us to defend democracy and feed hungry people all over the world. We should be proud of that. But, as a government leader, my fundamental obligation, first and foremost, is to work on behalf of the American people and most of the time, if not all the time, we can do that without hurting other people around the world.
http://feedproxy.google.com/~r/breitbart/~3/ut_iRytYfDs/