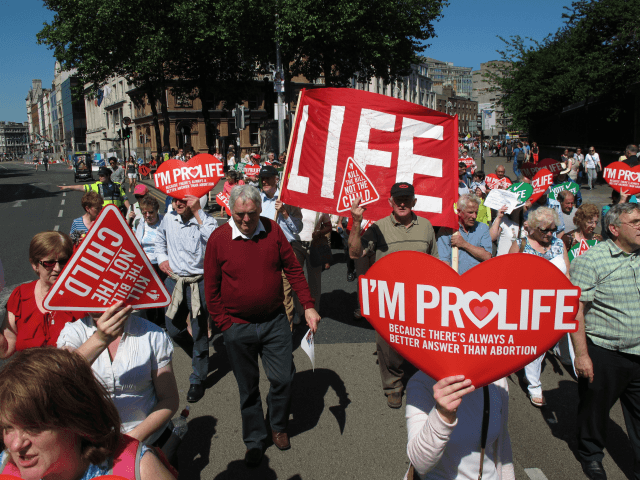 The theme of the 2019 March for Life will emphasize that to be pro-life is to be pro-science.
"Science is behind the pro-life movement," said Jeanne Mancini, president of the March for Life, as the group unveiled its 2019 theme Thursday: "Unique from Day One: Pro-Life Is Pro-Science":
Join us at the #MarchforLife on January 18th 2019! The 2019 theme is: #UniqueFromDayOne: pro-life is pro-science. #whywemarch

Full video: https://t.co/jdqw3P6Wnv pic.twitter.com/mq214YLDyc

— March for Life (@March_for_Life) October 18, 2018
"We see that medical and technological advancements always affirm the pro-life movement; for example, DNA is present at fertilization and no fingerprint on earth, past, present, or future, is the same," Mancini continued. "We know, too, a baby's heart beats at just six weeks and we can distinctly observe it ourselves with ultrasound technology. As science progresses, we see clearly that every life is unique from day one in the womb."
Abortion rights activists condemn laws, however, that require the use of ultrasound technology prior to abortion procedures, claiming laws that invite a mother to view an ultrasound of her unborn baby are meant to shame her into continuing her pregnancy. Additionally, the abortion industry generally opposes any suggestion that human life begins before birth.
"Life in its most vulnerable form, should be protected," Mancini explained. "To this end, we hope that Patients First Act, HR 2918, and similar legislation preserving the dignity of the human person from its earliest moments, will soon become law."
The March for Life is the world's largest annual human rights demonstration. Each year, the event is held on the National Mall on or about the anniversary of the Supreme Court's Roe v. Wade decision, the controversial case in which the high court created a right to abortion in the Constitution.
The 46th March for Life will be held Friday, January 18, 2019.
http://feedproxy.google.com/~r/breitbart/~3/syslyE_vaA8/