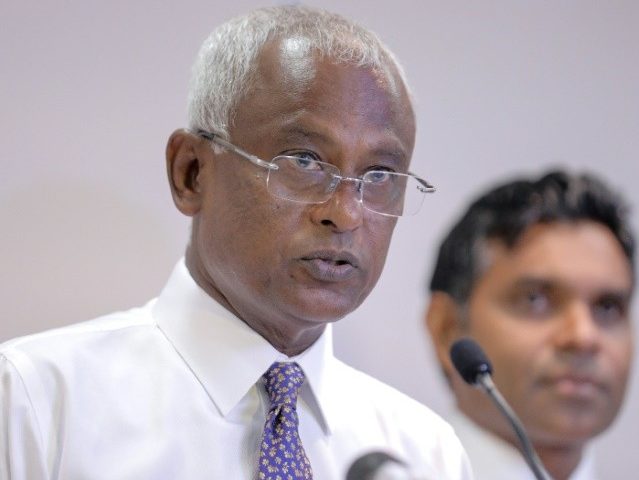 The new president of the Maldives, Ibrahim Mohamed Solih, campaigned on criticism of his predecessor's appetite for Chinese loans and investment. Solih signaled a strong desire to realign his country toward India and seek help from the India-U.S. alliance to relieve the burden of Chinese debt.
Indian Prime Minister Narendra Modi will conspicuously attend Solih's swearing-in ceremony on Saturday, while Chinese Communist Party leader Xi Jinping conspicuously will not. Instead, the Minister of Culture and Tourism will attend, according to a Reuters report on Friday.
Modi, an avid user of social media, posted on Facebook that he will convey India's desire to "work closely for the realization of their developmental priorities, especially in areas of infrastructure, health care, connectivity, and human resource development" to the new Maldivian government.
Solih's authoritarian predecessor Abdulla Yameen was strongly pro-China and enthusiastically embraced Beijing's Belt and Road infrastructure initiative. The Maldivian opposition warned Yameen was steering the country into a Chinese debt trap, pointing to China's takeover of a Sri Lankan port when that country could not pay its debts.
Yameen riposted by rounding up the opposition and throwing them in prison. Yameen's predecessor Mohamed Nasheed, a strong supporter of President-elect Solih, on Friday thanked Modi for not visiting the Maldives during the Yameen's authoritarian reign because "everyone was in jail."
Solih's election in September came as a welcome surprise to the United States and India. There were fears Yameen would not allow himself to be voted out of office – along with the odd Indian politician suggesting military intervention if Yameen ignored the election results – but in the end, almost 90 percent of Maldivian voters turned out and handed Solih a landslide 17-point victory.
Reuters reported Solih's team is more determined than ever to escape from China's orbit, as they have been reviewing the books and discovering the Maldives is even further in debt to China than they expected. The total debt burden may exceed a quarter of the Maldivian gross domestic product.
"We straightaway need 200 to 300 million dollars to kick-start the budgetary support," a top adviser to the new president said, indicating India, the U.S., and Saudi Arabia would be asked for financial assistance. Another aide said "firm proposals" for assistance have been discussed with India and the United States. The Maldives has an existing credit line with India worth about $50 million after the previous administration froze it.
Other members of Solih's transition team complained that many of Yameen's deals with China have been kept secret until now.
The arrangement with China was not without results, as visible improvements were made to the island nation's tourist industry, the airport was expanded, and a huge "China-Maldives Friendship Bridge" was constructed in the capital of Male. A good 20 percent of tourists in the Maldives hail from China, compared to only 5 percent in India. The Chinese footprint simply cannot be erased, and Beijing is working to develop a better relationship with the incoming administration to protect its investments.
Ex-president Nasheed said on Friday that Maldivians do not believe China's infrastructure projects have truly "improved their well-being." He advised Solih to carefully review Chinese projects, pay for the work completed to date, and disengage from Belt and Road.
"First, we need to do an audit of the projects. We must pay back what we have received, but nothing more," he said.
http://feedproxy.google.com/~r/breitbart/~3/S9Mj99rF21s/