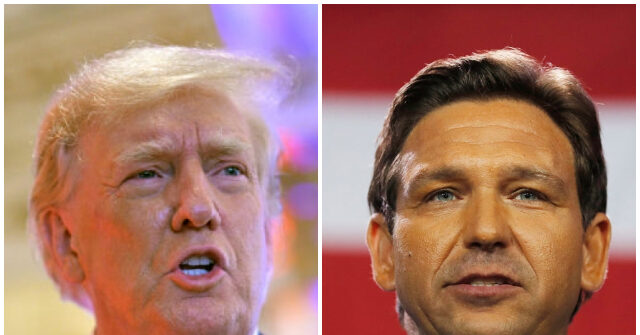 The majority of the Florida GOP congressional delegation has backed former President Donald Trump, in a significant blow to Florida Gov. Ron DeSantis.
The backing of 11 Republican lawmakers out of 20 in DeSantis's own back yard has raised questions about his viability as a competitor to Trump in the 2024 presidential election.
While DeSantis has not officially declared he is running, he is widely expected to announce a bid for the presidency after Florida's legislative session wraps up in May. In the meantime, he has stepped up his travel around the country, and is set to go on an international trip to meet with U.S. allies Israel, Japan, South Korea, and the United Kingdom.
This week he met with GOP lawmakers in Washington, DC, and a DeSantis political aide reportedly called Florida Republicans asking them not to endorse Trump — which makes the recent backing of several more Florida Republican lawmakers even more damaging to DeSantis.
So far, Florida GOP Reps. Matt Gaetz, Anna Paulina Luna, Byron Donalds, Cory Mills, Vern Buchanan, Gus Bilirakis, Carlos Gimenz, John Rutherford, Greg Steube, Brian Mast, and Mike Waltz have all endorsed Trump.
Waltz's endorsement, first reported by Breitbart News, was particularly significant, given that he took over DeSantis's former district.
Other GOP lawmakers have lined up behind Trump, including Rep. Lance Gooden (R-TX), who announced his support moments after leaving the D.C. meeting with DeSantis.
Some lawmakers have begun openly criticizing DeSantis. According to Politico Playbook, Steube said he never once heard back from DeSantis's office despite repeated calls — until Trump starting picking up Florida congressional endorsements. In contrast, he said Trump was the first person he remembers calling him after he was hospitalized in a tree-trimming accident.
On Friday Politico Playbook reported, in an another embarrassing anecdote, that former Rep. David Trott (R-MI) — who sat next to the governor for two years on the House Foreign Affairs Committee — said DeSantis didn't speak to him.
"I sat right next to DeSantis for two years on the Foreign Affairs Committee, and he never said a single word to me," Trott said. "I was new to Congress, and he didn't introduce himself or even say hello."
"I go to my first hearing early, and DeSantis showed up right at the gavel time and didn't say hello or introduce himself," Trott told Politico. "And then the next hearing, the same thing happened. I think the third time it happened, I thought, 'Oh, this guy's not ever going to say hello to me.'" He said he eventually introduced himself to DeSantis.
Trott acknowledged that while DeSantis was talented at pressing his political ambitions, he was not likable.
"He never developed any relationships with other members that I know of. You'd never see him talking on the floor with other people or palling around. He's just a very arrogant guy, very focused on Ron DeSantis," Trott said.
He added:
He wasn't really liked when he was in Congress. And now it's coming home to, you know, prove out as some of the Florida delegation endorsed Trump and and some of the donors, you know, think he's kind of awkward in terms of how he interacts with them. … If his pre-presidential campaign was playing out differently, then I'd say, 'Well, maybe he just didn't like me.' But I think there's something more at work here."
Trott concluded, "I think he's an asshole. I don't think he cares about people."
Despite Trump's growing momentum with endorsements and lead over DeSantis in the polls, a super PAC supporting DeSantis's run for president is reportedly making hires in Iowa, New Hampshire, and South Carolina.
Follow Breitbart News's Kristina Wong on Twitter, Truth Social, or on Facebook.
https://www.breitbart.com/politics/2023/04/21/majority-florida-gop-congressional-delegation-has-endorsed-trump-raising-questions-about-desantis-s-viability/