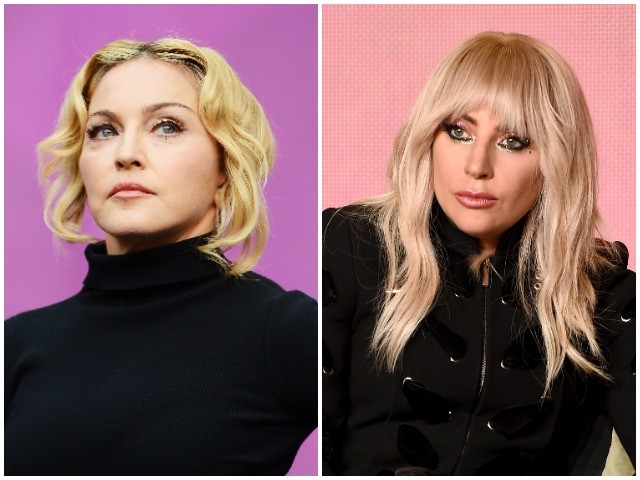 Pop icon Madonna took a swipe at pop superstar and actress Lady Gaga with an Instagram post accusing the Star Is Born singer of stealing an old Madonna quote.
The long-running feud between the two music powerhouses is heating up again, this time over a quote offered by Gaga during her publicity tour for her movie, A Star is Born, PageSix reported.
During the October press tour, Gaga said, "There can be 100 people in a room, and 99 of them don't believe in you, but all it takes is one, and it just changes your whole life." The singer said that for her that one person was her Star Is Born director Bradley Cooper.
The "Poker Face" singer repeated the quote several times, which led to a compilation video being posted to YouTube.
But this little bit of doggerel sounded a tad too familiar to Madonna. On Monday the Vogue singer took to Instagram and added a link to a story from the 1980s where she delivered the following quote: "If there are 100 people in a room and 99 say they liked it, I only remember the one person who didn't."
Madonna also posted a photo with the caption that it was "Don't fuck with me Monday"
Monday's posts were hardly the first time Madonna has taken a swipe at Gaga. She has claimed that Gaga "references" Madonna in her work and even called Gaga's hit "Born This Way" a "reductive" song that recalls her own hit "Express Yourself."
For her part, Gaga struck back saying that, unlike Madonna, she writes her own music and plays a number of instruments.
Gaga also warned that even i she likes you, she will attack you if she thinks it is necessary.
"I'm Italian and from New York, so if I have a problem, I'm gonna tell you to your face," Gaga said in 2017. "She wouldn't look me in the eye and tell me that I was reductive or whatever. Telling me you think I'm a piece of shit through the media? It's like a guy passing me a note through his friend."
Some thought the pair had buried the hatchet last year, but apparently, Madonna is not ready to let the beef go.
Follow Warner Todd Huston on Twitter @warnerthuston.
http://feedproxy.google.com/~r/breitbart/~3/zn6uYQHw1uY/