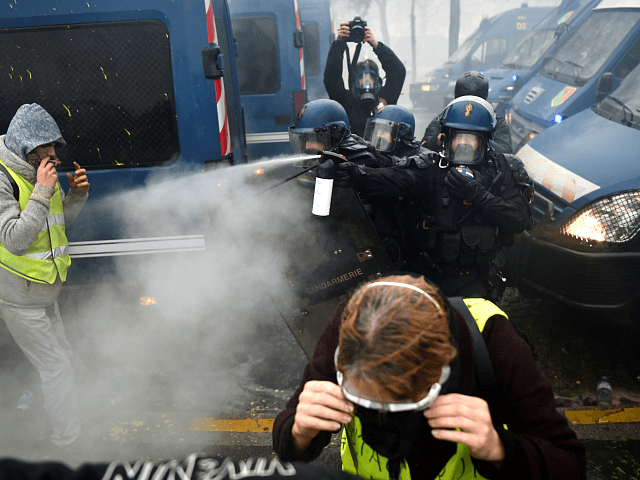 Riot police have deployed water cannon, tear gas, and stun grenades against protesters on the Champs-Élysées in Paris, France, as the "Yellow Jackets" stage their third major rally against President Emmanuel Macron's "green" tax hikes on fuel.
This story is receiving regular updates below the opening passages.
clashes on the famous avenue leading the Napoleon Bonaparte's iconic Arc de Triomphe come as Macron himself is in Argentina for the G20, threatening to disrupt a planned trade deal between the European Union and South America's Mercosur over a disagreement with Brazil's new president Jair Bolsonaro — dubbed the "Trump of the Tropics" — over a disagreement on climate change.
The globalist poster boy's green policies are running into substantial opposition at home, however, with the "Yellow Jackets" movement which has united the anti-establishment left with the populist right in a loose coalition in defence of the French working class bringing the presidency of the man who once boasted he would govern "like Jupiter" to the brink.
Over 80 people have already been arrested over Saturday morning, according to Sky News, with the authorities complaining of around 1,500 "agitators" among the protesters.
"There's a lot of incitement on social media and we are expecting excess and violence," remarked David Michaux, of the UNSA Police union.
VIDEO: On a third day of unrest, clashes between "yellow vest" protesters and riot police break out on the Champs-Élysées in Paris pic.twitter.com/WJUjgTPrW7

— AFP news agency (@AFP) December 1, 2018
UPDATE via the Associated Press, 3:50 p.m. (local)
Paris police say that at least 65 people including 11 police officers have been injured in violent protests in the French capital. Police also say that 140 people have been arrested.
Paris police spokeswoman Johanna Primevert gave the updated figures Saturday afternoon.
UPDATE via the Associated Press, 3:35 p.m. (local)
Dutch police have closed off the parliamentary complex in The Hague after about 100 yellow jacket protesters gathered outside.
As the gas price protest that began in France last month spread to another country, Dutch demonstrators on Saturday gathered outside the historic parliamentary buildings to protest government policies.
After the demonstrators initially refused police efforts to move them to a nearby park, officers blocked the archway leading into the parliament.
As some of the protesters melted away, police on horseback and in vans later shepherded the remaining yellow jackets away from Parliament.
Dutch media reported that two protesters were detained by police in The Hague and that another protest leader was detained in the southern city of Maastricht. Police in The Hague did not immediately return a call seeking confirmation.
This story is developing…
Follow Jack Montgomery on Twitter:

 @JackBMontgomery
Follow Breitbart London on Facebook:

 Breitbart London
http://feedproxy.google.com/~r/breitbart/~3/b-iKNnoAo-w/