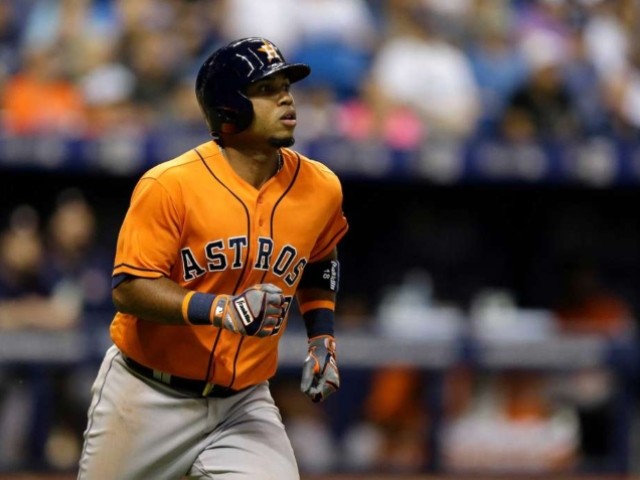 Three years ago one of the Houston Astros' great Venezuelan player Luis Valbuena, stroked this home run off an otherwise unhittable Johnny Cueto in the decisive American League Championship game.
As reported Friday, he and another former Astro, Jose Castillo, were killed in what some authorities suspect may have been a criminal act.
Ironically when I heard the news I was playing a Statis-Pro baseball board game tournament with the Venezuelan All-Star team featuring another Jose Castillo, the great left-handed pitcher from the San Diego Padres, and assumed it was that pitcher who had been killed with Valbuena. However, Venezuela produces more Major League talent than any country except the United States and the team dominating my board game tournament, the Dominion Republic. The player killed driving away from a game in Venezuela was the Jose Castillo who last played for the Houston Astros in 2008.
The Astros' Venezuelan pipeline produced 2017 MVP Jose Altuve as well, but it was Valbuena who nearly put them in the World Series two years ahead of schedule in 2015 on that home run. Cueto was virtually unhittable that night except for Valbuena's blast, and the Royals eventually won the game and the World Series, forcing the young Astros to come back two years later to defeat the Dodgers in a classic seven game series in 2017. Valbuena went to the Angels the next year to make room for the Astros newly drafted Lance Bregman, who was fifth in MVP voting this year, out of LSU.
It was funny timing that I was so focused on the diverse nationality of players after deciding to sort my 1035 projected MLB players by birth country this off season, which made me realize for the first time how many more stars Venezuela is producing now even than other traditional baseball hotbeds like Puerto Rico (e.g. Carlos Correa who greets Valbuena with a pat to the head after the home run in the video above) and Cuba and Japan.
As an Astros fan, fond memories of both and RIP.
Here are the teams I'm playing through.
| All-Star Team | Wins | Losses | GB | Ave. Runs | RA(tiebreaker) |
| --- | --- | --- | --- | --- | --- |
| Dom Republic | 16 | 8 | 0 | 5.5 | 2.9 |
| Puerto Rico | 14 | 10 | 2 | 5.4 | 2.9 |
| Venezuela | 11 | 13 | 5 | 3.4 | 3.4 |
| Canada/Netherlands | 11 | 13 | 5 | 3.9 | 5.5 |
| Cuba | 10 | 14 | 6 | 3.6 | 5.3 |
| Japan/S. Korea | 10 | 14 | 6 | 4.1 | 6.0 |
Final Scheduled 2-game Series of Round Robin
Dominican Republic vs Canada
Puerto Rico vs Japan
Venezuela vs Cuba
Final Regular Season Series will feature 1st v 6th, 2nd vs 5th and 3rd vs 4th.
The pennant winner will be announced at that point, and they will have home field in games 1, 2 and if necessary 6 and 7 in a playoff series against the runner up.
http://feedproxy.google.com/~r/breitbart/~3/-DmBWvyAu3M/