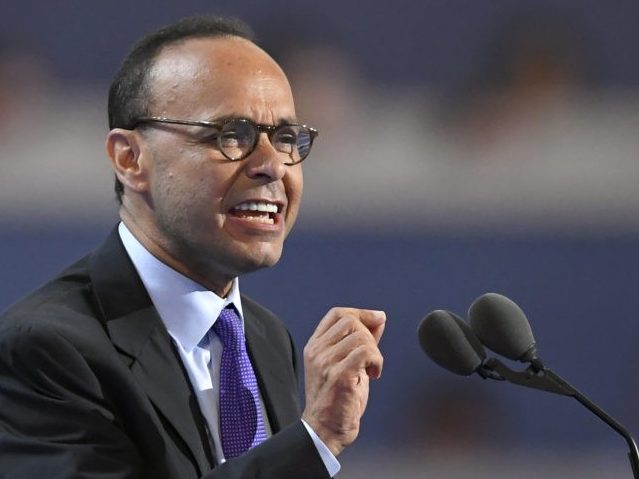 Rep. Luis Gutierrez (D-IL) implied on Thursday that President Donald Trump's response to Hurricane Florence will be more "empathetic" and better than his response to Hurricane Maria because Trump "has a golf club in North Carolina."
Gutierrez blasted what he said were Trump's "simply delusional" remarks about having done "one of the best jobs that's ever been done" in Puerto Rico after Hurricane Maria, and he claimed Trump "had a meltdown because he doesn't like being criticized by women or by people of color, so the [San Juan mayor's] words were more than the president could take."
"What is offensive to many of us is that even though the president dropped the ball, he is now doing a victory dance in the end zone. Or should we call it the dead zone?" Gutierrez said. "I pray that his response to the current disaster unfolding along the East Coast will be better and more empathetic. He has a golf club in North Carolina and a winery in Virginia, so maybe the American people in those states will get more of the President's help than my fellow Puerto Ricans did. And I pray it is more successful."
Regarding Hurricane Maria, Gutierrez alleged that Trump's focus from the beginning "was on damage control from a political standpoint, not damage control from a human life standpoint."
"The sad truth is that in trying so hard to make sure that the hurricane did not become 'Trump's Katrina,' we lost far more lives," he continued, claiming that "more people died in Hurricane Maria in Puerto Rico than died in Hurricane Katrina, and than died in the attacks of 9/11."
Trump insisted on Twitter that Democrats inflated the death toll "related to Hurricane Maria" to score political points against him.
3000 people did not die in the two hurricanes that hit Puerto Rico. When I left the Island, AFTER the storm had hit, they had anywhere from 6 to 18 deaths. As time went by it did not go up by much. Then, a long time later, they started to report really large numbers, like 3000…

— Donald J. Trump (@realDonaldTrump) September 13, 2018
…..This was done by the Democrats in order to make me look as bad as possible when I was successfully raising Billions of Dollars to help rebuild Puerto Rico. If a person died for any reason, like old age, just add them onto the list. Bad politics. I love Puerto Rico!

— Donald J. Trump (@realDonaldTrump) September 13, 2018
Gutierrez conceded that "the massive power of the storm was compounded by decades of neglect from Washington," which he said "didn't happen overnight and didn't happen on President Trump's watch." But he added: "But let's also be clear—it is on his watch now."
The retiring Illinois Democrat—who announced this week that he will not run to be Chicago's next mayor and has expressed interest in moving to Puerto Rico after he leaves Congress—then ripped Trump for not showing enough "humility" in admitting what Gutierrez claimed was a "tremendous and deadly mistake" after Hurricane Maria.
"It takes a man of humility, honor, and compassion to admit when they have made a tremendous and deadly mistake in caring for the American people, and we know we do not have a man in the White House who is capable of such emotions, empathy, or basic human decency," Gutierrez concluded.
http://feedproxy.google.com/~r/breitbart/~3/fL3DE2lz4Cc/