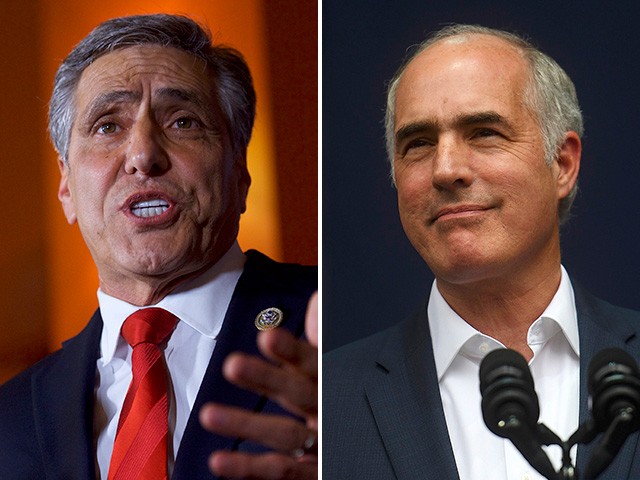 Republican Pennsylvania Senate candidate Lou Barletta lashed out at incumbent Senator Bob Casey's ad for suggesting he would deny care to young cancer patients.
Last month, Barletta told Senator Casey that his 18-month-old grandson — one of twins — is undergoing chemotherapy treatment for cancer. Soon after, Casey released an ad featuring a mother describing her twin daughters' cancer diagnosis, saying, "if Lou Barletta has his way, kids like [those] could be denied the care they need."
"What Bob Casey did with that commercial is one of the most hurtful, insensitive things I have ever experienced in my political career," Barletta said in a video posted to social media. "To want to win an election that bad, that you would go that far, to hurt my family … is the lowest thing I've ever experienced in my life."
Bob Casey just released an insensitive and personal attack ad accusing Lou Barletta of wanting to rip away health care from twin children with cancer, after Lou personally told Casey of his 18-month-old twin grandson currently undergoing chemo for cancer. Here is Lou's response: pic.twitter.com/CXgMq1f4YA

— Lou Barletta (@louforsenate) October 14, 2018
Barletta believes that Casey's commercial shows he is "desperate," saying, "you wouldn't do this unless you felt that you had to, to hurt a family for political purposes," he said. "It's just wrong."
In response, Casey had the ad removed from Scranton, Barletta's home town. It will, however, continue to air everywhere else. According to KDKA 2 CBS Pittsburgh, Casey has said that the parallel between the ad and Barletta's family tragedy was unintentional.
http://feedproxy.google.com/~r/breitbart/~3/xlBlQ_noJkE/