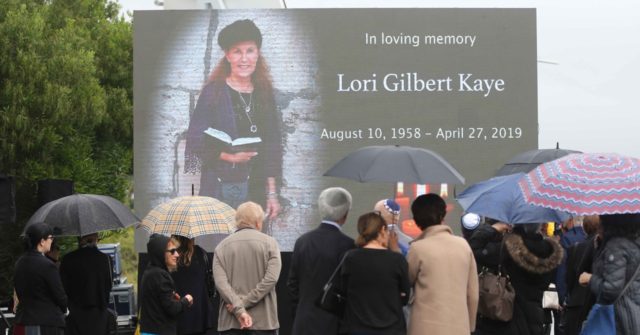 Lori Gilbert Kaye, the woman who died while saving others during the synagogue shooting in Poway, California, on Saturday, was hailed for her lifelong and selfless commitment to charity at her funeral on Monday afternoon.
Hundreds of mourners packed the Chabad synagogue in Poway where the shooting took place during Sabbath services, which coincided with the last day of Passover and the recitation of traditional prayers for the dead. Hundreds more stood in the rain outside, and thousands more watched the funeral on live streams worldwide.
Kaye leapt in front of the gunman as he opened fire, placing herself between the bullets and her rabbi, Rabbi Yisroel Goldstein, who lost his index finger as he confronted the attack. Two others were also hurt before the shooter fled.
Friends, family, and community leaders remembered Kaye as a person so charitable that she would give her friends contributions to be distributed to charity when she learned they were leaving town on a trip.
She was, a friend mentioned, a passionate supporter of President Donald Trump: "Lori defended the president despite the fact that some of her closest friends didn't. But she loved them unconditionally."
Rabbi Goldstein himself eulogized Kaye, noting that she had "set the foundation stone" of the synagogue when it was first established in the 1990s.
While the community had stared into the face of the worst of humanity, Rabbi Goldstein said, it had also been inspired by incredible acts of heroism, he noted.
Goldstein told the congregation that they had been given a mission to spread the message of God's love and to bring peace to the world.
"The finger that was taken from me last Saturday … has been given to every one of you, that you can point, and realize that Hashem [God] is here, Hashem is there, Hashem is truly everywhere," he said.
Joel B. Pollak is Senior Editor-at-Large at Breitbart News. He is a winner of the 2018 Robert Novak Journalism Alumni Fellowship. He is also the co-author of How Trump Won: The Inside Story of a Revolution, which is available from Regnery. Follow him on Twitter at @joelpollak.
http://feedproxy.google.com/~r/breitbart/~3/hX6IzgRNmbM/