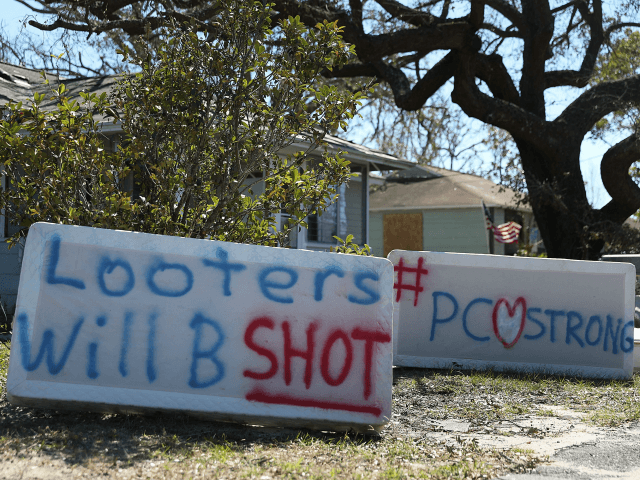 A looter trying to steal a police car was shot and killed by a Florida State Fire Marshall in Panama City.
WPMI quotes witness Landon Swett, who said the suspect told him he was looting then "opened the door to the police officer's SUV with the lights going, got in it and shut the door."
Swett moved his family away from the scene to keep them safe and looked back to see that an official was sitting in the passenger side of the SUV. Swett said, "Then…I heard the shot."
Looting leads to deadly shooting in Panama City https://t.co/YPbKkRrSGO pic.twitter.com/x28BVRLeN5

— NBC 15 (@mynbc15) October 13, 2018
The Florida State Highway Patrol indicates the suspect was shot by a Florida State Fire Marshall. The identified suspect died from his injuries.
On September 14, 2018, Breitbart News reported that Myrtle Beach, South Carolina's Knuckleheads Bar & Grill put signs over their windows warning that looters looking to take advantage of Hurricane Florence would be shot.
Their warnings were echoed by South Carolina Gov. Henry McMaster, who said looters would be shown "no mercy."
AWR Hawkins is an award-winning Second Amendment columnist for Breitbart News, the host of the Breitbart podcast Bullets with AWR Hawkins, and the writer/curator of Down Range with AWR Hawkins, a weekly newsletter focused on all things Second Amendment, also for Breitbart News. He is the political analyst for Armed American Radio. Follow him on Twitter: @AWRHawkins. Reach him directly at awrhawkins@breitbart.com. Sign up to get Down Range at breitbart.com/downrange.
http://feedproxy.google.com/~r/breitbart/~3/MA57557uEYk/