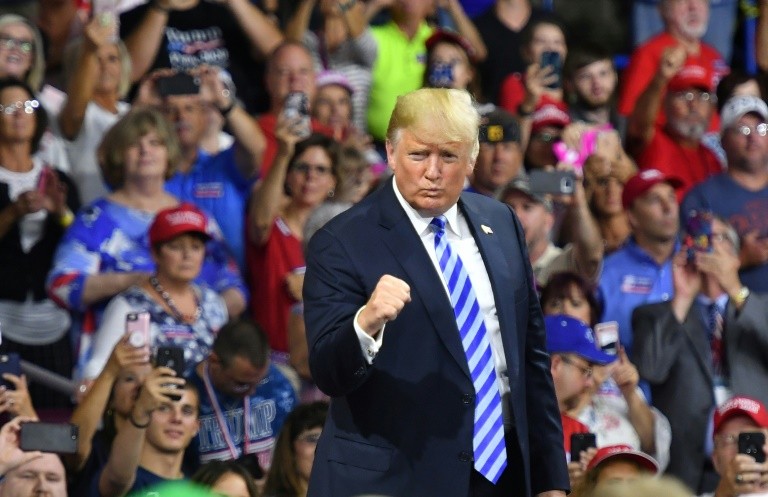 President Donald Trump will hold a Saturday evening rally in Wheeling, West Virginia, for GOP Senate candidate and West Virginia Attorney General Patrick Morrisey.
Trump arrives in West Virginia a day after Sen. Jeff Flake (R-AZ) said he would vote to move Supreme Court Justice nominee Brett Kavanaugh's confirmation vote out of committee so long as the FBI conducts a one-week investigation into unresolved matters stemming from Christine Blasey Ford's allegations. Trump later ordered the FBI probe.
Though Sen. Joe Manchin (D-WV) has the lead in the RealClearAverage of polls conducted before this week's hearings, much can change after this week. A recent poll found that 58% of West Virginians want Kavanaugh confirmed, and Trump's rally in a state in which he has consistently had the highest favorability ratings can only give Morrisey a boost going into the home stretch. Morrisey has been hammering Manchin for siding with Flake and being "undecided" on the vote until the one-week FBI investigation into Ford's allegations concludes.
Stay tuned to Breitbart News for live updates. All times eastern.
—
8:16 PM: Trump blasting past politicians for building up China with unfair trade policies. "The stupid days are over," Trump says. He also accuses Obama of almost going to war with North Korea (thankfully his "time was up") and "millions of people would have died." He says he has gotten hostages back and there is no more nuclear testing and rockets and missiles going up… "I like Kim and he likes me," Trump says. "We've come a long way since you know the term." (referring to Rocket Man) He talks about another potential meeting with Kim Jong Un…
8:11 PM: Trump says if Democrats got 51 votes in the Senate, they would "open our borders" and "starve" the country's law enforcement.
8:08 PM: Trump says Democrats want to abolish ICE and love open borders and sanctuary cities. He calls MS-13 "really ruthless animals." He mocks Pelosi for saying Trump couldn't call gangsters "animals." "I'm sorry, Nancy," Trump says.
8:05 PM: Trump mocks Booker's Spartacus (says he would prefer Kirk Douglas in his prime) and his record while he was Newark's mayor (can Raheem read yet?). Says he would take Kirk Douglas in his prime. Trump admits the only person on the left he worries about is a "total unknown who comes along." Trump then cites what he has done on energy and says, "Who the hell can beat us?"
.@POTUS on Sen. @CoryBooker: "He ran Newark, New Jersey, into the ground and now he wants to be president." https://t.co/Hb6tsSeyTI pic.twitter.com/3MhSfSSydA

— Fox News (@FoxNews) September 30, 2018
7:58 PM: Trump says Democrats want to turn the courts into the "political arm of the Resistance." He blasts Manchin for voting for "mass amnesty" and siding with the "radical open-border Dems." He says Democrats will do anything to run your lives and "ransack" the country's wealth. Trump says the "Democrat Party" is the "party of crime," "radical socialism," and "open borders." He says Democrats want to "raid Medicare" and "destroy Social Security" to pay for their "radical socialism." He says Democrats will give Medicare to people who don't deserve it like "illegal aliens coming into our country" while Republicans want to protect Medicare to our great seniors who have earned it and fought for it. He says he will always protect people with pre-existing conditions. He says all of the Republicans are coming into his position. "Pre-existing conditions are safe," he says. (Manchin is strong in West Virginia because of health care issues.)
7:56 PM: Trump says "a vote for Morrisey is a vote for me…" Also says it's a vote for "West Virginia values," for the America-first agenda, and to "keep America great." Trump says if Democrats control the Senate, they will take away your Second Amendment, take over American health care and destroy it to make us Venezuela. He says Democrats want to "erase America's borders."
NEW TRUMP RALLY SIGN:

FINISH THE WALL

— rebecca lightcap (@bexlightsaber) September 29, 2018
7:53 PM: Morrisey says he needs the help of West Virginians. He says he has pulled even with Manchin after Trump's last visit. He says "this race will likely decide the balance of power in the Senate." Morrisey says the radicals in Washington–Schumer, Pelosi, Maxine Waters, Joe Manchin–do not want to see Trump succeed and want to obstruct just like they did this week against Kavanaugh.
"Ladies and gentleman, we must confirm Judge Kavanaugh," Morrisey says.
7:45 PM: Trump introduces Morrisey as someone who is going to give West Virginians a vote for what we want and "there will be no question about it." Morrisey says Trump is making America and West Virginia great again. He says for far too long, Barack Obama, Hillary Clinton, and  "Washington liberal Joe Manchin" and all the coastal elites have advanced liberal policies, practiced political correctness, and not put America first. He says West Virginia has a "very important decision to make" this election and ties Manchin to Clinton and Obama. He was West Virginia can stand someone who puts "you first, America first, and West Virginia first." "The stakes in this election couldn't be higher," he says. He calls Manchin "dishonest Washington liberal" Manchin. He says he is a "conservative fighter" with a "record of results" who will "advance Trump's agenda." He says a vote for Manchin empowers the radical liberals seen in the Senate circus this past week. He says Manchin has a history of abandoning West Virgina–cites gun control, life, paychecks (said no to Trump tax cuts), amnesty, opposing the border wall. He says Manchin supported Clinton even after she made clear she wanted to "take away our coal, our oil, and our gas jobs. Shame on Joe Manchin… and that's why liberal Joe's gotta go."
"We're gonna build that wall," Morrisey says, later adding, "we'll all stand for the national anthem."
7:42 PM: Trump thanks West Virginians for taking him in ("you took me in"). But he adds, "But I produced." Trump says West Virginians want to "dig coal" and not make "little delicate" "computer widgets."
7:39 PM: Trump says Democrats have gone "so far to the left" and "crazy" and "loco" that Pocahontas is now considered a "conservative" Democrat.
7:37 PM: Trump says the Democrats are a "disgrace" and the top enabler of the left is the "fake news media." The crowd chants "CNN Sucks!"
"They stoke the first of resentment and chaos," Trump says of the fake news media. Trump says the "fake news media" are the "enemy of the people."
7:25 PM: Trump says Democrats have spent the last 18 months trying to overturn the 2016 election. He says a vote for Kavanaugh is a vote against the left's "outrageous" obstruction tactics. Crowd boos Schumer for obstructing Trump's judges and appointees.
7:30 PM: Trump says because of the good economy, "we should do well in the midterms." But he warns: "Don't be complacent." Trumps says when you see people who are "mean," and "angry" and "untruthful…" And then he blasts Feinstein and mocks her answer about whether she leaked Ford's confidential letter. "That was really bad body language," Trump says. "That was the worst body language I have ever seen."
.@POTUS on @SenFeinstein's response that she didn't leak the Ford document: "That was really bad body language. Who knows, maybe she didn't, but that was the worst body language I've ever seen." https://t.co/utnU6413kd pic.twitter.com/CErLAk0dIv

— Fox News (@FoxNews) September 29, 2018
Trump says the entire nation has witnessed the "shameful conduct" of the "Democrat party." Talks about how they are "throwing away due process" to block Kavanaugh. Trump tells the crowd not to sit at home in the midterms because "bad things will happen."
Trump talks about the Kavanaugh's "really incredible character" that the he says the country got to see. He talks about the poll of West Virginians in which 58% supported Kavanaugh's confirmation. Trump says 81% of Republicans support Kavanaugh's confirmation and 52% of women support him in West Virginia.
"Thursday the American people saw the brilliant and really incredible character, quality and courage of our nominee for the United States Supreme Court, Judge Brett Kavanaugh," Trump says at a rally in West Virginia, adding "He has suffered" #tictocnews pic.twitter.com/yTyz9K586c

— TicToc by Bloomberg (@tictoc) September 29, 2018
Trump now blasting "suppression polls" aimed at getting people to go to the movies instead of their polling places in the midterms.
7:28 PM: Trump says "America is winning again" and "America is respected again." "We're putting America first, finally," Trump says. He says everything they've done is at stake in November–"one of the most important congressional elections in our lifetimes." "I'm not running but I'm really running," Trump says. "That's why I'm all over the place fighting for great candidates."
He talks about the "horrible, horrible radical group of Democrats." "You see it happening right now," Trump says. "They're willing to take back power by using any means necessary." He says they don't care who they hurt or have to run over to get power.
"We're not going to give it to them," Trump says. Trump says with Democrats, "it's crime, open borders." He says Democrats have been on a mission to resist and obstruct and "you've seen that over the last four days." Crowd boos.
7:25 PM: Trump says the people of West Virginia always honor the country's history and respect the flag. He says the "economy is booming like never before" and "your state is booming like never before." He says "poverty is plummeting" and "our stock market is soaring." He says "our great coal miners are back to work" even though "a lot of people" said it was not going to happen. Steel workers back to work, Trump adds.
7:20 PM: Trump getting ready to get on stage at the Wheeling rally.
When Pres Trump campaigns in WV, they play John Denver's "Country Roads," instead of Lee Greenwood's "God Bless The USA," because it mentions West Virginia. pic.twitter.com/OngtW5cnld

— Mark Knoller (@markknoller) September 29, 2018
6:45 PM: Trump arrives in West Virginia. Huge crowd awaits:
President Trump on the ground in Wheeling, West Virginia campaigning for U.S. Senate Candidate Patrick Morrisey (R-WV) who is challenging Sen. Joe Manchin (D-WV) ⁦@WOWK13News⁩ pic.twitter.com/d2woGkw9Oo

— Mark Curtis (@MarkCurtisWOWK) September 29, 2018
Air Force One lands in Wheeling ahead of Pres. Trump speaking | https://t.co/KGeqaqNfxd https://t.co/41nkeRAdzV

— WOWK 13 News (@WOWK13News) September 29, 2018
@POTUS Nothing like a TRUMP RALLY in Wheeling West Virginia 👍🏼🇺🇸 pic.twitter.com/3RaFsfSB2u

— RCA (@07harleyultra) September 29, 2018
People as far as the eye can see!! A huge line along Main Street leading to @WesBancoArena. @WTOV9 pic.twitter.com/573qVxV2qO

— Kristen Tuell (@KristenWTOV9) September 29, 2018
The line is moving! Some folks have been out here since 7 am this morning. @WTOV9 pic.twitter.com/Zzy6fwE0Ar

— Kristen Tuell (@KristenWTOV9) September 29, 2018
Heading to West Virginia now. Big Rally. Will be live on @FoxNews tonight. Long lines, but will be great!

— Donald J. Trump (@realDonaldTrump) September 29, 2018
Poll: West Virginia voters want Judge Brett #Kavanaugh confirmed with a margin of 58% – 28%, which includes the majority of women voters with a margin of 52% – 35%. #ConfirmKavanaugh https://t.co/u9ALYsxfxo

— Judicial Network (@judicialnetwork) September 28, 2018
Manchin's continued support for the resist and obstruct circus unleashed by Chuck Schumer and Washington Democrats is just another reason why Joe's gotta go! Tonight, West Virginia will see who truly stands with President @realDonaldTrump. #WVsen

— AG Patrick Morrisey (@MorriseyWV) September 29, 2018
Democrats were gaining more confidence about Manchin's chances just a few long days ago:
WV-Sen: DSCC IE is canceling TV schedules that had been booked for 10/2-10/15

The group still has spending in place for 10/16 through Election Day@jennifereduffy rates race as Lean Democratic

— Medium Buying (@MediumBuying) September 26, 2018
http://feedproxy.google.com/~r/breitbart/~3/vqiobhV6lzg/