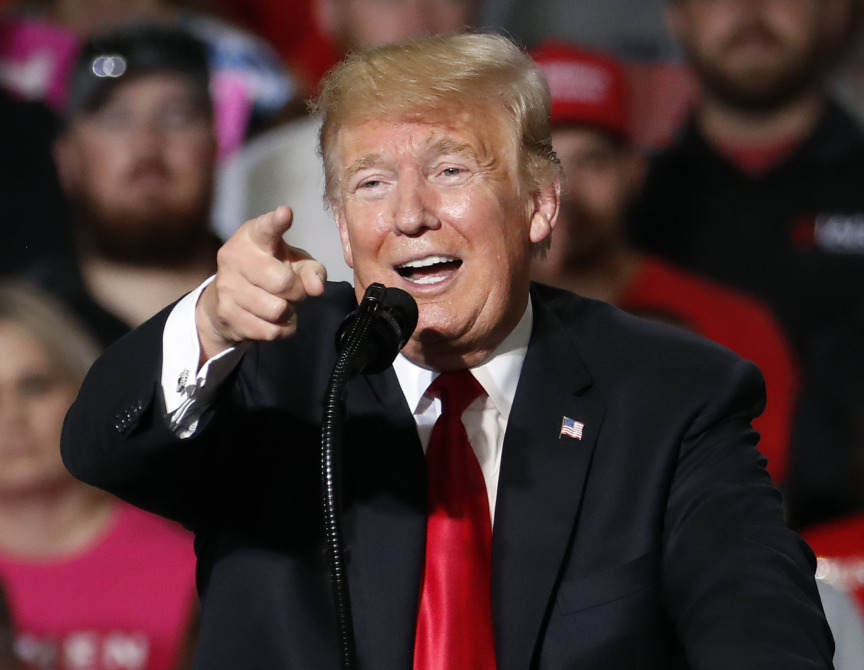 President Donald Trump will hold a massive Monday evening rally in Houston, Texas, for Sen. Ted Cruz (R-TX). Organizers had to change the venue to the 18,000-seat Toyota center after more than 100,000 people requested tickets.
Trump will head to Wisconsin (Wednesday) and North Carolina (Friday) for more rallies later in the week.
Before heading to Texas, Trump ripped Rep. Beto O'Rourke (D-TX), Cruz's challenger, as an "overrated" candidate.
"Beto O'Rourke is highly overrated," Trump said. "When I first heard about him, I thought he might be a little special. He's not. I think he got beaten badly in the debates. I think he's a highly overrated guy."
Trump has also called O'Rourke, the darling of white left-wing Hollywood elites and their media allies who share his sensibilities, a "lightweight."
Stay tuned to Breitbart News for live updates. All times eastern.
Massive crowds inside and outside of the @ToyotaCenter in Houston, Texas. Landing shortly – see everyone soon! #MAGA🇺🇸https://t.co/0pWiwCq4MH pic.twitter.com/tj5S6Z2GY7

— Donald J. Trump (@realDonaldTrump) October 22, 2018
—
7:45 PM: Cruz takes the stage and reminds the crowd that today is the first day of early voting. "God Bless Texas. And God Bless President Donald Trump," he says.
7:25 PM: Patrick also says Beto stands for "Border Enforcement Totally Optional."
Lt. Gov. @DanPatrick at the Houston Trump rally: 16,000 inside. 15,000 outside. "Nearly 100,000 people asked to get a ticket to this event tonight. Why are we here? To tell @BetoORourke and the Democrats we're not turning Texas into California."

— Jason Whitely (@JasonWhitely) October 22, 2018
7:03 PM: Texas Governor Greg Abbott firing up the crowd: "Isn't it great to be with patriots who pray to God almighty and who would never take a knee for our national anthem?" Abbott says he's more powerful than Putin because Texas's economy is bigger than Russia's. Now talking about working with Trump to secure the border and banning sanctuary cities. Abbott now mentioning all of the California money that's funding O'Rourke and says O'Rourke is "hostile to Texas values." He says all of the gold pouring in from California can't buy Beto a Senate seat in the Lone Star State. Asks voters to keep Texas "as red as the MAGA caps you are wearing tonight."
First to bring up @tedcruz and @BetoORourke race tonight is @GovAbbott. He says that "gold pouring in from California" can't buy Beto a senate seat. #KAGS #TrumpHouston pic.twitter.com/MQGMLt1bL1

— Jay O'Brien (@jayobtv) October 22, 2018
7:00 PM: Trump rally like a bigger College GameDay experience (Trump supporters as excited as Cougar fans were at The Palouse this weekend). Would be amazing to see how packed College Station would be if Trump ever held a rally there. This could be the most energetic event at the Toyota Center (home of the Houston Rockets) this year because of Carmelo Anthony's well-known defensive liabilities (Houston already sorely missing the underrated Luc Mbah a Moute's defense) and inability to move the ball around.
WATCH: Long line to get into President Trump's campaign rally in Texas tonight, including many people who slept in the line overnight. pic.twitter.com/vkLBBXQCqu

— NBC News (@NBCNews) October 22, 2018
Worth. The. Wait. pic.twitter.com/XJRUQ5hqyM

— College GameDay (@CollegeGameDay) October 20, 2018
Now look at all seats filled (other than reserved) for #TrumpRally to #ChooseCruz #CruzCrew pic.twitter.com/nNKpcPsnWo

— Emily Miller (@EmilyMiller) October 22, 2018
Trump and Cruz getting ready to head to the Toyota Center:
Sen. Ted Cruz was on hand to greet Pres. Trump at Ellington Field in Houston ahead of tonight's campaign rally. https://t.co/NkJuIoh4fP pic.twitter.com/ieGf4GZskK

— ABC News (@ABC) October 22, 2018
.@realDonaldTrump departing Ellington for Toyota Center #abc13eyewitness pic.twitter.com/AcQNZlXD1Z

— Tom Abrahams (@TomAbrahams13) October 22, 2018
Thousands of people are here at the Toyota Center eagerly awaiting President Donald Trump. #HoustonRally #FOX26ForLife pic.twitter.com/7mFofh7J7w

— Randy Wallace (@RWallaceFOX26) October 22, 2018
Seeing lots of Hispanics and Asian Americans wearing MAGA hats mingled in the huge crowd of @realDonaldTrump fans outside of Toyota Center in #Houston pic.twitter.com/rZjLLo9y8G

— Greg Groogan (@GrooganFox26) October 22, 2018
.@TedCruz, wearing black Cowboy boots, greeted Trump at the base of the stairs. Smiles all around. Cruz got in the limo with Trump — Per pooler @djusatoday #HoustonRally

— Todd J. Gillman (@toddgillman) October 22, 2018
People at the front of this #MAGA rally line have been here since NOON on Sunday! Hundreds already here. Doors open at 3:30. #abc13 https://t.co/GE0l5DzLgA pic.twitter.com/RtfyTXFlUo

— Courtney Fischer (@CourtneyABC13) October 22, 2018
Trump supporters are already lined up for blocks in Downtown Houston. Excuse the grainy phone photos taken mid-uber, but it's already pretty active and multiple streets are blocked off by police ahead of tomorrow's rally pic.twitter.com/IT2e7RDZqq

— Betsy Klein (@betsy_klein) October 22, 2018
I've met people from Arkansas, Michigan, Kansas already. "I wouldn't miss this for the world," one woman told me. #abc13 #TrumpInHouston pic.twitter.com/wWZNoNRiKL

— Courtney Fischer (@CourtneyABC13) October 22, 2018
TEXAS-SIZED: Aerial footage shows a crowd of GOP supporters lining up to attend a "Make America Great" rally at Houston's Toyota Center as Pres. Trump tries to help Ted Cruz fend off Democratic opponent, Beto O'Rourke. More on the Texas showdown: https://t.co/FD6U4jeatr pic.twitter.com/kS8orQM0RC

— World News Tonight (@ABCWorldNews) October 22, 2018
The rally doesn't start for 8 more hours. We're at this level. #Trump #Cruz #Houston pic.twitter.com/By7Pwi0ESX

— Wes Rapaport (@wesrap) October 22, 2018
The line to get into the Trump/Cruz rally tonight in Houston. First person got here YESTERDAY morning pic.twitter.com/eq8ysg1IPn

— Kristin Fisher (@KristinFisher) October 22, 2018
Part of the line at the Houston Trump Cruz rally. Amazing turnout. Looking forwarded to hearing @tedcruz @JohnCornyn @realDonaldTrump #MAGA #TedCruz2018 pic.twitter.com/PqURjdylPB

— Conservative Mexican (@RedStateMexican) October 22, 2018
People started lining up overnight for Monday's rally featuring President Trump and Sen. Ted Cruz in Houston. https://t.co/EiZOEYfmaa pic.twitter.com/NkVJATdAuN

— FOX 4 NEWS (@FOX4) October 22, 2018
This is a gender neutral voting booth outside the Trump-Cruz rally right now in #Houston. pic.twitter.com/78YSbpjObZ

— Ken Webster Jr (@ProducerKen) October 22, 2018
View from above of the long, snaking lines of Trump supporters waiting to get into tonight's #MAGA rally in Houston, Texas pic.twitter.com/ZpD4209ZfV

— Monica Alba (@albamonica) October 22, 2018
Crowds gather early for a President Trump 'Make America Great Again' rally in Houston https://t.co/ngmBIGXX9P pic.twitter.com/NhzPbNDZp2

— WPTV (@WPTV) October 22, 2018
#HoustonRally @houstonpolice Every time the State Troopers walk by the crowd cheers them and thanks them for their service. Nothing but love. Cheering the police. Kinda cool. ♥️🇺🇸♥️🇺🇸. People talking selfies with them. They're rock stars. pic.twitter.com/0CML66uhbx

— Rob Dromgoole (@HR_Texas) October 22, 2018
http://feedproxy.google.com/~r/breitbart/~3/-rvt02usP94/