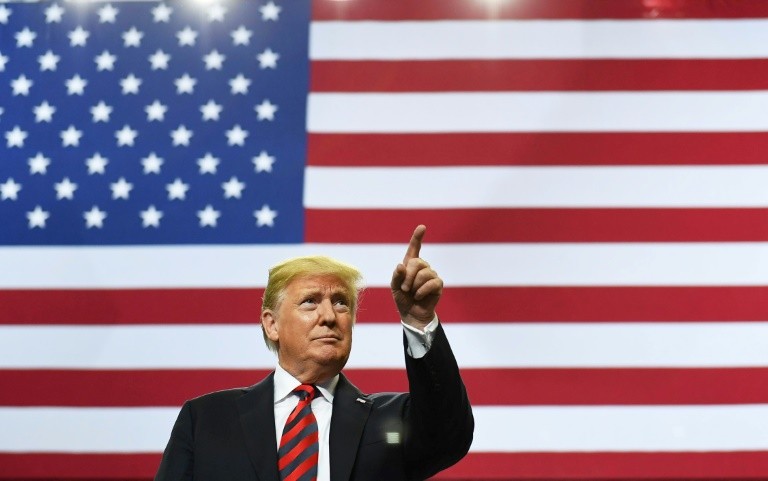 President Donald Trump will hold a Wednesday evening rally in Pennsylvania as Hurricane Michael batters the Florida panhandle.
Trump will campaign for Rep. Mike Kelly (R-PA), a staunch Trump ally who is leading in a must-win reelection race, and Rep. Lou Barletta (R-PA), who is challenging Sen. Bob Casey (D-PA).
When asked earlier in the day about whether he would cancel the rally, Trump said doing so would be unfair to the thousands of people who had been waiting in line since the morning.
Stay tuned to Breitbart News for live updates. All times eastern.
—
7:27 PM: Trump absolutely relishing telling the audience that the media were forced to eventually admit that Trump had won Pennsylvania "with tears down their face." He says his supporters were crying tears of joy.
7:24 PM: Trump now talks about having gone to school (Wharton) in Pennsylvania. Trump says every Republican thought they could win Pennsylvania never could… "But I got it… it's the workers!" He says under the new #Metoo rules, he has to say Pennsylvania had always been the "person that got away."
7:23 PM: Trump says "there was collusion between Hillary, the Democrats, and Russia." "There was a lot of collusion!"
7:21 PM: Trump talking about election night in 2016 and mocks Never Trumper Evan McMuffin, who got embarrassed in Utah and came in third, before telling the audience Utah was called seconds after polls closed.
7:17 PM: Trump again brands Democrats as "the party of crime" and says they are for open borders.
7:15 PM: "I guess we have a magic wand," Trump says, addressing his critics and haters who said he would need a "magic wand" to achieve the kind of job growth/low unemployment numbers that his administration has seen. He says the steel industry is "one of the hottest industries" and talks about steel companies expanding.
"We can't lose the steel industry. The steel industry was on its last legs. And after four months of doing intensely what I do, it's thriving," Trump says. "You gotta have steel. You need steel for defense."
Trump says if there is a problem, you need steel (a potential problem myopic globalists always ignore or refuse to acknowledge). "You gonna call China for steel?"
Trump says imported Chinese steel "was rotted steel. It was garbage. Now we can take our own metallurgic ore out of our own mines … and we can actually have our industry. We don't need this product coming in, untested, from other countries."

— Chris Potter (@CPotterPgh) October 10, 2018
7:09 PM: Trump says this election will be about "what kind of country you want to leave your children." He now boasts about the "historic week for our nation… you know what I'm talking about." Crowd cheers as Trump talks about proudly swearing in Justice Brett Kavanaugh. He predicts Messrs. Gorsuch and Kavanaugh will go down as "great justices of the Supreme Court."
He says what Democrats did to Kavanaugh was a "disgrace." He name-checks Sens. Cory Booker (D-NJ) and Dianne Feinstein (D-CA) as the crowd boos. Trump talking about the "false charges" and "false accusations." Trump says he never even though about giving up.
"On November 6th, you can vote to reject the Democrats' shameful conduct by electing a Republican House… and a Republican Senate," Trump says.
7:06 PM: Trump says "this has been the greatest revolution" after talking about the "red hats" powering the MAGA movement in 2016. Trump talking about America-first voters who came out of the woodwork with Trump hats and even Trump tattoos.
7 PM: Trump takes the stage. Trump says he wants to send "our thoughts and prayers of our entire nation to everyone in the path of Hurricane Michael, especially in the Florida panhandle, where it's hitting and it's hitting hard." Trump says all of Pennsylvania and all of America sends its "unwavering love and support." Trump says he is working closely with Florida Gov. Rick Scott and other southern governors. "We're all set to go," Trump says. "We're going to follow it right in."
Pres. Trump begins Pennsylvania rally by sending "thoughts and prayers of our entire nation to everyone in the path of #HurricaneMichael, especially in the Florida Panhandle."

The president added that he'll be traveling to Florida "very, very shortly." https://t.co/OaXVz6GosM pic.twitter.com/UbbE9SaY7m

— ABC News Politics (@ABCPolitics) October 10, 2018
"Godspeed," Trump says. "It's a bad one." He says he will be visiting Florida shortly and he will spare no effort/resources to help Americans impacted by Michael. "We will always pull through. It will be successful," Trump says. "We will always be successful at what we do."
President Trump speaks to media upon his arrival in Erie, PA. pic.twitter.com/YyZAvq4oFW

— CSPAN (@cspan) October 10, 2018
6:45 PM:
Departing the @WhiteHouse for Erie, Pennsylvania. I cannot disappoint the thousands of people that are there – and the thousands that are going. I look forward to seeing everyone this evening.

— Donald J. Trump (@realDonaldTrump) October 10, 2018
Couldn't let these great people down. They have been lined up since last night – see you soon Pennsylvania! pic.twitter.com/jSrsmncw85

— Donald J. Trump (@realDonaldTrump) October 10, 2018
Only applause louder than that for Trump's video on the big board was for Jake Banta's National Anthem. #TrumpinErie

— Matt Knoedler (@MattKnoedler) October 10, 2018
Pres. Trump arrives Erie PA for #MAGA rally pic.twitter.com/1Hy8JRwQkA

— Howard Mortman (@HowardMortman) October 10, 2018
Even #Erie's Jack Frost Donuts is getting in the presidential spirit. They made a "Donald" doughnut available only today with Cheetos and yellow licorice on it: https://t.co/QivbOwKS1A #trumpinerie pic.twitter.com/c1eu7Ho6jp

— Sarah Grabski (@ETNgrabski) October 10, 2018
Air Force One (C-32A/757) awaits Pres Trump for flight to Erie, PA., for his political rally tonight. Pres considered, but decided against cancelling trip to better monitor development of Hurricane Michael. Said he didn't want to disappoint supporters waiting in line for hours. pic.twitter.com/DCRTq6r9uf

— Mark Knoller (@markknoller) October 10, 2018
I'm in Erie, PA today to cover Donald Trump's visit for a MAGA Rally in support of U.S. Senate candidate Lou Barletta. Some supporters have been waiting outside the arena since 4 a.m., according to those at the front of the line. pic.twitter.com/LluV7R5bT1

— Alexandra Wimley (@alexandrawimley) October 10, 2018
Crowds lined up ahead of Trump's MAGA rally tonight at 7p in Erie, PA pic.twitter.com/z99ENDBtes

— Meridith McGraw (@meridithmcgraw) October 10, 2018
Lines longer than Cedar Point. #trumpinerie #erielive pic.twitter.com/JVwkyG6AoP

— Pat Howard (@ETNhoward) October 10, 2018
@realDonaldTrump lands at Erie International Airport. #ErieLve #TrumpinErie pic.twitter.com/J2L9OEoxZf

— Jack Hanrahan (@ETNHanrahan) October 10, 2018
Arena filling up. #trumpinerie. pic.twitter.com/qhDIfrJH9F

— Lisa Thompson (@ETNthompson) October 10, 2018
http://feedproxy.google.com/~r/breitbart/~3/-cbo9l6KFrQ/