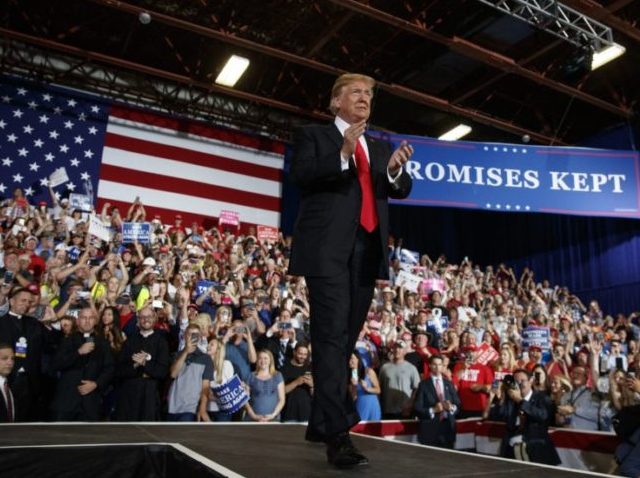 President Donald Trump will hold a Thursday evening campaign rally in Missoula, Montana, home of the Grizzlies, for GOP Senate candidate Matt Rosendale, who is in a tight race against Sen. Jon Tester (D-MT).
This will be Trump's third visit to Big Sky country. Trump will visit Arizona on Friday and travel to Nevada for a Saturday morning rally. Trump will then headline a Texas rally on Monday.
Stay tuned to Breitbart News for live updates. All times eastern.
Look forward to being there. Something's happening! #MAGA https://t.co/Cev7giQexE

— Donald J. Trump (@realDonaldTrump) October 18, 2018
—
8:30 PM: Trump now getting ready to speak in beautiful Big Sky country. "I love these hangars," Trump says. He says he doesn't have to turn so many people away when he campaigns at hangars. Trump reminiscing about 2016 and says "time flies" when he is doing a good job. Trump says Montanans will send Rosendale to the Senate in 19 days to protect jobs, the second amendment, which is under siege."
"I wouldn't want to be the one to walk into your house and say, 'gimme that gun,'" Trump says.
8:15 PM: Another jam-packed crowd waiting for Trump along with a few left-wing protesters.
Trump supporters packed in here like sardines in anticipation for @POTUS rally in Missoula. #Trump #PresidentTrump pic.twitter.com/WysBuSH6ww

— Darren Winberg (@darrenNBCMT) October 18, 2018
.@GregForMontana joins @SteveDaines on stage #mtpol #decision2018 #nbcmontana #trumpinmissoula pic.twitter.com/6WhyXbcAli

— Maritsa Georgiou (@MaritsaNBCMT) October 18, 2018
This is the scene on the corner of Brooks St. and Russell St. in Missoula right now. #TrumpinMissoula pic.twitter.com/oyTUR1S00O

— McKayla Haack – NBC Montana (@McKaylaNBCMT) October 19, 2018
Breaking: @realDonaldTrump arrives in Missoula on Air Force One! @GFTribune pic.twitter.com/Z5keRozQM7

— Zachary Schermele (@ZachSchermele) October 19, 2018
.@POTUS arrives in Montana ahead of tonight's "Make America Great Again" rally. (Courtesy: KTMF) https://t.co/2DPOj0fmvZ

— Fox News (@FoxNews) October 19, 2018
Trump rally in Missoula, Montana. Fans wait for Air Force One to land. pic.twitter.com/dSvLLXoG5B

— Demetri Sevastopulo (@Dimi) October 18, 2018
Excited to have President Trump back to Montana tonight!! #MAGA #DefeatTester #mtsen #mtpol pic.twitter.com/8OLP3S9kCc

— Matt Rosendale (@MattForMontana) October 18, 2018
Checkout these long lines for the Trump rally in #Missoula against the backdrop of the mountains! pic.twitter.com/P8IGXsSssj

— Jeremy Moorhead (@jmoorheadcnn) October 18, 2018
MOMENTS AGO: President Trump departs DC en route to Missoula, MT. pic.twitter.com/96oSXa8MIw

— The Hill (@thehill) October 18, 2018
Montana #MAGA crowd waits for Pres. Trump pic.twitter.com/8pjcPkPTLH

— Howard Mortman (@HowardMortman) October 18, 2018
Current line for the bus to the rally. Event parking is full, cars parking along W Broadway #trumpmt #mtpol pic.twitter.com/1QFXFuu75B

— Tim Goessman (@TimGoessman) October 18, 2018
Update: the parking lot for the #trump rally is full with a line of cars still down the road. #TrumpMissoula pic.twitter.com/9JL0afTBqq

— Brady Brewster (@BradyNBCMT) October 18, 2018
http://feedproxy.google.com/~r/breitbart/~3/aod2hasEFfE/