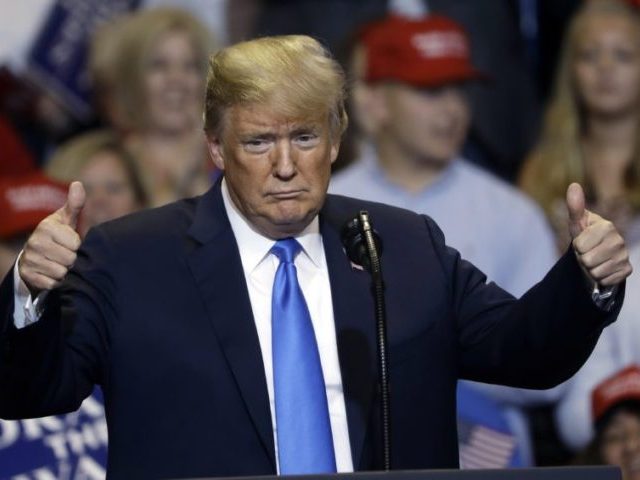 President Donald Trump will hold a rally in Mississippi on Tuesday evening as he barnstorms across the country this week trying to help Republicans keep the House and the Senate.
Trump held a rally in Tennessee on Monday and is expected to hold rallies in Minnesota and Kansas later in the week. He'll be in Iowa next week.
Stay tuned to Breitbart News for live updates. All time eastern.
—
7:35: Trump should be speaking soon–ten-minute warning given.
7:05 PM: Trump expected to appear shortly.
7 PM:
Pres Trump arrives in Memphis, the airport serving Southaven, MS, six miles to the south over the state line from TN. Flying with him on Air Force One was @SenHydeSmith, for whom @POTUS will be campaigning tonight to help her keep the seat to which she was appointed in April. pic.twitter.com/WWf1dpRVO6

— Mark Knoller (@markknoller) October 2, 2018
A packed house in Southaven, Mississippi Trump rally! ppl started lining up at 4 AM. Probably 1,000+ ppl standing on the floor in front of the stage! Ppl still pouring in! What a turn out! Mississippi loves President Trump!! pic.twitter.com/NSs8a6eKEl

— ProudAmerican (@4ourCountry) October 2, 2018
For the first time today seeing an end of the line to get in @LandersCenter for Trump rally @WMCActionNews5 pic.twitter.com/eLS6RycONp

— Kendall Downing (@kendall_downing) October 2, 2018
We're excited to have President @realDonaldTrump in Mississippi tonight for Sens. Cindy Hyde-Smith and Roger Wicker. He is on his #MAGA tour and we are honored to be a part of America's comeback. It would not have happened without President Trump. pic.twitter.com/XRm5tI7EYT

— Phil Bryant (@PhilBryantMS) October 2, 2018
Police say this is where protestors will be, if they show up. They may be asked to leave if on Landers Center property and will be escorted to this spot behind police tape. @3onyourside pic.twitter.com/Fwqo4EFpTx

— Symone Woolridge (@SymoneTV) October 2, 2018
Doors at @LandersCenter have opened. Supporters being allowed inside for @realDonaldTrump rally which starts at 6:30pm @WMCActionNews5 pic.twitter.com/IVHWPmZWbt

— Kendall Downing (@kendall_downing) October 2, 2018
Staff at @LandersCenter tells crowd the doors should open around 3:30/4 once the secret service has cleared the building ahead of Trump rally tonight. Lots of umbrellas and fans. Heat index is 95 @WMCActionNews5 pic.twitter.com/X5U4WHQLgS

— Kendall Downing (@kendall_downing) October 2, 2018
In the searing heat in Mississippi ahead of #Trump rally. Huge lines even though it doesn't start for more than 6 hours. #Trump #Magarally pic.twitter.com/94PVk0vm7I

— Rajini Vaidyanathan (@BBCRajiniV) October 2, 2018
Crowds enter #Trump rally in #Mississippi. Huge lines to get in. They love him here. #timelapse. pic.twitter.com/RdY8bVmciG

— Rajini Vaidyanathan (@BBCRajiniV) October 2, 2018
Take a look at this line outside of the Landers Center in Southaven. Supporters for Trump saying Trump 2020. Thousands are in line right now awaiting Trump's arrival. pic.twitter.com/1ZvUSMLwMN

— Siobhan Riley (@SiobhanRileyTV) October 2, 2018
http://feedproxy.google.com/~r/breitbart/~3/3tOlp98nKNA/