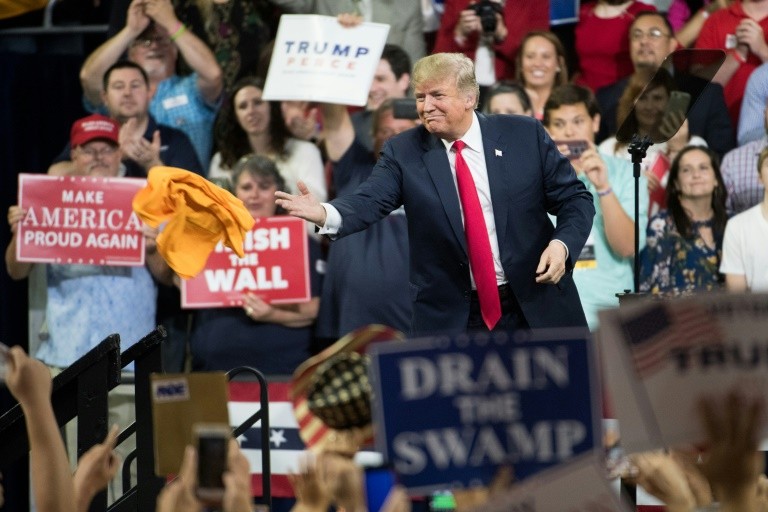 President Donald Trump will hold a campaign rally in Kentucky on Saturday evening as he barnstorms across the nation to help Republicans in key races.
Trump will campaign for Rep. Andy Barr (R-KY) at Eastern Kentucky University's (Richmond campus) Alumni Coliseum.
Stay tuned to Breitbart News for live updates. All times eastern.
Heading to the Great State of Kentucky – Big Rally for Congressman Andy Barr – Fantastic guy, need his vote for MAGA! Strong on Crime, Tax Cuts, Military, Vets & 2nd A. His opponent will NEVER vote for us, only for Pelosi. Andy has my Strongest Endorsement!!! See you in Kentucky.

— Donald J. Trump (@realDonaldTrump) October 13, 2018
—
6:45 PM:
Supporters do the wave at rally holding signs that read, "Women for Trump," "Keep America Great," "Drain the Swamp," and "Build the Wall" to name a few. pic.twitter.com/HCYX1uEj71

— The Eastern Progress (@easternprogress) October 13, 2018
Law enforcement estimates the line of people at 4:45 headed to President Trump rally at #EKU 10 thousand. Alumni Coliseum holds 6500. pic.twitter.com/Sh3CBIYjzf

— 88.9 WEKU (@889WEKU) October 13, 2018
LIVE: President Trump arrives at Blue Grass Airport in Lexington https://t.co/scZQIULCmc

— The Eastern Progress (@easternprogress) October 13, 2018
Congressman Andy Barr takes the stage in Richmond: "Two years ago, the people of Madison County delivered a huge victory to Donald Trump," he said. "When he talks about making America great again, he's talking about you."

— Kentucky Kernel (@KyKernel) October 13, 2018
Congressman Andy Barr has followed up onto the stage after an introduction by senator Rand Paul. @heraldleader @BGPolitics pic.twitter.com/2ykoEYB5RE

— Marcus Dorsey (@mdorseymedia) October 13, 2018
This is the BACK of the line to get into the Trump rally at EKU in Richmond with four and a half hours to showtime. Not seen: many other people. ^JC pic.twitter.com/qI3esUwz4s

— Bluegrass Politics (@BGPolitics) October 13, 2018
YUGE crowd already lined up hours early in Kentucky for tonight's MAKE AMERICA GREAT AGAIN Rally! pic.twitter.com/6eLocvyfSz

— Students For Trump (@TrumpStudents) October 13, 2018
This is the line to get into Alumni Coliseum at Eastern Kentucky University. pic.twitter.com/YKzGfkwcMb

— Thomas Novelly (@TomNovelly) October 13, 2018
http://feedproxy.google.com/~r/breitbart/~3/jG3krLb1ehU/