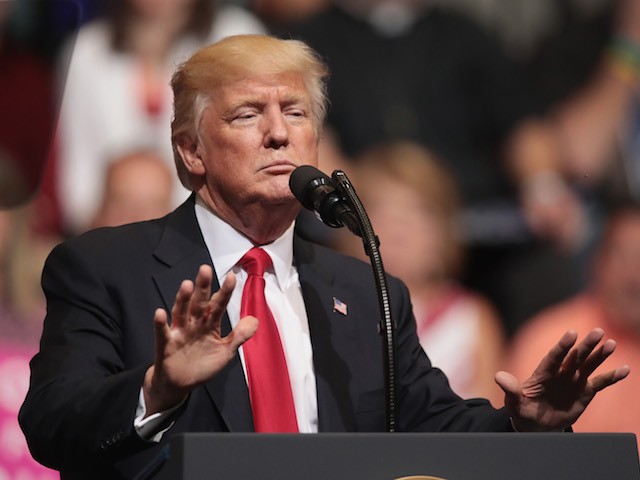 President Donald Trump will hold a rally in Council Bluffs, Iowa, a day after hosting a White House swearing-in ceremony for Supreme Court Justice Brett Kavanaugh and hours after the accepting the resignation of Nikki Haley, his Ambassador to the United Nations.
Trump will hold rallies in Pennsylvania, Ohio, and Kentucky this week as he barnstorms across the country to help Republicans in key races.
In Iowa, Trump will reportedly announce that his administration will allow year-round use of E15—gasoline that has 15% ethanol.
Stay tuned to Breitbart News for live updates. All times eastern.
–
7 PM: Trump told reporters Obama was "impotent about the South China Sea." The Bush administration also deserves plenty of blame regarding China.
Trump invited the press pool aboard AF1 on flight to Iowa to his personal office for a half-hour chat.

Most off record. But he put one Obama insult on record when we asked about China.

"The Obama administration was impotent about the South China Sea." pic.twitter.com/mOf39yvyym

— Jennifer Jacobs (@JenniferJJacobs) October 9, 2018
Will be going to Iowa tonight for Rally, and more! The Farmers (and all) are very happy with USMCA!

— Donald J. Trump (@realDonaldTrump) October 9, 2018
Pres Trump arrives in Omaha, and uses a big umbrella to step off Air Force One, via the built-in stairway for safety's sake against winds. Motorcades from Omaha across the Missouri River to nearby Council Bluffs, IA., for his rally tonight. pic.twitter.com/gQiu2Qlu5h

— Mark Knoller (@markknoller) October 9, 2018
Trump rally goers in Council Bluffs, have already stated the Pledge of Allegiance and honored America with the National Anthem. pic.twitter.com/XPsjKQffuE

— mikedmcginnis (@mikedmcginnis) October 9, 2018
Lots of folks filing in for @realDonaldTrump rally in Council Bluffs. A local police officer told us based on what he's seeing he thinks folks will have to be turned away. Officer says Mid-America Center holds about 8K. @KCCINews pic.twitter.com/ygxfZFzKkE

— Chris Gothner KCCI (@CGothnerKCCI) October 9, 2018
They've been queuing for hours in the pouring rain here in Council Bluffs, Iowa. In 90 mins, they'll get to see the man they've been waiting for – President Trump. pic.twitter.com/a1I1beJTf3

— Matthew Cundall (@matthew_cundall) October 9, 2018
Big lines in Council Bluffs, Iowa, for crowd waiting to get into Trump rally. pic.twitter.com/U1KXuJIQ35

— William Petroski (@WilliamPetroski) October 9, 2018
Crowds are filing in to see President Donald #Trump speak I Council Bluffs.
We'll be live with coverage at 5 and 6.#Iowa pic.twitter.com/bMlIVZRNWv

— Channel 8 KLKN-TV (@Channel8ABC) October 9, 2018
http://feedproxy.google.com/~r/breitbart/~3/hHKs-ViuEvM/