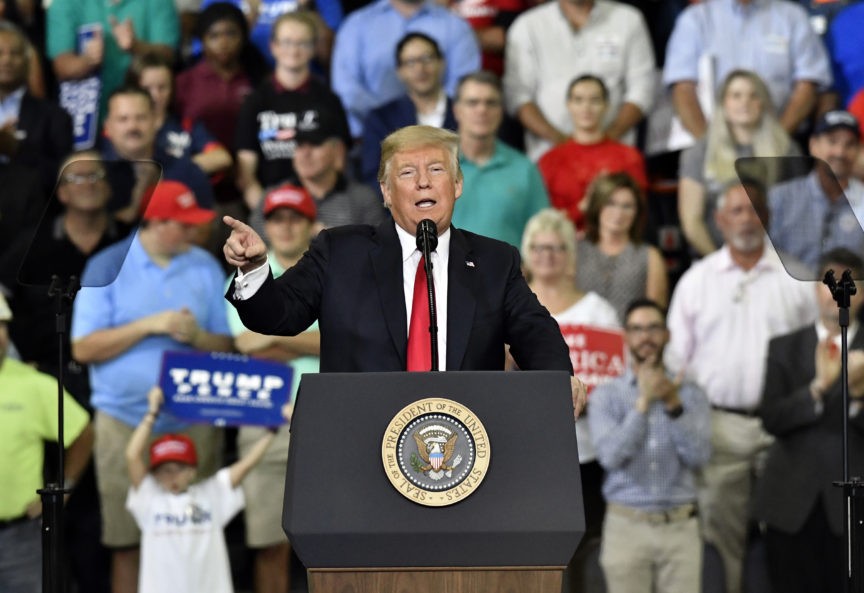 President Donald Trump will hold a Friday evening rally in Indiana with Vice President Mike Pence for Republican Senate candidate Mike Braun.
Braun has a slight lead in the polls as he seeks to unseat incumbent Sen. Joe Donnelly (D-IN). Trump tweeted earlier in the day that former Indiana basketball coach Bobby "The General" Knight will also be at the rally.
Trump, who held a rally in West Virginia hours before, will hold seven more rallies before election night.
Stay tuned to Breitbart News for live updates. All times eastern.
—
7:40 PM: Trump says Democrats want caravan after caravan to flood across the country and believes Democrats have overplayed their hand on the issue.
"I think they overplayed their hands on this one, folks," Trump says. "Between Justice Kavanaugh and the caravans, you people are energized!"
7:36 PM: Trump looks forward to debating "one of the lefties" about the economy in 2020. He predicts "we're going to win that debate." He says it's about time, we are rebuilding out country after years of rebuilding others as the crowd chants "USA! USA!"
Trump talks about "another 10% tax cut for the middle class." He says America is "booming" and "thriving" under Republican leadership and winning "like never before" because "we are finally putting America first."
Crowd boos "cryin' Chuck Schumer," Nancy Pelosi, and "the legendary Maxine Waters." Trump says they want to raise your taxes, restore regulations, shut down your steel mill, and take away your real health care while using socialism to turn America into Venezuela while totally opening borders.
He asks how they like how that sounds… "Come on in…"
7:32 PM: Trump thanks Indiana for Pence. A beaming Trump asks, "By the way, how were those jobs numbers today?… How were they?"
Trump predicts Hoosiers will send Braun to the United States Senate in four days "so we can keep making America great again."
Trump says this election will decide whether Republicans build on prosperity they've unleashed or radical Democrats take a "giant wrecking ball" to everything they've accomplished. He says America's top economy is "way ahead of schedule."
Trump says it turns out he was underestimating what his administration would for the economy.
7:30 PM: Pence introduces Trump to a raucous crowd.
7:19 PM: Pence appears on stage first. He tells the crowd that they are four days away from great victories all across American when Republicans send majorities in Congress back to Washington.
.@mike_pence: Jobs are back, confidence is back, in a word, America is back, and we're just getting started Indiana! #MAGA #MAGARally pic.twitter.com/vMtKyi26Jk

— Mike Joyce (@mjoyce317) November 2, 2018
"I"m here today because I stand with President Donald Trump," Pence says, adding that he and Trump "stand shoulder to shoulder" with Braun.
Pence says Trump is a man of his word and action. Pence talks about two years of action, two years of results, and two years of "promises kept."
"And the results have been huge," he says after talking about the jobs report and the USMCA trade deals. "America is back. And we're just getting started, Indiana."
Pence says it's important to send Braun to the Senate and it is "time to say no to Joe."
He says if Republican voters turn out, the "blue wave is going to hit a red wall…"
7:10 PM: Trump has arrived and is expected on stage soon.
Will be going to West Virginia and Indiana today, TWO RALLIES! Don't tell anyone (big secret), but I will be bringing Coach Bobby Knight to Indiana. He's been a supporter right from the beginning of the Greatest Political Movement in American History!

— Donald J. Trump (@realDonaldTrump) November 2, 2018
Thousands of Hoosiers are braving the cold tonight to see President @realDonaldTrump, VP @mike_pence, and Coach Bobby Knight! #INSen #IBackBraun pic.twitter.com/c1uakslKvI

— Mike Braun (@braun4indiana) November 2, 2018
Trump's double header coming up in #Indiana. Pence's brother Greg just said it's time to stop Pelosi, Schumer, term-limited Obama, 'and the socialists that are trying to take over this country.' pic.twitter.com/1fbAvjRouc

— Geoff Earle (@GeoffEarle) November 2, 2018
Eastsiders Judy Higgins and her son Anthony, 15, said they're big supporters of @POTUS. Higgins is an immigrant from the Philippines, so immigration is an important issue for her. "Those who are anti-Trump are taking it the wrong way. He's not kicking anyone out of the country." pic.twitter.com/4o7s6tskx4

— Amy Bartner (@AmyBartner) November 2, 2018
.@VP just landed and is in the motorcade. Waiting on @realDonaldTrump in AF1 to land. Just heard he is 10 minutes away. @WTHRcom @KevinWTHR @jtduong pic.twitter.com/eFNyDxFmEn

— Matt Whisner (@WizIndy) November 2, 2018
Air Force Two has just landed at Indianapolis International Airport.@VP Mike Pence will join @POTUS Donald Trump for a rally tonight at 7 p.m. in Southport.

Trump is expected to land here soon. @indystar pic.twitter.com/J0MN91tEC0

— Carley Lanich (@carleylanich) November 2, 2018
People lined up waiting to get inside Southport Fieldhouse for Trump/Braun rally tonight #wthr pic.twitter.com/nyLpaFnPWb

— Mary Milz (@MaryWTHR) November 2, 2018
This photo does no justice of showing just how many red hats there are out here. pic.twitter.com/8rFOGItr1U

— Amy Bartner (@AmyBartner) November 2, 2018
Stage is set at Southport High School for @realDonaldTrump and @MikePenceVP. @INDairport is ready for them too!! @WTHRcom @KevinWTHR @jtduong pic.twitter.com/5NTsYMbCh6

— Matt Whisner (@WizIndy) November 2, 2018
http://feedproxy.google.com/~r/breitbart/~3/wRlmwfrvMyI/