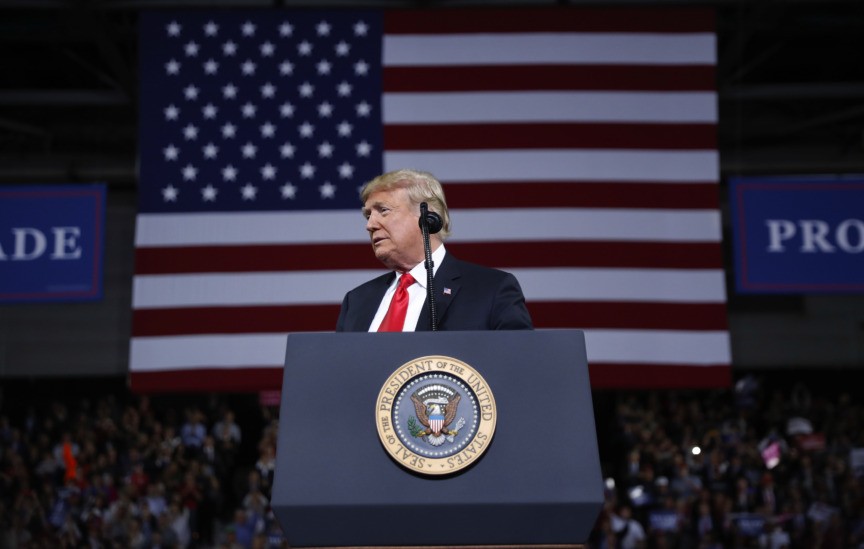 President Donald Trump will hold a Saturday rally in Murphysboro, Illinois, hours after a shooter murdered at least 11 people in a Pittsburgh synagogue and wounded at least six others.
The shooting suspect, Robert Bowers, reportedly yelled anti-Jewish comments before opening fire.
The synagogue shooting came a day after Florida resident Cesar Sayoc was arrested for allegedly sending mail bombs to prominent Democrats and CNN.
Addressing the Future Farmers of America conference in Indianapolis earlier in the day, Trump "there must be no tolerance for anti-Semitism in America" and called the synagogue attack "a wicked act of mass murder."
Stay tuned to Breitbart News for live updates. All times eastern.
—
6:30 PM: Trump says we can't "make these sick, demented people important." He says we can't change our lives around and change our schedules because of such attacks.
6:29 PM: Trump says "this is our most important midterm election, perhaps ever."
Trump says "we don't want to give up that progress" by electing Democrats this fall.
"Under Republican leadership, America is booming like never before because we are finally putting America first," Trump says.
6:26 PM: Trump says he will seek the destruction of those seek the destruction of Jews.
Trump again says "we have to bring back the death penalty" when it comes to crimes like the synagogue shooting. He says we must draw a line in the sand and say "never again" and perpetrators must pay the ultimate price.
Trump salutes "the heroes of American law enforcement."
"We know how much we appreciate them… yet they're under-appreciated," Trump says. He says "this is the time to renew the bonds of love and loyalty" that have held America together.
"We trust in God," Trump says after saying Americans protect their community and the bonds of love and loyalty are greater than hate. "We protect the freedom of worship, and we believe in the power of prayer."
6:25 PM: Trump wants to address the "horrible shooting that took place earlier today." He says the hearts of all Americans are "filled with grief" following the "monstrous" shooting at the Pittsburgh synagogue. Trump says the federal authorities are on the scene and leading an "aggressive federal investigation."
"This evil, anti-Semitic attack is an assault on all of us. It's an assault on humanity," Trump says. "It will require all of us, working together, to extract the hateful poison of anti-Semitism from the world."
Trump says the "scourge of anti-Semitism" must be "confronted and condemned" everywhere it "rears its ugly head."
6:23 PM: Trump takes the stage as the crowd chants "USA! USA! USA!"
"This was a rough, rough day for all of us," Trump says.
5:45 PM: Air Force One is wheels down, so Trump should be speaking in about 15 minutes.
5:25 PM: Trump is scheduled to arrive within the next 30 minutes.
Waiting for Trump. Murphysboro, IL. pic.twitter.com/U39QOcif82

— Geoff Bennett (@GeoffRBennett) October 27, 2018
On deciding to continue with his second event of the day, a political rally in Murphysboro, President Trump says, "we can't let evil change our life and change our schedule."
Earlier he hinted the second event may be cancelled.
More of his remarks: pic.twitter.com/7zWv474Bm1

— errol barnett (@errolbarnett) October 27, 2018
#MAGA rally in southern Illinois today will be held, @POTUS announces, because "we can't let evil change our life and change our schedule. … So I'll go. Not because I want to go but I have an obligation…"

— Steve Herman (@W7VOA) October 27, 2018
At capacity here in Murphysboro. Still a ways until Trump speaks. @TheAlestle @realDonaldTrump pic.twitter.com/C7tEaOdWtD

— Tyler Pletsch (@tyler_alestle) October 27, 2018
"We don't want to let people that are evil change our lives. So, I think when I'm finished with this I should go to Illinois. I will go to Illinois. And, we'll keep our schedule the way it's supposed to be." Donald Trump. pic.twitter.com/EPOXRPtA7e

— Nuccio DiNuzzo (@ChiTribNuccio) October 27, 2018
http://feedproxy.google.com/~r/breitbart/~3/ouCVeRLLGF4/