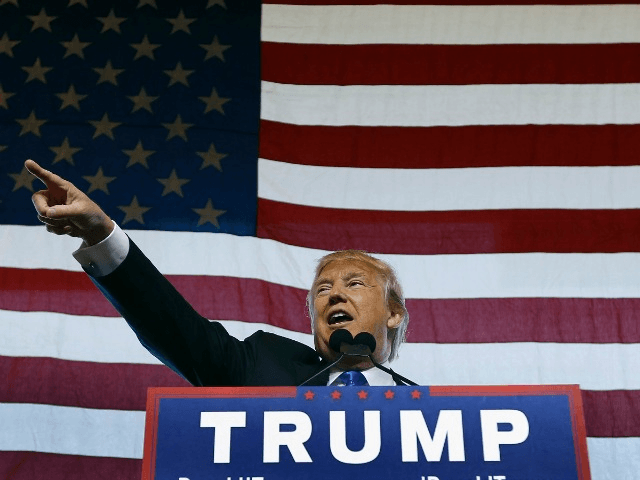 President Donald Trump will hold a Friday evening rally in Mesa, Arizona, as he continues to crisscross the country to boost Republican candidates ahead of the midterms.
Trump campaigned in Montana on Thursday evening and will campaign in Nevada on Saturday afternoon. He will headline a Texas rally on Monday evening before heading to Wisconsin.
Stay tuned to Breitbart News for live updates. All times eastern.
—
9:00 PM: Trump expected to address the packed crowd soon:
WOW – Mesa, Arizona! Look forward to joining everyone soon. Something's happening!! #MAGA🇺🇸 pic.twitter.com/z6LNGYoICO

— Donald J. Trump (@realDonaldTrump) October 20, 2018
8:50 PM: Many people from California have left the Golden State to states like Arizona. Meanwhile, California is getting an influx of liberal white "Obama bros"and their ilk (and to add insult to injury, these people do not even have any visceral connections to Vin Scully, Chick Hearn, Bob Miller, Dick Enberg, Ralph Lawler, Lawrence Tanter) as the state becomes more and more of a salad bowl instead of a melting pot. Terrible, terrible trade.
Lots of boos when Arizona Republican Party chairman Jonathan Lines says Democrats want to turn Arizona into California. #TrumpinAZ pic.twitter.com/QVN3ThSwGB

— KTAR News (@KTAR923) October 20, 2018
8:30 PM: Immigration top issue for yet another GOP primary voter.
Cindy Schmidt, 69, said she drove more than an hour from Surprise, AZ to support #TrumpInAZ: "I love President Trump. He's the best thing our country has ever had." Immigration is a primary election issue for her. @azcentral pic.twitter.com/adwxX5qd8g

— Dianna M. Náñez 🏜 (@DiannaNanez) October 19, 2018
Some in the crowd, including children, chant "Build the wall!" #TrumpinAZ pic.twitter.com/4f88RusQQO

— YvonneWingettSanchez 🏜 (@yvonnewingett) October 19, 2018
The line just keeps on going. I'm hearing it's still stretched all the way back to Sossaman Road about 1.5 miles away. Can't verify that myself though. @azcentral pic.twitter.com/Ur3qRNOctj

— Bree Burkitt (@breeburkitt) October 19, 2018
Fifty minutes later and they're still waiting to go in. @azcentral pic.twitter.com/OzNnfYBHIu

— Bree Burkitt (@breeburkitt) October 19, 2018
PARKING UPDATE (3:50 PM): Presidential event parking is now at capacity. There will be no alternative parking available. #TrumpInAZ pic.twitter.com/kFqxfz1PCo

— Mesa Police Dept. (@MesaPD) October 19, 2018
There's still a long line of @realDonaldTrump supporters waiting to get in to the hangar at Mesa Gateway Airport where the president is expected to speak around 6:30. @dougducey and @MarthaMcSally also expected to speak. pic.twitter.com/RqW2qmWgOZ

— Justin Pazera (@justinpazera) October 19, 2018
This is the first time I've heard Lionel on a Trump playlist. (Seven-year-old me is really happy.) #trumpinaz pic.twitter.com/3lsUY2wjlv

— YvonneWingettSanchez 🏜 (@yvonnewingett) October 19, 2018
Audible praise for law enforcement rings throughout the line as officers make their rounds. #TrumpInAZ @azcentral pic.twitter.com/8hDm3K3Sc2

— ッ (@angelmendozaAZC) October 19, 2018
The Star Spangled Banner is now being sang at the front of the MAGA rally line outside of the International Air Response. #TrumpInAZ | @azcentral pic.twitter.com/A2a4dsPQKG

— Shakkira Harris (@shakkirasays) October 19, 2018
This is the line to get into the general parking area. I'm told it wraps around the airport. @POTUS not expected to speak until 6:30 p.m. May need close to every minute to find a spot. #TrumpInAZ pic.twitter.com/WH8PFlVzhN

— Eric Fink (@EricMillerFink) October 19, 2018
A single Trump protester, Dustin Hoffman, stands across the thousands of Trump supporters saying "The past couple years have been an atrocity in the United States… that's why I'm out here." #TrumpInAZ | @azcentral pic.twitter.com/77aX1oM75A

— Shakkira Harris (@shakkirasays) October 19, 2018
Trump supporters shout at the one Trump protester, "Get a job" and chant "Trump" as they walk past him. #TrumpInAZ | @azcentral pic.twitter.com/Ik5r0egNHr

— Shakkira Harris (@shakkirasays) October 19, 2018
Trump supporters are already in line for @realDonaldTrump's rally tonight. @azcpolitics @azcentral @USATODAY pic.twitter.com/jTPmnvmFIM

— Nick Oza (@nickoza1) October 19, 2018
Doors to the International Air Response for President Donald Trump's campaign rally tonight don't open for another hour, but hundreds of people are gathered at the entrance waiting to get in. #trumpinAZ pic.twitter.com/tVnkju3LDc

— KTAR News (@KTAR923) October 19, 2018
The Blacks For Trump group is near the front of the line where President Trump supporters are asking for pictures and cheering them on. #TrumpInAZ | @azcentral pic.twitter.com/ypDwK8HJKi

— Shakkira Harris (@shakkirasays) October 19, 2018
#BREAKING :Motorcade for @realDonaldTrump arriving at the Fairmont Scottsdale Princess @azcentral #TrumpinAZ pic.twitter.com/KtA8nZWcNa

— Dani Coble (@dani_coble) October 19, 2018
Watch as @realDonaldTrump steps off Air Force One #TrumpInAZ pic.twitter.com/9SbG3cxECB

— Paulina Pineda (@paulinapineda22) October 19, 2018
http://feedproxy.google.com/~r/breitbart/~3/4W0WGnTG80k/