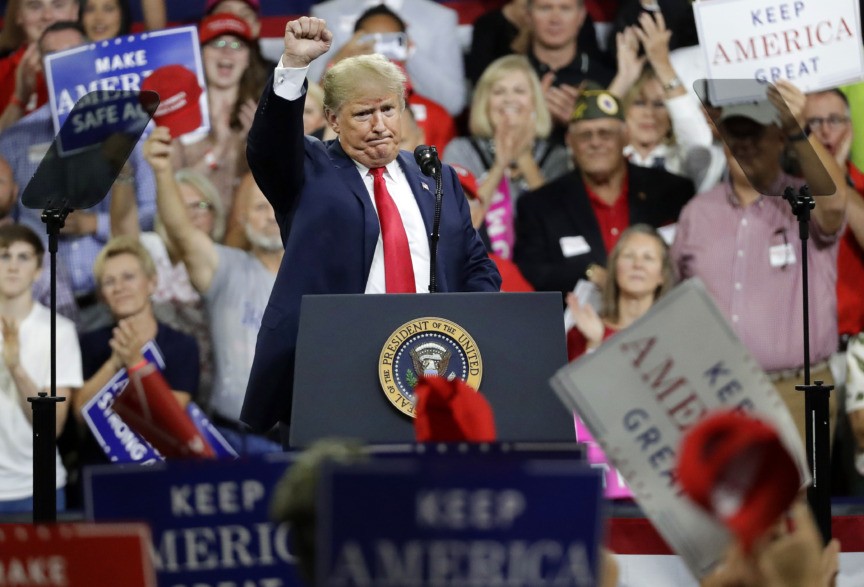 President Donald Trump will hold a campaign rally in Rochester, Minnesota, on Thursday evening. Trump visited Tennessee and Mississippi earlier in the week and will travel to Kansas on Saturday as he barnstorms across the country to help Republican candidates in key races.
Trump will campaign for various GOP candidates in a state Hillary Clinton barely won in 2016 by two percentage points even though Trump hardly campaigned in the state.
The president is scheduled to appear in Iowa, Kentucky, Pennsylvania, and Ohio next week.
Stay tuned to Breitbart News for live updates. All times eastern.
—
8:16 PM: Trump says people without college degrees are "very important" to him while talking about the country's great economic numbers under his presidency.
8:14 PM: Trump says he wanted to go to election night on Minnesota but he had a rally scheduled in Michigan where 32,000 people showed up. He says "we're going to win Minnesota" in 2020 and says again that had he given "one more speech" in 2016 he would have won. Trump now talking about the historic low unemployment and poverty rates for African-Americans. "I've done more for them in two years," Trump says, adding that African-Ameriacns always come up to him to thank him. He wonders how African-Americans can vote against him in 2020.
8:13 PM: Trump optimistic about auto companies coming back all throughout the Midwest, including Minnesota. Trump says: "one more speech up here and I would have won this state."
8:10 PM: Talking about refugees, Trump says communities in Minnesota are being "treated very unfairly."
8:07 PM: Crowd boos as Trump mentions Keith Ellison. Trump has a great memory–he says Ellison was one of the only people who predicted that Trump could win the White House. "And that's the last time he was right," Trump says.
Trump mocks Ellison for wearing an "I do not believe in borders" shirt at a rally. He says Ellison embraces open borders and radical socialism.
8:05 PM: "Don't do that to me," Trump says after saying Pelosi will regain her Speakership if Democrats take back the House. Trump says voters have to vote for Republicans if they want to stop Pelosi, Schumer, and radical liberals. He says Democrats pose a "grave threat" to Medicare because their socialist "Medicare for all" plan is really a "Medicare for none" plan that would "obliterate" Medicare. Trump again says Republicans will always protect Americans with pre-existing conditions. He says "we'll get a little more money from China" to protect pre-existing conditions.
8:00 PM: Trump stumping for Rep. Jason Lewis (D-MN), who says due process and the presumption of innocence are at stake in this election, and other candidates for key races.
Just made my second stop in Minnesota for a MAKE AMERICA GREAT AGAIN rally. We need to elect @KarinHousley to the U.S. Senate, and we need the strong leadership of @TomEmmer, @Jason2CD, @JimHagedornMN and @PeteStauber in the U.S. House!

— Donald J. Trump (@realDonaldTrump) October 4, 2018
7:55 PM: Trump blasts Sen. Tina Smith (D-MN) as someone nobody has ever heard of and mocks former Sen. Al Franken. Says "wacky" Al folded like a "wet rag" after sexual misconduct/assault allegations against him. Trump says Smith will vote for "deadly sanctuary cities" and GOP candidate Karin Housley will vote against sanctuary cities. Housely says Trump has said Tina Smith way too many times already.
Trump calling Housley up to the stage. "You really do go off script don't you? He said Tina Smith way too many times, we need to say Karin Housley a lot more," she replies. "Vote for her! Vote for Karin!" Trump said.

— Stephen Montemayor (@smontemayor) October 4, 2018
7:48 PM: Trump: Democrats' "rage-fueled resistance is starting to backfire…" He talks about polls swinging in favor of GOP candidates. Trump says Americans are going to reject the left's politics of anger. And he says Americans in two years are going to "vote to keep America great."
7:46 PM: Trump, hitting law and order issues, says Democrats want to "cripple law enforcement" and get rid of ICE. He praises ICE for getting rid of MS-13 and other gangs–"they throw them the hell out or they bring them to jail."
He says Democrats embrace "socialism" and want to "open our borders to deadly drugs and violent gangs."
"We are not going to be Venezuela," he said earlier. He again calls Democrats "the party of crime" and says Democrats are willing to hurt anybody to get power. "They want to delay and demolish," Trump says. "Just take a look at what's going on… Democrats have been trying to destroy Judge Brett Kavanaugh since the very first second he was announced."
7:43 PM: Trump: "The only reason to vote Democrat is if you are tired of winning." Trump warns that the stock market will "plummet" if Democrats take over, citing 103 new highs. He says "your 401Ks will be devastated if Democrats take over." Trump says "hopefully Supreme Court Justice Brett Kavanaugh" while talking about the nasty politics surrounding his nomination. Crowd chants "We want Kavanaugh!"
"What they're putting him through," Trump says, talking about Kavanaugh and his family.
7:41 PM: Trump says the new trade deal is "tremendous" for Minnesotans and great for farmers. He says China is "ready to make a deal" but "they are not ready yet." He says America is being respected all over the world and "we're going to keep it that way forever. It's called America first."
7:39 PM: Trump blasts the media and says Republicans would win for a thousand years if Republicans had the media on their side.
7:37 PM: Trump thrilled to be in the heartland with hardworking patriots. He says America has achieved the greatest comeback in history with two years of GOP leadership.
7:36 PM: "So, this is supposed to be a Democrat state," Trump says. "I don't think so… they have a very big surprise coming!"
7:34 PM: Trump takes the stage for what will be another raucous rally. The president does have "stamina." Crowd chanting "USA! USA! USA!"
7:05 PM:
Melissa Moore (left) is running for Minnesota house out of St. Louis Park. She was covered in campagn stickers at the Trump rally, along with Michele Northey of Bloomington and Kathy Wood of St. Paul.

I'm here with @sctimes. Trump should be here in about 30 mins. pic.twitter.com/dXh1oWSMef

— Nora G. Hertel (@nghertel) October 4, 2018
Kevin from Chaska told us he got here yesterday around 3 p.m. and thinks he was about the 12th person in line to see President Trump in Rochester. #TrumpinMN pic.twitter.com/6m3Up7lbJ1

— KARE 11 (@kare11) October 4, 2018
My Pillow Guy!!
Warming up the crowd before Trump rally in Rochester, MN. pic.twitter.com/eXbCMd7qjq

— Patrick Kessler (@PatKessler) October 4, 2018
MN AG candidate Doug Wardlow says "too many have lost fear of the lord" and "would lead our nation into darkness" in Trump rally invocation. pic.twitter.com/mtwUt2VmQz

— Mark Vancleave 📹+📷 (@MDVancleave) October 4, 2018
6:55 PM:
Not fans of the news or Keith Ellison, signs waving at the Rochester Trump rally. pic.twitter.com/FHHuinfBQK

— Glen Stubbe (@gspphoto) October 4, 2018
6:45 PM: Huge crowd–and a few left-wing agitators–awaits. Trump scheduled to appear around 7:30 PM ET.
Pres done at fundraiser. Back aboard Air Force One for flight to Rochester, MN for his rally tonight at the Mayo Civic Center. pic.twitter.com/KYDfHgplsF

— Mark Knoller (@markknoller) October 4, 2018
Rochester Mayo Civic Center starting to fill up before Trump rally. pic.twitter.com/I4ZRKypm6e

— Glen Stubbe (@gspphoto) October 4, 2018
Trump crowds applaud as police and Secret Service agents lead away a man who was at the center of an altercation in the line for the President's Rochester MAGA rally. pic.twitter.com/VLRQjxAGsU

— Mark Vancleave 📹+📷 (@MDVancleave) October 4, 2018
6:30 a.m. and team Trump is already out in force in Rochester, MN where the president will hold a rally in twelve hours. We'll have that live here. pic.twitter.com/47qXcPpMwB

— Mark Vancleave 📹+📷 (@MDVancleave) October 4, 2018
Trump crowd for tonight's Rochester MAGA rally has grown to a couple thousand. The venue has a ~7,000 person capacity. pic.twitter.com/hpLz2lBEjQ

— Mark Vancleave 📹+📷 (@MDVancleave) October 4, 2018
A few hundred protestors have gathered at an anti-Trump protest Thursday afternoon at Soldier's Field Veterans Memorial in Rochester in anticipation of President Trump's visit Thursday. They'll march soon near the Mayo Civic Center, where Trump will be speaking. @StarTribune pic.twitter.com/MNeXsEdutw

— Aaron Lavinsky (@ADLavinsky) October 4, 2018
"We want Kavanaugh," "Lock her up" and "Trump, Trump, Trump" chants breaking out in line outside Civic Center here in Rochester. https://t.co/SH8ENq6SXC

— Stephen Montemayor (@smontemayor) October 4, 2018
Will from Oconomowoc, Wis., holds up a God Blass America banner near the lines. #TrumpinRoch #RochMN pic.twitter.com/67BjVYs9Oa

— Andrew Link (@alinkphoto) October 4, 2018
Round of applause for law enforcement officers. #TrumpinRoch #RochMN pic.twitter.com/F2JTFXcBpT

— Andrew Link (@alinkphoto) October 4, 2018
http://feedproxy.google.com/~r/breitbart/~3/F1c_9CimGbo/