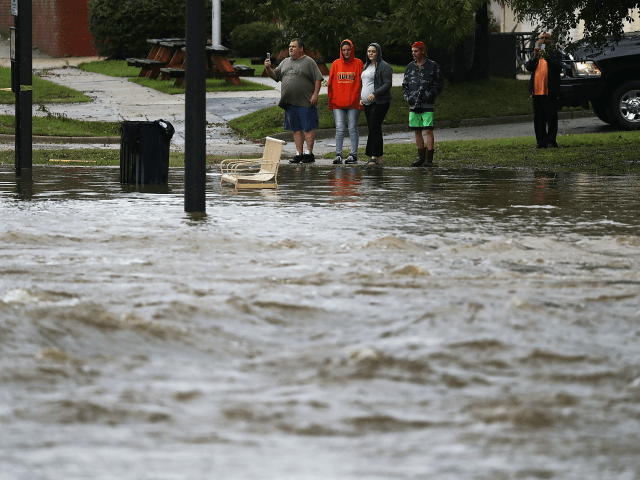 Tropical Depression Florence on Monday continues to lash the Carolinas as severe rain and wind batter parts of the region. Flash flood watches have been posted in parts of southern West Virginia as the remnants of Florence fall on saturated ground. The National Weather Service has issued the watch through Monday evening in North Carolina's Greenbrier, Mercer, Monroe, and Summers counties. Officials say weather conditions have "never been more dangerous."
► Florence has been degraded from a Tropical Storm to a Depression. 
► At least 18 people are dead as Florence batters the Carolinas.
► North Carolina's New Bern and Wilmington experienced severe flooding and extensive building damage.
► At least 500,000 customers are without power across the Carolinas.
► Analytics firm CoreLogic says Florence could cost at least $170 billion in property loss.
► At least 2,400 flights have been canceled.
**Follow all of the events on the Breitbart News Live Wire below. All times in eastern.**
10:08 AM: Florence has left about 500,000 customers without power, most of them in North Carolina, per the Associated Press.
About 467,000 customers were without service in North Carolina, including in the Wilmington area, which is surrounded by floodwaters and has been cut off.
About 17,000 customers were without service in South Carolina, mostly in northeastern South Carolina near the North Carolina state line.
About 12,000 customers were without service in Virginia. Most of those were the southwestern part of the state.
10:05 AM: The devastating flooding in North Carolina from Florence has raised concerns about whether some dams will be able to hold up under the strain, per the Associated Press.
According to data obtained by The Associated Press, the state has 1,445 dams rated high hazard. That's out of a total of about 5,700 dams that range from large federal ones to small privately owned ones.
A high hazard classification means a failure could be likely to cause the loss of one or more human lives.
The data show that of the state's high-hazard dams, 185 had conditions of poor or unsatisfactory during recent inspections.
The data comes from the National Inventory of Dams.
10:00 AM: With Wilmington cut off from the rest of North Carolina by still-rising floodwaters from Florence, officials plan to airlift food and water to the city of nearly 120,000 people as rescuers elsewhere pull inland residents from homes threatened by swollen rivers, according to the Associated Press.
The spreading disaster claimed additional lives Sunday, with at least 17 people confirmed dead, and the nation's top emergency official said other states were in the path this week.
"Not only are you going to see more impact across North Carolina … but we're also anticipating you are about to see a lot of damage going through West Virginia, all the way up to Ohio as the system exits out," Brock Long of the Federal Emergency Management Agency said Sunday on Fox News.
In Wilmington, the state's eighth-largest city, residents waited for hours outside stores and restaurants for basic necessities like water. Police guarded the door of one store, and only 10 people were allowed inside at a time.
County commission chairman Woody White said officials were planning for food and water to be flown into the coastal city.
"Our roads are flooded," he said. "There is no access to Wilmington."
About 70 miles away from the coast, residents near the Lumber River stepped from their homes directly into boats floating in their front yards; river forecasts showed the scene could be repeated in towns as far as 250 miles inland as waters rise for days.
In Anson County, east of Charlotte, a train derailed on Sunday evening, but it wasn't clear whether it was storm-related or if anyone was injured. Several cars of a CSX train derailed in Anson County, east of the state's largest city of Charlotte, WBTV reported.
The derailment led to at least one road closure. Officials have reported flooding caused by Tropical Storm Florence in Union County, located between Charlotte and Anson County.
Florence was still massive, despite being downgraded to a tropical depression. Radar showed parts of the sprawling storm over six states, with North and South Carolina in the bulls-eye.
The Associated Press contributed to this report. 
http://feedproxy.google.com/~r/breitbart/~3/MfCMADredxI/