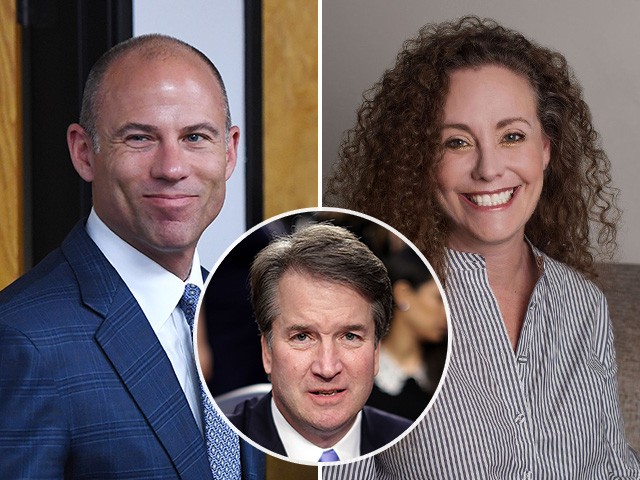 The latest accusations against Donald Trump's Supreme Court nominee, Brett Kavanaugh — brought by Resistance TV lawyer Michael Avenatti, representing a D.C. resident named Julie Swetnick — have caused Democrats on the Senate Judiciary Committee to push even harder to derail Kavanaugh's confirmation.
Follow updates from Breitbart News on the latest developments in the Kavanaugh confirmation battle. All times eastern.
2:00 PM — Video from Breitbart News shows actress Alyssa Milano protesting at the office of Sen. Cindy Hyde-Smith (R-MS). Hyde-Smith is not a member of the Judiciary Committee.
1:58 PM — Sen. Jeff Merkley (D-OR) is seeking a federal court injunction to halt Kavanaugh's nomination, Politico reports.
1:55 PM — Kavanaugh and Republican senators unfazed by Swetnick's allegation that Kavanaugh may have participated in "gang rapes" of other women and that he was "present" at a party where she was raped by multiple men.
Kavanaugh attorney Beth Wilkinson tells @wolfblitzer that Kavanaugh is NOT going to withdraw his nomination, & will continue to fight

— Jake Tapper (@jaketapper) September 26, 2018
Sen. Lindsey Graham in a new statement: "If Republicans bail out on this good man because of the smears and character assassination perpetrated by Michael Avenatti, we deserve our fate."

— Kaitlan Collins (@kaitlancollins) September 26, 2018
1:53 PM — A CNN legal analyst says "it's hard to believe" that the FBI "missed something as big, potentially, as this" new accusation in six background checks during Kavanaugh's judicial career.
http://feedproxy.google.com/~r/breitbart/~3/Vtu1ApypkM0/