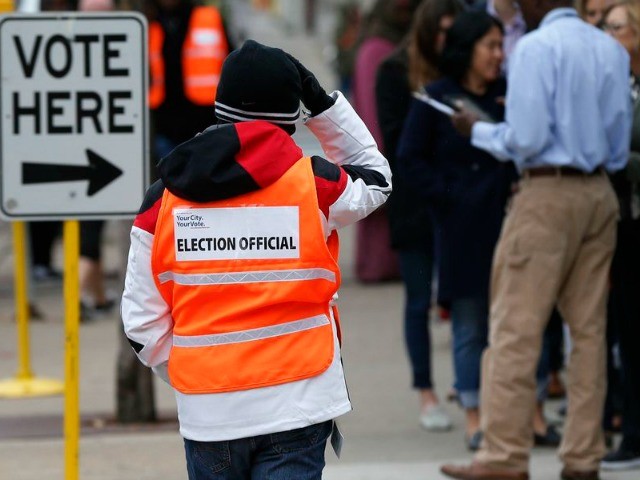 Welcome to the Breitbart News LiveWire of the 2018 midterm elections. Democrats need to pick up 23 seats to take back the House of Representatives and House Minority Leader Nancy Pelosi (D-CA), who is looking to regain her Speakership, said earlier in the day that she is 100% certain that Democrats will win back the House. As David Axelrod said on CNN, Trump will either win the House tonight or retiring House Speaker Paul Ryan (R-WI) will lose it.
Democrats are less optimistic about taking back the Senate, especially after President Donald Trump barnstormed across the country in recent weeks to stump for key Republican Senate candidates. Odds favor Republicans maintaining control of the Senate and perhaps even gaining a few seats.
All eyes will also be on key gubernatorial races in states (Georgia, Florida, Ohio, Wisconsin) that will have huge 2020 ramifications.
Stay tuned throughout the evening for live updates of all of the important races. All times eastern.
**************
6:47 PM: INDIANA: Braun doing well:
Context for some early county results in #INSEN:

Miami County – Braun +39 (Mourdock +12 in 2012, Romney +31, Trump +54)
Lawrence County – Braun +34 (Mourdock + 13 in 2012, Romney +33, Trump +51)
Bartholomew County – Braun +9 (Mourdock +8, Romney +25, Trump +33)

— Ryan Matsumoto (@ryanmatsumoto1) November 6, 2018
6:45 PM: FLORIDA, TENNESSEE: Huge turnout:
BREAKING: Leon County with 65.5 percent turnout — highest mid-term turnout in 24 years.

— Skip Foster (@skipfoster) November 6, 2018
JUST IN: According to the Davidson County Election Commission voter turnout in Nashville has surpassed Election Day turnout from 2016 #GoVoteTN #Election2018 #TNSen

— Chris Conte (@chrisconte) November 6, 2018
6:35 PM: KENTUCKY: AP calls race for Rep. Hal Rogers (R-KY):
BREAKING: Republican Hal Rogers wins re-election to U.S. House in Kentucky's 5th congressional district. #APracecall at 6:32 p.m. EST. @AP election coverage: https://t.co/miEWlbTVZW #Election2018 #KYelection

— AP Politics (@AP_Politics) November 6, 2018
6:20 PM: INDIANA SENATE: 52% of Hoosiers approve of Trump, according to CNN's exit polling.
Breaking: With just 34 of 5,375 precincts reporting, @ap reports:

Braun: 13,389 votes
Donnelly: 6,895 votes

— IndyStar (@indystar) November 6, 2018
All of the counties reporting so far in Indiana are rural, more Republican counties. They have staked Braun to a healthy lead over Donnelly.

— Jamie Dupree (@jamiedupree) November 6, 2018
Locked in an extremely tight race with Republican Mike Braun U.S. Senator Joe Donnelly(D) makes brief remarks at the Hyatt Regency in Indy this evening. Asked about the high voter turnout here's his response: pic.twitter.com/nUoueAUK0g

— Brian Conybeare (@conybearetv) November 6, 2018
6:12 PM: TEXAS: Harris County polling places ordered to remain open late:
BREAKING: A state district judge has ordered Harris County to extend voting hours at nine polling locations that failed to open on time this morning. #Midterms2018 #ElectionDay #Election2018 #tx2018 #txlege https://t.co/SAXaN3bbgw

— Texas Tribune (@TexasTribune) November 6, 2018
6:11 PM: GUAM
In the first call of 2018, Guam elects its first woman governor – a D pickup. #Midterms2018 https://t.co/tYFdf03B28

— Michael Li (@mcpli) November 6, 2018
6:10 PM:
Here are the #ElectionDay poll closes for tonight, starting with Indiana and Kentucky at 6pm. I see you Cass County, N.D. pic.twitter.com/vYyfHinW8v

— Brian McGill (@brian_mcgill) November 6, 2018
Polls have closed in Indiana and Kentucky. Results are being reported. Fox News has a countdown till 7pm when they say the "First Polls Close" — c'mon man, do better.

— Glen Bolger (@posglen) November 6, 2018
6:09 PM: Breitbart's Sean Moran: Braun (R) and Barr (R-KY) have early leads in Indiana and Kentucky, respectively:
Mike Braun early lead with 2,750 votes, Joe Donnelly 1,801, and Libertarian Lucy Brenton 244.
Rep. Andy Barr (R-KY) has an early lead with first polls in Kentucky with 304 votes, while Amy McGrath has 207 votes.

KY-6 isn't really a bellwether, but one reason Republicans have been watching it closely is that many have quietly assumed Amy McGrath, the Democrat, could challenge Mitch McConnell for his Senate seat in 2020 if she wins.

— Gabriel Debenedetti (@gdebenedetti) November 6, 2018
6:08 PM: The media and establishment Republicans have done everything they could to downplay the obvious in past elections. Immigration matters to Americans:
LATEST: @NBCNews exit polls show immigration was the most important issue among 41% of Republican voters. pic.twitter.com/MLwdKE3oUA

— Meet the Press (@MeetThePress) November 6, 2018
6:05 PM: Exit polling from ABC:
Party ID: Democrats account for 38 percent of voters in exit poll results so far, Republicans for 32 percent and independents for 30 percent. That compares with 36-37-27 percent in 2014, and 37-33-29 percent in 2016.

Ideology: Liberal-moderate-conservative group sizes in results so far are 27-38-36 percent. That compares with 22-39-38 percent in the 2014 midterms. (And 26-38-36 percent in 2016.)

Sex: Women account for 52 percent of voters in preliminary results, matching their previous high in a midterm from 2010.

Race: Nonwhites account for 28 percent of voters nationally in preliminary results. The highest in any previous midterm was 25 percent in 2014. These compare with a low of 9 percent in 1990.
More Early @NBC Exit Poll results: One In Four Hispanics Say They Cast a Midterm Ballot for the First Time in 2018. 1 in 5 for African Americans. 1 in 10 for whites.

— Heidi Przybyla (@HeidiPrzybyla) November 6, 2018
6:02 PM: According to CNN's exit polls, 16% are first-time voters and 65% made up their minds about House races more than a month ago.
6 PM: Polls are closed in some parts of Indiana and Kentucky. The first close race of the night will be between Rep. Andy Barr (R-KY) and Democrat Amy McGrath in Kentucky's 6th District.
Election history of Kentucky's 6th District, where Rep. Andy Barr (R) faces Amy McGrath (D). #ky06 is a 55-39% Trump district. #kypol pic.twitter.com/xbOOPbwl6S

— Greg Giroux (@greggiroux) November 6, 2018
We're inside the Marriott in Lexington. The signs are up and lights ready for Rep. Andy Barr's election night party. The party starts here at 6 p.m. sharp. #ElectionDay #KY06 #BarrElectionParty pic.twitter.com/QGVWqQM9K6

— Kelsi Thorud (@KelsiThorud) November 6, 2018
http://feedproxy.google.com/~r/breitbart/~3/gs1PMVnbDHI/