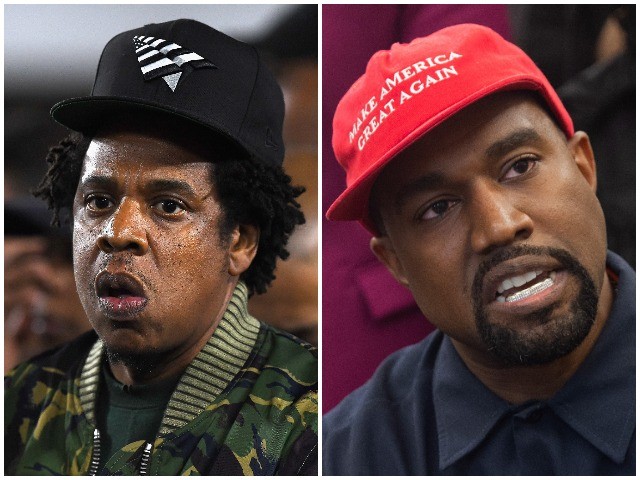 Rap star Jay-Z cryptically reacted to Kanye West's support for President Trump in a new song released Thursday, seemingly warning West to "enjoy your chains" and referring to his "employer" "with the hair piece."
On the new song "What's Free" by Meek Mill, Jay-Z raps in a feature verse:
No red hat, don't Michael and Prince me and Ye
They separate you when you got Michael and Prince's DNA, uh
I ain't one of these house niggas you bought
My house like a resort, my house bigger than yours
"Ye" is a reference to Kanye West.
Later in the song, Jay-Z said:
Look at my hair free, care free
Niggas ain't near free
Enjoy your chains, whats your employer name with the hair piece?
Kanye West and Jay-Z were once close friends and frequent collaborators, with West even once dedicating a song to Jay-Z called "Big Brother." However, their relationship has become icy in recent years, and this appears to be the most direct mention of West from Jay-Z so far.
West shocked the world in April when he posted a photo of himself wearing a "Make America Great Again" hat to social media in April.
In October, the "Jesus Walks" rapper visited the White House and delivered an impassioned pro-Trump monologue, saying that the president is "on his hero's journey right now" and accusing liberals of trying to "control" black Americans.
However, the Chicago crooner later announced his intent to distance himself from politics.
"My eyes are now wide open and now realize I've been used to spread messages I don't believe in. I am distancing myself from politics and completely focusing on being creative !!!" the 41-year-old said.
My eyes are now wide open and now realize I've been used to spread messages I don't believe in. I am distancing myself from politics and completely focusing on being creative !!!

— ye (@kanyewest) October 30, 2018
http://feedproxy.google.com/~r/breitbart/~3/y39EOjs4ewk/