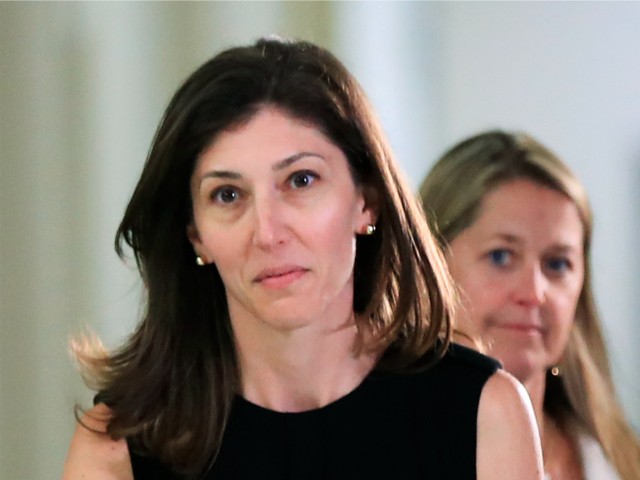 Former FBI lawyer Lisa Page admitted under oath that a text exchange with FBI agent Peter Strzok meant that "it still existed in the scope of possibility that there would be literally nothing" to the Russia collusion story on the eve of Robert Mueller's appointment to investigate that issue as special counsel, according to a Sunday Fox News report.
In July, Page and Strzok were called to testify before a joint session of the House Judiciary and House Oversight Committees about their text exchanges.
According to the report by Justice Department Inspector General (DOJ-IG) Michael Horowitz in May 2017, Strzok texted Page to let her know he was considering joining Mueller's investigation, which was just beginning. He told her he wanted to join to "fix it" after the Clinton mail investigation and complete "unfinished business," stating he was willing to forgo an assistant directorship to be part of "[a]n investigation leading to impeachment." But Strzok still had reservations about joining Mueller. As the DOJ-IG report puts it:
May 18, 2017: Mueller was appointed Special Counsel on May 17, 2017. The next day Strzok and Page exchanged text messages in a discussion of whether Strzok should join the Special Counsel's investigation. Strzok wrote: "For me, and this case, I personally have a sense of unfinished business. I unleashed it with MYE [Midyear Exam, the investigation into Clinton's emails]. Now I need to fix it and finish it." Later in the same exchange, Strzok, apparently while weighing his career options, made this comparison: "Who gives a f*ck, one more A[ssistant] D[irector]…[versus] [a]n investigation leading to impeachment?" Later in this exchange, Strzok stated, "you and I both know the odds are nothing. If I thought it was likely I'd be there no question. I hesitate in part because of my gut sense and concern there's no big there there" [Emphasis added].
In the closed-door section of her testimony, revealed for the first time in Sunday's Fox News report, Page confirmed that Strzok meant there was no proof of collusion. "I think this represents that even as far as May 2017, we still couldn't answer the question," Page, who had been attached to the FBI's investigation of Russian election interference for nine months, told Rep. John Ratcliffe (R-TX).
"No, I don't think so. I think it's a reflection of us still not knowing," Page said when Ratcliffe pressed her on the texts' meaning, but then added:
It still existed in the scope of possibility that there would be literally nothing, probably not nothing nothing, as we probably knew more than that by that point. But in the scheme of the possible outcomes, the most serious one obviously being crimes serious enough to warrant impeachment; but on the other scale that, you know, maybe an unwitting person was, in fact, involved in the release of information, but it didn't ultimately touch any senior, you know, people in the administration or on the campaign. And so the text just sort of reflects that spectrum [Emphasis added].
Since that exchange, the Special Counsel's Office has continued to investigate possible collusion between the Trump campaign and Russia for an additional 16 months without announcing any evidence of such collusion.
In a tweet on Monday, President Donald Trump seized on these revelations as further evidence of the "witch hunt" he has long claimed the Mueller Probe to be:
"Lisa Page Testimony- NO EVIDENCE OF COLLUSION BEFORE MUELLER APPOINTMENT." @FoxNews by Catherine Herridge. Therefore, the case should never have been allowed to be brought. It is a totally illegal Witch Hunt!

— Donald J. Trump (@realDonaldTrump) September 17, 2018
Page's text message exchanges with Strzok, with whom she was having an extra-marital affair, have been the focus of intense congressional and public scrutiny since Inspector General Horowitz uncovered the pair expressing intensely anti-Trump messages to each other as the decisions to investigate Russian interference were being made at the FBI. Page resigned her position in May, and the FBI fired Strzok last month for his conduct.
http://feedproxy.google.com/~r/breitbart/~3/36xcfz9QfNs/