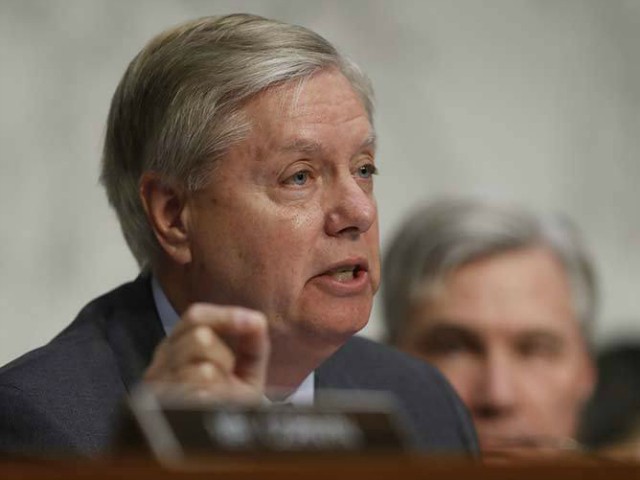 Sen. Chuck Grassley (R-IA) announced on Friday that he will opt to serve as chairman of the Senate Finance Committee in the new congressional term, which will likely make Sen. Lindsey Graham (R-SC) the next Senate Judiciary Committee chairman.
Grassley will leave a significant legacy, as the committee managed to confirm both Judges Neil Gorsuch and Brett Kavanaugh to the Supreme Court, as well as a historic number of circuit judges, despite significant levels of resistance from Senate Democrats.
Graham, next in line for the Judiciary chairmanship, led the charge in defense of President Donald Trump's nominee, Brett Kavanaugh, during this fall's Supreme Court nomination process.
The South Carolina Republican cheered Grassley's leadership in a statement on Friday, saying:
I very much appreciate Senator Grassley's leadership of the Senate Judiciary Committee.  He chaired the committee with a steady hand, sense of fundamental fairness, and resolve.  His leadership serves as a model to us all.

Senator Grassley has much to be proud of during his time as Chairman of the Senate Judiciary Committee.  His work, along with his Democrat and Republican colleagues, accomplished so much for the American people.
Graham will play a powerful part in the new congressional term; he will lead the committee to confirm new circuit judges as well as potential new Supreme Court nominees, needing only a majority in the Senate, compared to legislation that requires 60 votes in the Senate and a majority of votes in the House.
Sen. Graham charged in a tweet on Friday that if he becomes the Senate Judiciary chair, he will confirm "highly qualified conservative judges" and pursue "aggressive oversight of the Department of Justice and FBI":
If I am fortunate enough to be selected by my colleagues to serve as Chairman, I will push for the appointment and Senate confirmation of highly qualified conservative judges to the federal bench and aggressive oversight of the Department of Justice and FBI. https://t.co/aGu4bXX1Hq

— Lindsey Graham (@LindseyGrahamSC) November 16, 2018
"Finally, I will continue to seek common sense, bipartisan solutions to major issues facing our nation," Graham said in his statement.
When Fox News host Sean Hannity asked him this week what his number one priority will be if he becomes chairman, Graham said, "Judges, judges, and more judges."
Sen. Graham said Tuesday that if he becomes chairman, he will investigate how the FBI handled its probes into Russian interference in the 2016 elections as well as Hillary Clinton's email scandal.
When asked if he would look into the FBI's handling of those investigations, Graham said, "Totally. The oversight function will be very much front and center."
Graham has long criticized the FBI's handling of both of those investigations and has called for a second special counsel to look into what happened in those controversies.
Sen. Graham also backed President Trump's appointment of Matt Whitaker to serve as acting attorney general (AG) after Jeff Sessions left the post following the 2018 midterm elections. Graham contended that Trump legally appointed Whitaker to serve as acting AG.
"I think he was appropriately appointed legally," Graham said. "I don't think he has to recuse himself. I am confident the Mueller investigation will be allowed to come to a good, solid conclusion, that there'll be no political influence put on [FBI special counsel Robert Mueller] by Mr. Whitaker to do anything other than Mr. Mueller's job."
Graham continued, "Well, you don't recuse somebody because they have opinions different than the people they're overseeing. … The bottom line here is that Mr. Mueller will be allowed to do his job without political interference by Mr. Whitaker."
http://feedproxy.google.com/~r/breitbart/~3/u7Hoxf97yjc/