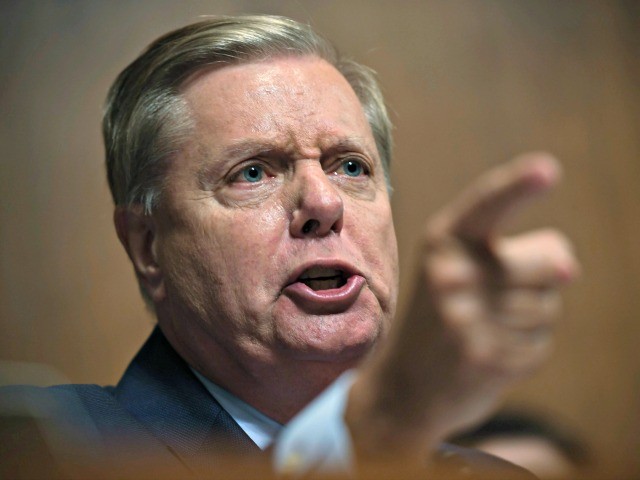 Sen. Lindsey Graham (R-SC) believes Sen. Amy Klobuchar (D-MN) owes Brett Kavanaugh an apology for her role in the smear campaign against him.
Referring to Thursday's Senate Judiciary Committee hearing where the Supreme Court nominee apologized after he got caustic with Klobuchar, Graham told Sean Hannity Monday night that "this is the one that bothers me the most. [Kavanaugh] apologized to Amy Klobuchar for snapping at her. What would you do if you were accused of all these things, had your life ruined?"
"Here's what I think," Graham said, "Amy Klobuchar should apologize to Kavanaugh and his family for being part of a smear campaign that I haven't seen in over 20 years in politics."
Graham also said the "Kavanaugh bump is real," that his view of the polling shows the ongoing smear campaign against Kavanaugh has energized Republicans like never before.
"Every race in these Trump/red states held by a Democrat [senator] — there's been a surge by Republicans," Graham said.
Referring to Democrats, he added, "You've been able to do something, my friends on the other side, I could never do: unite this party."
"Whether you're a Trump Republican, … McCain Republican, Romney Republican, Bush Republican, you're mad as hell because we're all united that this is unfair, [and] what they're doing to this good, decent man cannot stand."
Graham then sent a message to the holdouts in the GOP, those three senators — Flake, Murkowski, and Collins — who have still not said they will vote to confirm Kavanaugh. "To do it, you had to destroy a good man, and the only way he stays destroyed? If we buy into this crap."
Graham said he believes Sens. Murkowski (R-AK) and Collins (R-ME) will vote to confirm Kavanaugh based on the coming FBI report.
"I'm confident both of them, if there's no change, if the FBI learns nothing new about the Ford allegation [and does not give] any legitimacy to [the] Ramirez [allegation], that they're going to vote for Kavanaugh."
Graham seemed less sure about Sen. Flake (R-AZ). "He voted yes in committee, but now, he's talking about temperament and yearbook entries." An incredulous Graham added, "You're going to decide this man's fate based on [high school] yearbook entries?"
Kavanaugh can only afford to lose one of those three senators.
Asked about red-state senators who vote no on Kavanaugh, Graham said simply, "They're toast."
Follow John Nolte on Twitter @NolteNC. Follow his Facebook Page here.
http://feedproxy.google.com/~r/breitbart/~3/lbB__h1DH0Y/